One of the great things about Iceland Airwaves is how the people and businesses of Reykjavik support their local musicians, welcoming them into their streets, shops, homes and hotels. It is practically impossible to turn a corner in Reykjavik during the festival without finding a band or artist playing to a decent crowd. Indeed, when I arrived at my hotel, it took ten minutes to check in because there was a female post-hardcore band playing in the foyer – can you imagine this happening in Jury's or any of the other sizeable hotels in Dublin? Of course not, but this is the extent to which the city and the people have embraced their indigenous musicians.
Later in the week we would hear Dagur Bergþóruson Eggertsson, the mayor of Reykjavik, describe Iceland's musicians as "our ambassadors to the world," noting that in Iceland they are proud that "the alternative in other countries is the mainstream in Iceland." Can you imagine the Lord Mayor of Dublin, Críona Ní Dhálaigh, or the Minister for The Arts, Heather Humphys, making such a statement? It's fair to say Ireland could learn a thing or two from Iceland when it comes to supporting the arts.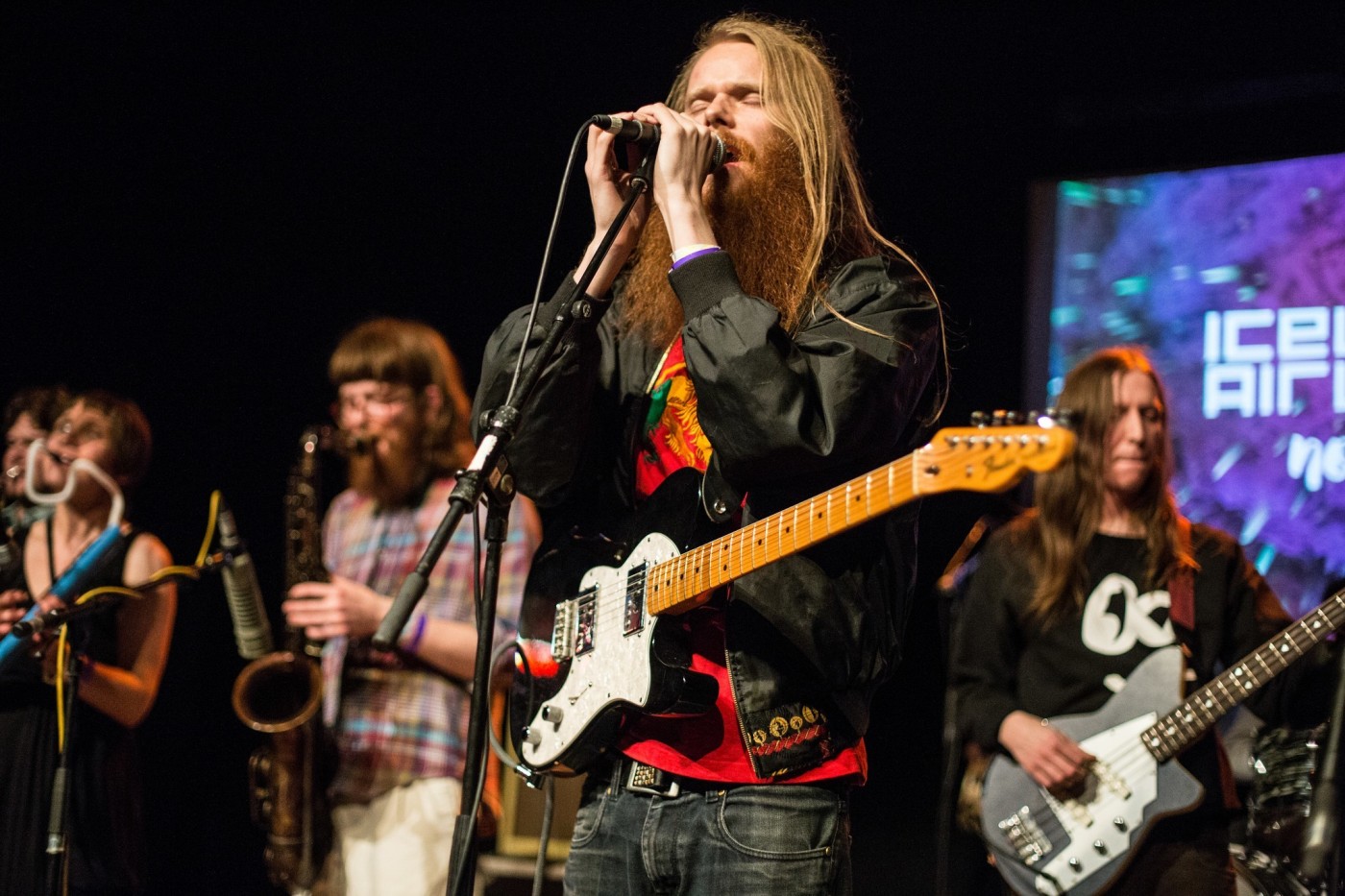 One such ambassador we came across by accident was Teitur Magnússon, playing a set in - you guessed it - a hotel lobby. This was after having played to a full house the previous night in one of the festival's main venues Iðnó. For this performance Magnússon has dropped much of the instrumentation from the ranks of his band, cutting it to bass, drums, guitar and percussion, but Magnússon is equally captivating on an unraised stage as he is in the vast surrounds of the HARPA, delivering his groovy at times psychedelic brand of folk rock mysticism.
"We feel a deep connection to Ireland here in Iceland" says Teitur, in the small backstage area of the hotel. "You can see I have a red beard, blonde hair. We're 50/50 Scandinavian/Irish. When they do blood tests on Icelander's they found that we have majority DNA is Irish - that's why we are so different to the Scandinavians. They seem more Germanic. They have strictness and not as much humour I feel. I don't want to generalise but there is something about them, but there is also something about punctuality. We are not a punctual people. We got all this folklore and singing from the Irish" he enthuses.
We soon discover that Teitur is a man of many talents, playing numerous gigs at Airwaves 2015 as both a solo artist and as lead singer of Iceland's premiere dub-reggae band, Ojba Rasta, and as part of a post rock outfit. In fact he's playing another gig in two hours. Teitur is clearly a busy man, but he believes that this constant movement and exposure to different sounds helps his music reach its maximum potential.
"Only collaboration, for me there is nothing you can do alone" he says. "I've always needed bandmates. Now I'm solo I do my own thing, I write songs, I sing them and play guitar, but there are other people much better at other instruments and I'm not going to try and top that just to say I've done everything myself. It's what I love to do, but I still want to make a record so I get a producer and my friends come and play on the record."
The producer in question is none other than Mike Lindsay of Tuung and it would seem that having a non-Icelandic speaker behind the sonic wheel was a blessing for Teitur, who likes to draw his lyrics from the poetry and folklore of the island.
"Hip-hop bands like to sample beats, I like to sample poetry" he says. However, this hasn't always been a popular decision within Iceland. "It used to be like that here, that people would get sued if they fooled around with something that people felt was sacred."
"What is happening very fast now since internet time - there's so much entertainment for youngsters that they are starting to prefer English over Icelandic. They still know Icelandic but they are not as exposed to the good stuff. They are not exposed to the poetry."
However, Teitur doesn't simply create a musical arrangement to accompany some ancient text that you may find in a school textbook. Just like a hip-hop artist sampling beats, he samples from more than one source to create a new story or context.
"I sample verses I feel are corresponding verses, which I feel are speaking to one another" he tells us, putting his hands together. "They're long poems, so one would be a super happy song or a super corny song, and one would be a super sad song, but when you bring them together they can be like two voices in your head or two friends talking together."
Magnússon finished his hotel lobby set with a cover of Franskar (Sauce and salad) from the 1980's Icelandic movie Með allt á hreinu (On Top). "It's about the time of the post punk thing - it's not really about that, but it's a little bit about that," explains Teitur. "It was the most popular movie in Iceland for years. It's a musical comedy about a band of males and females but [when the inter-band member relationships finish] it becomes a war between the sexes on the road around Iceland; going to all these little clubs that everybody was playing at the time. These are real bands from the time. Somehow, they made an amazing movie."
"The name of the song is Franskar (Sauce and salad) - it's from a scene in the movie where there is a debate about eating fish because it's the main produce on the island, but the guys on the road just want hamburger and fries."
So with such a small population 330,000 how realistic is it for bands to tour in Iceland like the groups featured in the movie? "I think it's coming back in a different way" says Teitur, "it used to be a party playing covers in community theatres in these small towns, but then because of corruption in the government in the '80s in fishing -instead of giving the quotas to the town they gave it to the richest guy in tow. Maybe he was a good guy but his son just didn't give a shit and sold the quota, and that meant the people in the town couldn't fish."
"It's a very long. boring story but it made the people migrate to Reykjavik so there was not enough people to keep this route going, but now we have all these tourists, we have new industry for that. We have new things happening - breweries etc. - so people are kind of moving back to these places. Now you can tour but it's more of a concert than a party."
Teitur Magnússon also performed songs from his 2014, debut solo album '27'. Its title sees him following a similar thought process to Adele in this regard. "It's called '27', which is the age I wrote it, recorded it and put it out, and in the end I realised it was twenty-seven minutes. So it was meant to happen I guess."
"It has a very specific meaning in Icelandic, which is untranslatable into English." Says Teitur trying to explain the meaning behind the album's opening track, Nenni. "It's a verb, it means something you cannot be bothered to do or be hassled with, but you can also say Nenni and you can be bothered with it. But, you can't be bothered with it doesn't grasp it properly, there's more spectrum."
"It was produced by Mike Lindsay of the folk electronica London scene band Tuung. He didn't understand it, but he recorded it. As an Icelander, I think it gave me confidence because we are not really discussing lyrics,he is just recording."
Hear Teitur Magnússon's debut album '27' below.
Photo courtesy of Iceland Airwaves