Pyro Villas are Cian Guinee, Andy Gleeson and Killian Dowling. They produce music that draws on traditional rock and pop leanings while also tinged with elements of electronica and neo-soul.
Killian and Andy originally started making music back in 2012 after bonding at school. Cian would join later after moving from Limerick for his studies.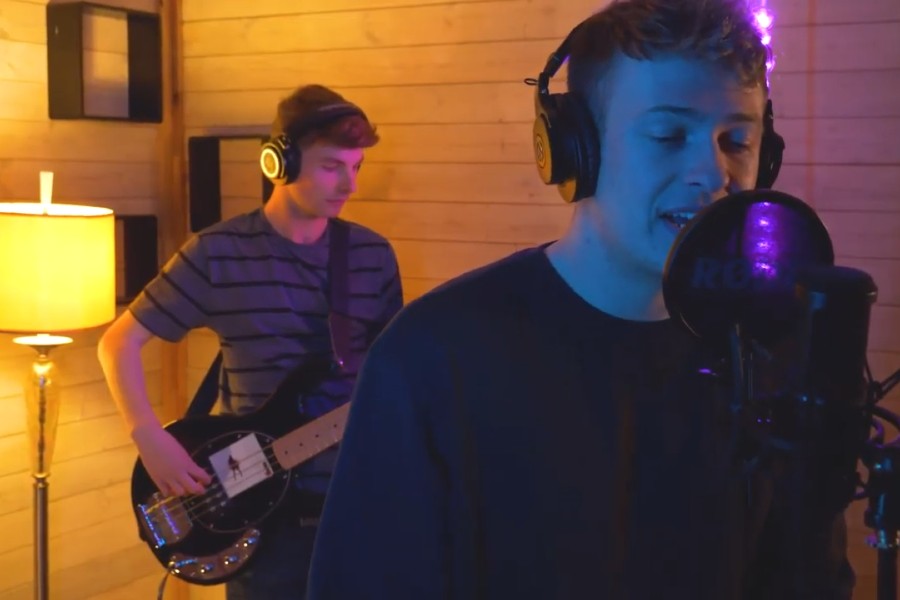 They're each aware of their role in the band yet seemingly equally as comfortable dovetailing responsibilities, much in the same way the course of our conversation carries out in fact.
"Kill found me at mast on the river", he proclaims. "Nine months and twelve interviews later, here I am."
Killian expands, "we were in Porterhouse in the smoking area. I showed Cian a demo of 'Leopard Skin Soul' (off of live album, 'Barely Alive').
"One of the drunk conversations where for once something actually comes of it", Andy adds jokingly.
Oh, to be back spewing shite in the smoking area!
Along with B-side, Red Hot Summer, the group's experimentation was there for all to see.
"Half of the vocal snippets are my voice talking into the mic pitched down really low and the other half are samples that we got online. They're pitched up to give it a bit of an electronic sort of feel to it".
The contrasts here are what give Pyro Villas a lot of their rhythm and part of what makes them so catchy.
As Cian attests, "I think there's something born out of necessity, our sound being influenced by the fact that we'd love to have a 40-piece electronic band behind us... Obviously we've got live instruments that we play ourselves but there's also that kind of electronic element."
"Once you enter that sphere (and it took me a while to delve into…", Killian adds "I was strictly guitar, a Led Zeppelin kind of guy. I'd get sick of the idea of a synthesiser."
One can't help but recall LCD Soundsystem's Losing my Edge. This comment is almost the antithesis of what James Murphy brags ironically.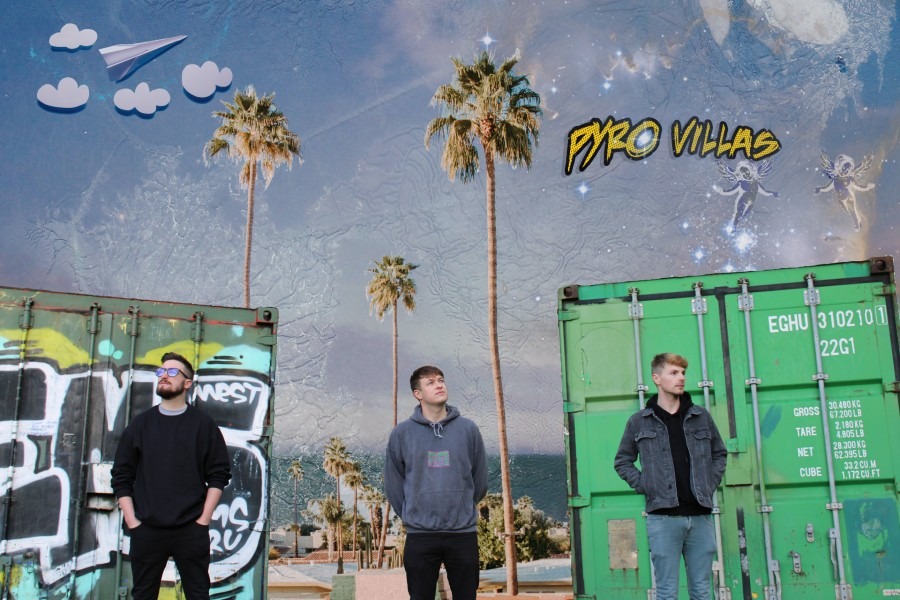 "Listening to new music and recording software was the big freedom for us. There are thousands of sounds [on Ableton] at your disposal so you can't help but explore around it".
"I'd been playing guitar for a while so I wanted a new challenge. I think we're at the stage where nothing is too weird-sounding for us. The weirder the better, y'know? Once you get into that electronic world, it's really infectious. It's hard to get out of it and not want to find the most weird and whacky sounds possible".
Their new single Edalyn navigates the death knell of relationships and the struggle to acknowledge their decline. "Killian was the originator of that sound for this song," says Andy, acknowledging the heavy Neo-Soul influence. "That sound's relevant to what's going on in pop music and indie. That's why we hit it heavy with 'Edalyn'.
"Everyone has the capacity to be the bad person in the relationship no matter how much you want to admit it. 'Edalyn' represents that."
The 'wilted flower', which provides the centrepiece of the song is elegantly illustrated on the artwork. This is the handiwork of Aberdonian (Part 1) architect and soon-to-be Master's student at UCD, Anne Cook.
"it's a bit of a theme in my lyrics, imagery about flowers" says Andy. "I think with a wilted flower, you're trying to get at someone being really aggressive or really harsh. There's nothing more harsh than to see a flower that's dying and just stamp on it y'know?"
"If you're thinking about your emotional well-being as a flower and someone just stamping on it – I just thought the image of that was effective.".
Cian concedes, "When I first heard it, I thought the image of the wilted flower was good because the wilted and withered go hand-in-hand and it made me think, 'you've done all the work that you can, I have to give up now, this isn't going to go anywhere, you're out of ideas'".
The band kid amongst themselves about the choice of this motif. "The beauty of it is Andy", Killian marvels. "You don't sit down and consciously think, 'oh, flowers, I don't care what else the band writes about'".
"Where am I gonna get that flower reference in here?", chimes Cian sarcastically. "I really like figurative lyrics and the lads know that. For me, the process of writing a song is coming up with all these bits of imagery that slowly fit and form the story of the song". 
They insist that there won't be as long a gap until the next release. "We like to treat song releases as boxing fights, do like three in a year," analogises Killian, to the amusement of his bandmates. "This one we want to churn out a bit quicker so this will be a bit of a short-notice fight". 
The theme for previous single Nova Scotia Pipelines was something of a beautiful accident. The explanation comes courtesy of Pyro Villas' resident member of the Irish Film Board, Killian.
"All the clips in [the video] were actually royalty-free... real footage. I put a filter on the footage to make it look unrecognisable from the source clip and started to build a narrative...water as a commodity.
"We started off with all these grandiose designs of ships and dams, then broke it down at the end with the outro music; that water in its essence is just the basic means of survival, the basis of everything. It was a lot of fun doing it."
Pyro Villas is a fascinating name for a band. They describe it as "a throw to Dublin as a city". It came about after Andy stumbled across the "little nook up on Cork St." It would later emerge Cian lived right opposite for a time.
The pandemic hasn't affected them too much in terms of their creative output. "We're nearly a virtual band as it is... Most of the back-and-forths were online anyway," something he describes as "musical tennis".
As for the sound of their forthcoming releases, "it takes the smooth electronic elements of 'Edalyn' and more dance-ey and live elements of 'Nova Scotia [Pipelines]', summarises Andy.
Edalyn is out on Bentley Records now and available on all streaming platforms.