It's difficult to believe that Autopilot Paradise is the first track released by Ruairí Richman, now better known by his Lemonade Shoelace moniker. The track has an assuredness and clarity of vision that can take other acts years to come by - Richman's reverbed vocals tell a tale of infidelity, meshing neatly with a driving sitting beneath heavy layers of hazy synths.
Richman's remarkably well formed brand of psych-rock coupled with his emergence seemingly from thin air make the 23-year-old a highly intriguing prospective interviewee - we decided it best to delve deeper and learn more about the Co. Down's musical man of mystery.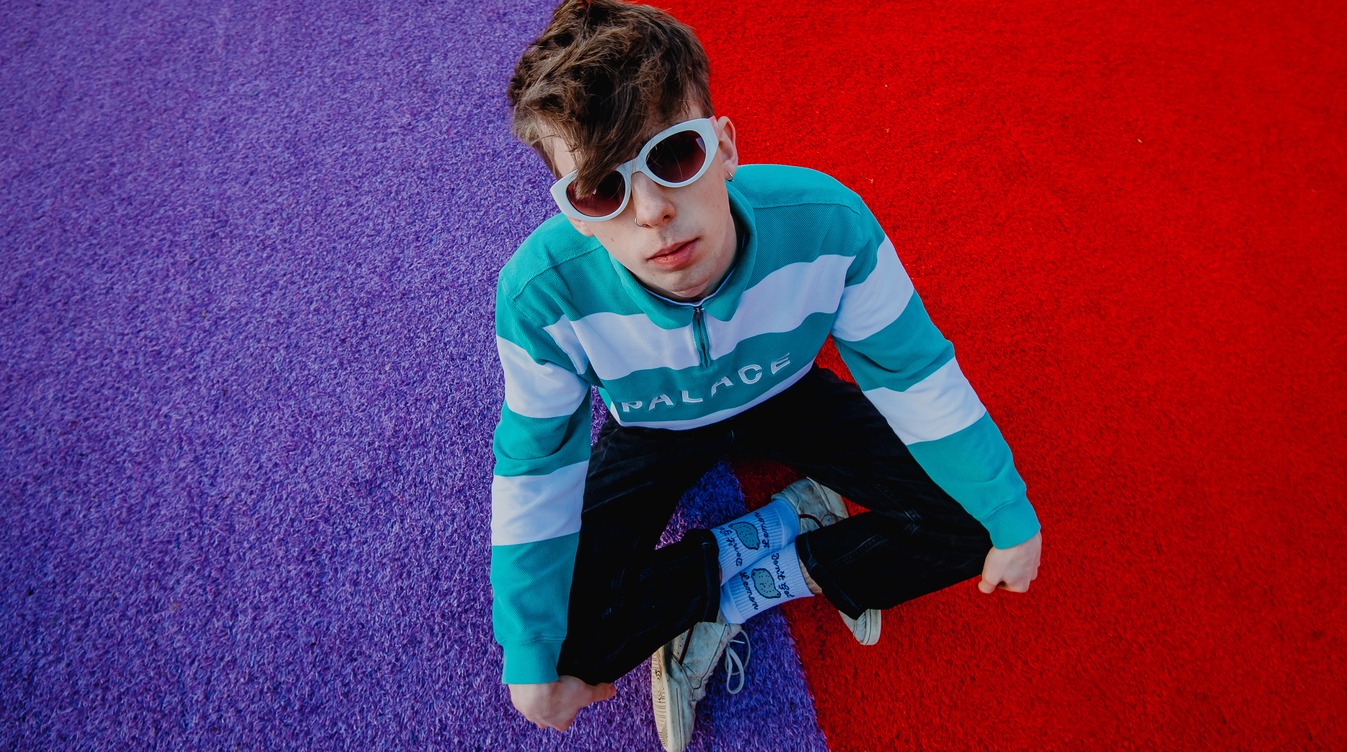 You say the term Autopilot represents everyone's own safe zone, what is that zone for you and how do you get into it? 
For me, there are few safe zones that I would usually escape to. I'm a keen skateboarder, and going to the skatepark serves as a perfect safe zone for me.
I go to Bridges in Belfast, it's a great place to clear your thoughts and meet friendly people. My home studio is another place I escape to, and will spend a lot of time hiding in there recording bits and bobs. Both of these locations make me feel calm and relaxed, and when I'm there some sort of Autopilot kicks in and hours suddenly fly by.
Music also brings me to a safe zone. Sticking on #9 Dream by John Lennon will always send me to some sort of mental paradise.
What's the music scene like in Co. Down? is there enough infrastructure to support the scene there and in Northern Ireland more generally?
So yeah, I wouldn't say there's much of a scene (yet) in Co. Down, or well in Newcastle where I'm from anyway. I DJ in the Anchor Bar, which is the liveliest bar for music in the town. They have jam sessions and gigs but Co. Down in general can be quite rural and a lot of the scene is DJ's and Singer-Songwriters.
The Prodigy randomly played in Newcastle a good few years ago which was pretty cool! I'm living in Belfast now, and there's a great scene of musicians up here. There's a lot of support for artists, and there's a load of cool venues too.
You've stated you're inspired by Tame Impala, Flaming Lips and The Beatles. Are you inspired by the psychedelic aesthetic? 
Definitely! There are no rules with psychedelia as an art form which is why I find it so enticing. There's a lot of mystery around it because of that. I do love the aesthetic it puts across, bright colours and trippy, swirly madness all sounds good to me! I suppose it's all about being a bit different too.
Your parents exposed you to Moon Safari by Air growing up, has their music taste influenced your musical growth?
My parents put on a lot of different music in my childhood, and it definitely influenced me from an early stage. They played a lot of chill out and trip hop music, such as Morcheeba and Portishead, but also played a lot of Moby too.
I remember the 2003 Karma Collection compilation album by Ministry Of Sound was played a lot throughout my childhood. It definitely influenced my sound and broadened my palette for music!
What was the experience in BIMM like? Would you recommend it to young musicians?
I really enjoyed my time in BIMM! To be surrounded by musicians all day was a blessing, and I met some life long friends down there. Moving from Down wasn't that jarring at all, I was too excited to get to know the city and to meet everyone.
I made a solid friend group on the first day there so I suppose that helped a lot too! It was quite surreal for me too as I had never met so many people that were as in to music as I was, so I would definitely recommend it for any musician.
Who are your main influences as a producer, and do you have any tips or a 'secret sauce' when it comes to making music? 
Oooooh, so yeah Kevin Parker (Tame Impala) is a big influence for me. The work he's done for Pond is equally as impressive, as is what he's done for Melody's Echo Chamber. Chaz Wick (Toro Y Moi) has some great albums. His sound varies a lot throughout each of his record, which is something I love seeing in an artist. I'm loving Kikagaku Moyo these days too.
My secret sauce is really in the sounds. Making sure the sound is right for the song will help a lot. A good bass line always helps, and making sure the drums match it rhythmically is essential!
What's the experience been like translating your productions to a live band setting?
Translating the productions to a live setting has been a challenge, but the musicians that play in the band are freakishly good which makes it like a breeze in the park! We still have some work to do though and we can't wait to play some shows!