Hail The Ghost - Interview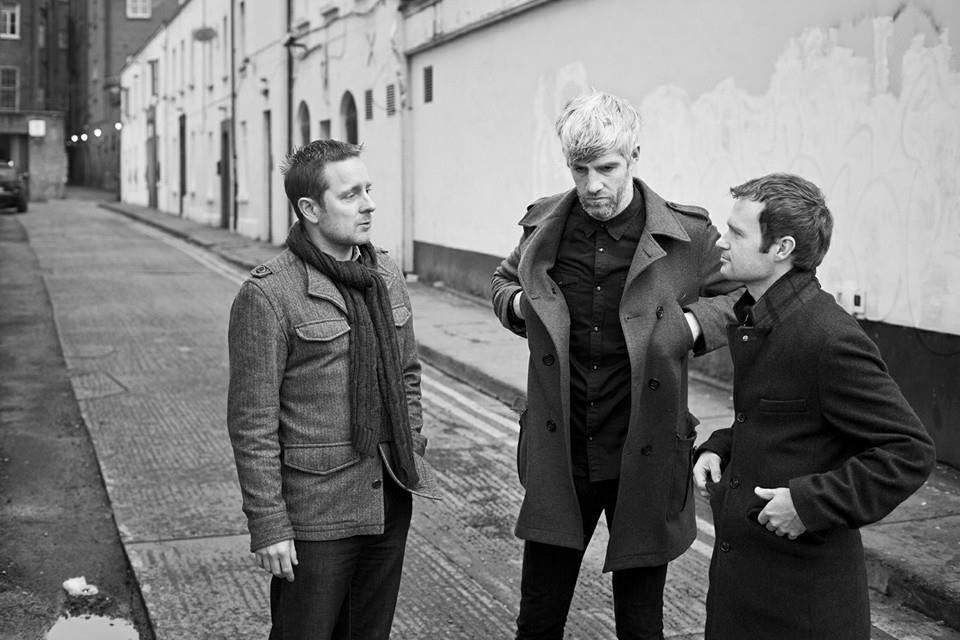 Police officer, Musician, Actor. When you list those three things side by side they look like a question on the odd one out quiz with a glaringly obvious answer, but when it comes to Kieran O'Reilly, it's a trick question. O'Reilly - best known for his role as Garda Ciaran Madden in RTE's little-known drama Love/Hate - is a Garda by day and longstanding member of Dublin's musical fraternity by night with bands such as Doris and White McKenzie, and now as lead singer of trio Hail The Ghost.
"When I was 10 years old I decided that I wanted to be a cop, and when I get something into my head I've learned that I can be belligerent with myself until I succeed" says O'Reilly, and that belligerence extends itself to his musical career. When the chance of an audition to play drums in Doris arose O'Reilly seized it, refusing to let a little thing like a broken hand stand in his way.
"In typical me fashion, I became engrossed with the notion and went out the next day - with my hand in a cast - and bought a drum kit, having never lifted a drum stick in my life." He got the gig, though he admits that Doris were "extremely patient."
As for the acting, during a chance meeting with Love/Hate casting director Maureen Hughes whilst shooting a music video in The Factory for previous band White McKenzie, O'Reilly simply chanced his arm and "asked for an audition."
The self-belief of the boy with the broken hand is once again present when we push O'Reilly on his dream character arc for Ciaran Madden, and it would seem that he'd welcome the chance to embrace the dark side of his character.
"I suppose everyone would like to be tested or would like some 'colour' or 'action' in what they do" says O'Reilly "Ciaran Madden, at times, seemed to have this very subtle unpredictable quality, so it might be nice to see that unfold in some way. "
This willingness to embrace the darker, brooding theatrical aspects of his Love/Hate character is unsurprising as O'Reilly's latest musical venture, Hail The Ghost, explore these dark themes already. Indeed the name of the group has a deathly aspect. "The notion of 'succeeding' or simply attaining the appropriate platform to have your music heard by lots of people can be very hard got nowadays" says O'Reilly.
"I wanted to create music that might have some sort of relevance - however small - to somebody at some stage, and in doing so I was  aware that this might not even happen in the bands lifetime - maybe only in retrospect, hence acknowledging the 'Ghost', 'The Ghost' being the band."
"Now are you sorry you asked that question!?" asks O'Reilly, noting that "I'll have to start lying and make up a cooler story behind the band name."
Hail The Ghost's debut single Headstoned has drawn favourable reviews with the group compared to The National and Whipping Boy. "I take it as a big compliment, I really like both of those bands." But O'Reilly isn't letting such comparisons go to his head, "It's so nice that people are even listening to it, that's the only objective really."
The word Headstoned itself conjures violent, fatal imagery. Does this lyrical macabreness permeate Hail The Ghost's debut album 'Forsaken'? "I think the record itself has a common lyrical relationship in that the songs are all about emotional experiences or circumstance, a lot of which happen to be heavy in content" says O'Reilly "but I think the record is more a frustrated melancholy than anything else."
Hail The Ghost release their next single Colony Of Ants on February 6th, with debut album 'Forsaken' following on March 6th. You can see Kieran O'Reilly next in the short film 'Little Bear' written and directed by Love/Hate alumni Ger Duffy and Daire Glynn.