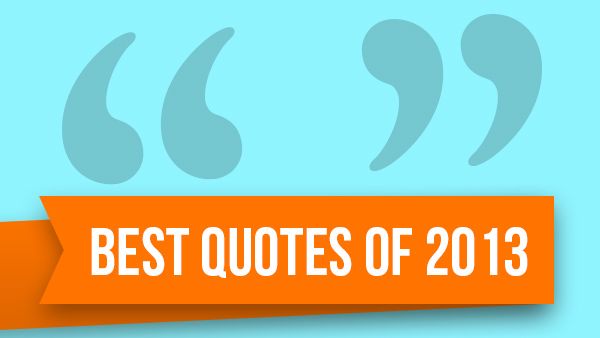 It has been a busy year for GoldenPlec writers. We've conducted a grand total of almost 90 interviews and spoken to some of the biggest names and freshest faces in the music industry. In case you missed any we've compiled the best quotes for you in one handy feature. To read the interviews in full simply click on the link below each act.
"The last time we were in Dublin we went to a place called Copper Face Jacks, it seemed like there were a load of policemen and a load nurses and it seemed like they were all copping off with one another. That was eh, fun."
- Bombay Bicycle Club in conversation with Greg Synnott.
"Listening to Marley gave me the reggae tinge that you hear in my music now. A lot of the songs I've written wouldn't be possible without what I went through."
- Damien Dempsey spoke to Gavin O'Leary about influences and battling depression.
"I think Nile just wanted to do something and reached out to us. [...] Some of his stories are insane. I have a video of him doing Sister Sledge sitting like a foot away from me. It was magical. "
- Disclosure's Guy Lawrence spoke to Anna Job about working with Nile Rodgers.
"I would very much like to score a film, and I would like to explore instrumental music and hip-hop instrumental music. Or hip-hop where other people rap on my beats."
– Interpol's frontman Paul Banks in conversation with David Dooley
"The genre of R&B itself has to evolve. The caterpillar has to turn into a butterfly at some point. R&B is based on tradition. Out of respect for tradition you don't want to mess with the original recipe too much but you've got to add some other spices in there in order for it to live. So that is the current dilemma. To where the traditional people stay happy but the new generation gets a taste and digs it too."
– Ne-Yo on changes in R&B in conversation with Anna Job
"The lyrics aren't that cryptic. It's funny if friends ask if a song is about someone and the answer is mainly no because elements of songs are from different times and places, a combination of loads of different ideas. It's like working in a junk yard, combining lots of different material. You could list off everything but it's never as simple as just one meaning or one person."
- Hozier in conversation with Anna Job
"It sounded great to us and it was what we were trying to express. We're all very honoured and grateful for all the attention it has gotten so far. Being able to go out and share that with an audience is great. "
- Volcano Choir's Jon in conversation with Gavin O'Leary on their second album Repave.
"Yeah, genuinely Kyle has the taste of a seven-year old girl. He's obsessed with Disney films and there's a lot of foods he doesn't eat and he had never drunk coffee. That was genuinely the first time in his life he drank coffee and he was buzzing the whole day, bouncing off the walls, it was hilarious!"
- Bastille's Dan on Keyboard player Kyle in conversation with Vanessa Monaghan.
"We had one for the first tour, and we were all like 'CHECK IT OUT' and then we realised we can't tour like this when we lost all our money"
- Cast of Cheers' Conor Adams on fancy tour buses in conversation with Greg Synnott
"I'll play a Seven Eleven. There was an offer, too. I don't think the rest of the guys were into it, but I'd have played for slurpees".
- The Killers' Ronnie Vanucci spoke to James Hendicott about wanting to get back on the tour circuit after their hiatus.
"It generally depends with journalists whether you get let into their little club... and they generally say the same things as each other."
- Delphic in conversation with Jonathan Klein.
"I clearly recall a phone conversation with my lab partner in final year, with whom I was meant to be in the library – when actually I was in Tober Moray preparing for the first show of a tour. It was unexpected! And felt quite amazing, to be able to go straight from my last exam to a plane bound for NYC, for our first American shows."
- Stornoway's Oli Steadman spoke to James Hendicott.
"This is a massive economic downturn. What are we going to do here as far as promoting the arts? This should be the time that we are pointing people towards our country. We have a harp on our passport. We're the only country I've seen with a musical instrument on the cover of our passport."
- The Script's Mark Sheehan in conversation with Anna Job.
"If you want a little car, it should probably be an old Fiat 500 because it's probably the most ludicrous, ridiculous looking car you could possibly have." says Stevie Appleby.
"I like the Nissan Micra I have now, I'd probably just paint that green," says Faye.
Adam goes the rock star route with a flashy "Mark 2 Golf, a convertible from 1987, they did a dark green car."
- Little Green Cars' Stevie, Faye and Adam discuss their favourite automobiles in conversation with Vanessa Monaghan.
"Bruce Springsteen obviously. You know why they call him the Boss don't you? It's because he is the fucking boss."
- Foy Vance on his influences in conversation with Niall Swan.
"We went to battle. Our record company sued us for 30 million dollars and we filmed it all. It was a really challenging period of time. It's good to share that. This battle will always be a part of our story and we learned a lot from it"
- Thirty Seconds to Mars' Jared Leto spoke to Anna Job about their new documentary Artifact.
"Everything's cyclical. Things just go around and come back, and the reason for our success… we don't really know. For us, it was quite an insular little world for a while. We were just playing songs to each other, and then in the pub to twenty people. And then a few years later you're headlining Glastonbury. It's quite strange, really, and a bit miraculous that it's happened. We can't really explain it, it's just bizarre for us."
- Mumford and Sons spoke to James Hendicott about their popularity.
"I can remember my parents taking us to Chuckie Cheese's restaurant, and the animals were all in a band. The coolest one was a giant gorilla. That along with Walt Disney's Sing-Along Bare Necessities and I had a bug to begin bellowing at the top of my lungs like I was in a band!"
- Valerie June in conversation with Gavin O'Leary.
"We knew nothing. At one of our first gigs an A&R came down and asked 'Does the band have a lawyer?'. We were all like 'My god, we're gonna sign on the day! At the gig!', which, obviously would never happen because it takes about five months to draw up proper contracts. You have these meetings, and while you're in them you're thinking 'God this is all amazing' and you come out and you're like 'Eh, so, what exactly happened?…No idea.'"
- London Grammar's Dot in conversation with Anna Job.
"I always look at people who have jobs for a really long time and I have a lot of respect for the person who's doing their job for twenty, thirty, forty years and we're becoming that dude. We're feeling that pressure now, we've been doing this for twenty years like, if we suck, what are we doing?"
- Jimmy Eat World in conversation with Greg Synnott.
"We're all eager to get back out there you know, world domination and all that. We're still thirsty and trying to be the biggest band we can possibly be, and widen our fan base with the new songs."
- Bullet For My Valentine's Jason in conversation with Darragh Faughey.
"Last year [at Electric Picnic] we played Body and Soul at like two o'clock, to about a hundred or two hundred people and we were over the moon with that. But to come home and play the main stage this year was bonkers."
- Kodaline spoke to Anna Job about their rapid rise.
"When you suddenly find yourself getting yelled at by someone who is actually your boss, suddenly you're putting on your 'Johnny Paycheck' records and thinking about how much you wanna just do anything else."
- They Might Be Giants in conversation with Sean Noone.
"We're in the latter parts of our thirties now, in regards to the youthful exuberance and craziness, we've not so much slowed down but prioritised when we can go crazy now. It's a natural progression. As long as we get a day off then we can let our hair down the night before."
- Stereophonics in conversation with Niall Swan.
"It's a collection of post-apocalyptic love songs. I wanted to explore the idea of reconstituting society, fighting zombies, and trying to maintain some kind of romantic relationship at the same time. Is it possible to fall in love when you're learning how to hunt in the canyons of New York?"
- Wheatus' frontman Brendan B Brown met with Bernard O'Rourke and discussed the new record 'The Valentine LP'.

"It's tough cos' you have to write your own story. I think we're realising that. You can't really mould yourself after any one band or anything like that."
- Local Natives in conversation with David Dooley.
"...every artist wants to be recognised for their work. As an artist who often gets judged before people have even heard me, I think, in a way, it's even more important for me."
- Roisin O in conversation with Thelma Harris on her family connections.

"I don't think it's dying at all, there's not much money in it [for new artists]. I know this sounds like a cliche but fuck the money."
- MØ spoke to Anna Job about the changes in the music industry.

"She was just baiting the drums, you could feel the energy in the room. We knew straight away."
- The Statics in conversation with Stephen Byrne on hiring drummer Jacqueline Campion.
"People call me a folk musician because I've got a guitar. That to me is incredibly shortsighted. I just did what I wanted with this record because, with the first one, I felt like it was pushed and pulled a bit by the world that it was entering into."
- James Vincent McMorrow spoke to Alice Goodwin about being confined to one genre.
"So far I've left myself as a blank canvas every time I travel, just to see where it takes me musically, because no matter where I go, it's the only language absolutely everyone can speak."
- Wallis Bird in conversation with Alice Goodwin.
"That's when forever was forever. When forever really meant forever. When you're that young you can be anything you want to be, and then all of a sudden you're thirty and forever has a whole new meaning"
- Lissie spoke to Clare O'Hanlon about stumbling upon an old photograph of her and her siblings in their Grandpa Bob's and how it influenced the title track of the album.
"I think money and people's feelings about money are really complicated especially around ART, and especially in a time of economic panic. I just try not to take shit too personally, and I try to focus on the important part: making things. Explaining myself ad nauseum is a waste of energy and will, if I keep doing it, suck the very life out of me."
- Amanda Palmer in conversation with James Hendicott on the controversy surrounding her crowdsourcing campaigns.
"I've done a few records in France and language is such a complicated thing, especially where English isn't the first language and you don't know what you're doing. They are more into the groove of the music."
- Deltron 3030 in conversation with Frank Hughes
"It's much more about emotion and travel and the inspiration you get from any little shitty corner of the world. In your own country, be it anywhere, there's always a story to be told."
- Manic Street Preacher's Nicky Ware spoke to Stephen Byrne about the difference between Rewind The Film and 2014's album Futurology.

"To be honest we just said we'd focus on making music and see what the response is before going into all that crap. I mean if people like it that's great and if they don't, they don't."
- Tvvins' Lar in conversation with Anna Job.

"We're always trying to try new things without losing our audience… I mean its punk rock music but its still art."
- Alkaline Trio in conversation with Greg Synnott.
"Yoko asked me to perform her famous performance piece called Cut Piece for the Meltdown Festival she curated this past June. The cut piece is where one person is on stage fully clothed sitting there with a pair of scissors in front of them and the audience is invited to cut the clothes off that person until the person is completely naked. It was a once in a lifetime incredible experience."
- Peaches spoke to Anna Job about working with Yoko Ono
"We are big fans of food, so everywhere we go we need to try something that's specific to the area. In Ottawa, what's specific to them is this thing…[looks at Ellie] Otter or Beaver Tails?" said Louise.
"Beaver" Ellie confirms.
"Yeah, Beaver Tails. It's not actually Beaver Tails. It's like a flattened doughnut thing, but when we played our gig there they just kept telling us we had to try Beaver Tails and we hadn't a clue what they were talking about."
- Heathers spoke to Anna Job about trying speciality foods on tour.
"For the 'Unknown Rooms' cover we rented a room at an old sort of abandoned hotel in the bay area of California that used to be a brothel. Each room is named after a different woman who used to live and work there and it feels very full (sic) of energy and stories."
- Chelsea Wolfe in conversation with Greg Synnott.
"It's pretty foggy now to be honest, it was pretty late. I had seen Rhos and Liam in their former band and thought they were deadly and I heard they were breaking up so I targeted Rhos in the campsite after, not in a creepy way. I was probably hustling and scooting up beside him. It was really late, big tent, everybody singing, drinking. It was in one of those big dome tents, everyone having a good time." The new addition to the band and silent but deadly, Sean O'Brien, then chimes in with – "Sounds a bit Brokeback Mountain to me." A roar of laughter is let off as Stephen takes control again, "Ahhh it wasn't. I was like 'so do you want to do something?' and he said 'no'. I was like a girl, I went in for the kill and was shot down. I then just stalked him after and really creeped on him until he was mine." More laughter. "This answer has gone very awry hasn't it?"
- Raglans spoke to Ros Madigan about how they formed and recruited band members.