As much a part of Galway's streets as the cobblestones, Galway Street Club colour the city's main drags with foreign accents, arresting energy, and song. This small army of street performers, with a roster of members in the double digits, is largely responsible for Galway's famed atmosphere. An almost tangible aura of welcome and acceptance.
Formed in 2016, guitarist/vocalist Spud Kennedy claims that Galway Street Club couldn't have happened anywhere else.
"Absolutely not. I've been playing all over the place doing this for a while now, and there's no other place that you can get people together that wouldn't kill each other."
Saxophonist Nahuel Raffaele, hailing originally from Argentina, agrees: "It's just a special place. Culturally it's very welcoming, for the bands, the music in the street y'know, and all kinds of buskers. I think it's just magic."
Galway's streets provide each member with a living. When the town is flooded with tourists in Summer, pocket change is easy pickings. Come Winter though and the frigid weather, the people become less generous with their time and their money. But percussionist Kai says "you can still manage like. You're not going to go out and get loads of pints every night. But you can pay your rent and eat."
Eastward, in Dublin, busking is a tougher occupation. "They have more rules," explains vocalist and ukulele player Laura Corcoran. "They have the permit system and an hour for each spot." In Galway, she describes it as "self-regulated busking." It's a community where "everyone knows everyone 'cause everyone's on the street all the time." West of the Shannon, there's little to no supervision. The wild west affords Galway Street Club the freedom to make their living outside of the nine-to-five world.
As Spud says "Galway is the only place that could've cultivated what we do," now that the band has solidified somewhat after its very loose beginnings - where individual buskers came together as a collective - "we can go pretty much anywhere. Well, anywhere that won't kick us out…"
Galway Street Club describe themselves as "organised chaos." With their debut album 'Sovereign State Of Madness,' the primary challenge was achieving the balance between order and madness. And then capturing that balance on record in all its spontaneous energy. As if they were cornering a wild animal.
"We recorded an album in a week," Kai says. And he believes "It was the discipline. It was like 'Right, we need to get this done.' We had one week. And there was 12 of us to record.
"Two people had to record overseas. Which is another thing which made it a little bit more difficult… a vocal track and everything. So that went all around the place."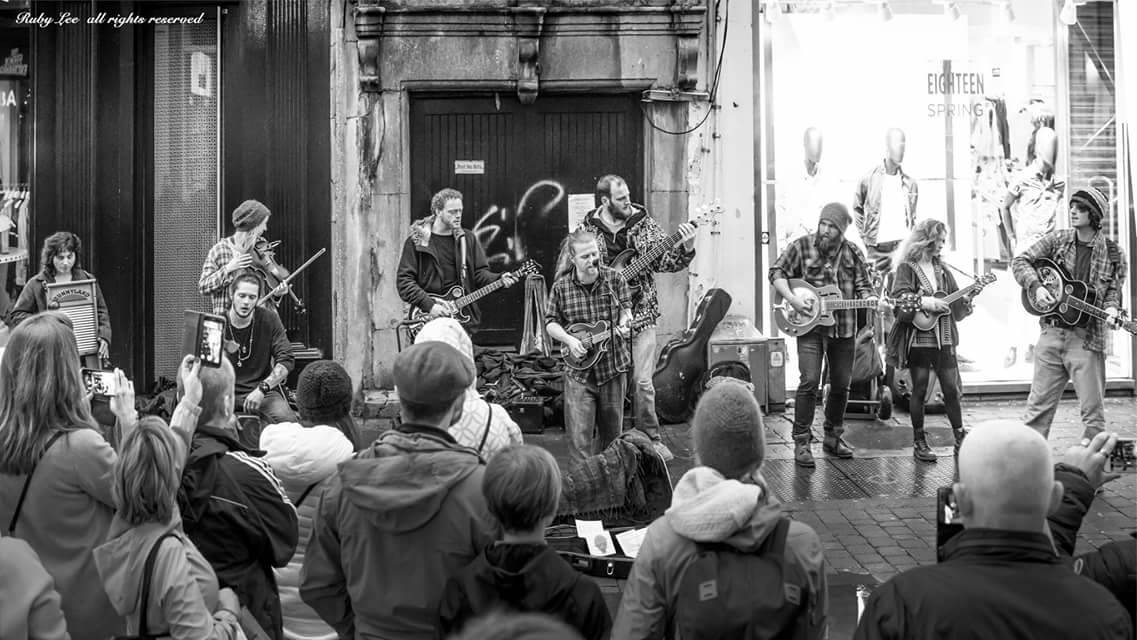 He continues: "But, I think it was because of the discipline that we were just like 'we need to get this done. This is our job. So let's do this.'" 
With all the songs written prior to recording, it was a matter of being prepared and practised. As Kai puts it "we kinda turned organised chaos into more organised chaos." Or in the words of The Commitments' Joey "The Lips" Fagin: "they have corners."
"I mean, we can be called 'organised chaos,'" Nahuel says. "And I think it's a right term. But we also know what we're doing. It's chaotic because we are making it, creating the chaos. But when you're there and you're playing the tunes, we all know what we're doing."
Each member is aware of their skills, talents and weak points. And the surrounding players know how to boost all those qualities and how best to compliment them. No band can claim to be egoless. But very few can stake any claim to being as cooperative as Galway Street Club. "You're going to sound the way you sound," Nahuel says. "Take it as it is."
Spud has claimed in the past that the secret to the band's success - a meteoric rise in just two years - is their energy. It's a ragged, gritty sound. It's the sound of a vagrant walking the road with his bundle on a stick. But there's a tremendous positivity underneath all the beer-addled vocals and nicotine-stained guitar licks. An expression of life-affirming chi.
Nahuel notes that sometimes when Johnny, their mandolinist and another vocalist, sings "You can tell that he's really angry, by the way he's singing. By the way he's like, shouting.
"But, it turns into something positive. He uses it and it's much more passionate. And it sounds great. And then maybe after playing for a while - and it happens to me as well - it's really therapeutic."
That's what Galway Street Club are; busking therapists. They help make Galway's streets a healthier, happier place with their performances. By expressing through song even the uglier facets of the human condition, Galway's cobbled ways seem brighter. No matter how cloudy the skies.