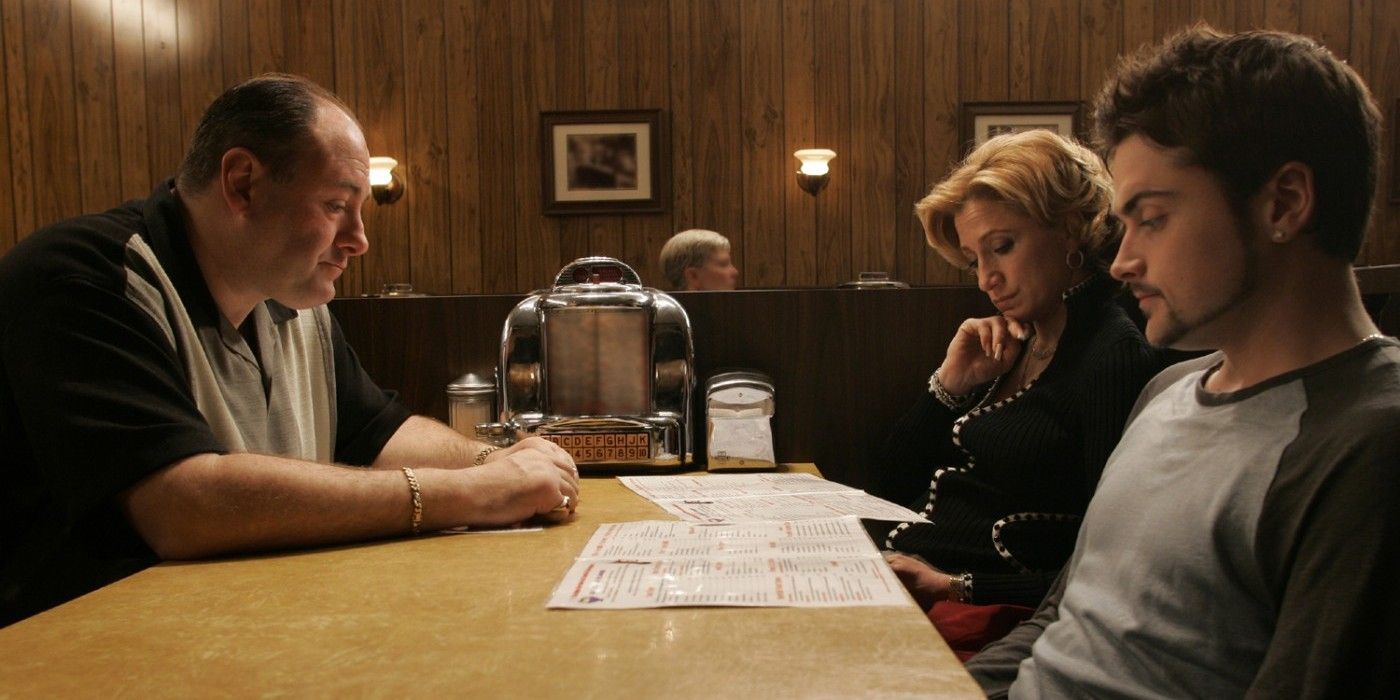 It's the 7th June 2007 and millions of people all around the world have gathered in their living rooms with their families, friends and loved ones to watch the end of one of the most revered TV shows of all time. (Spoiler alert!) For much of the final episode of The Sopranos, nothing much happens. No bloodbath, no showdown, nothing. Viewers begin to shift uncomfortable in their seats. As the clock ticks towards the end of the allotted hour, Tony, Carmella and Anthony Jnr are sitting in a booth in a diner, waiting for Meadow to arrive. Tony fidgets with the Jukebox on the table and picks a cheesy '80s song by Journey called Don't Stop Believin'. There is some halting conversation. Meadow is struggling to Parallel Park outside. A dodgy looking character enters the diner, sits at the counter and glances around nervously. The tension becomes almost unbearable and then, just as the words "don't stop…" are wailed by Steve Perry, the screen goes black. And that's it.
There were two important outcomes from this final episode of The Sopranos: the first was mass hysteria from fans of the series wondering what the hell that was all about; the second was the re-charting of Don't Stop Believin'. Having barely troubled the UK charts on its original release in 1981 (it peaked at no. 62), the song became a regular feature in the charts due to its subsequent prominent use in The Sopranos, Glee and the X Factor (twice), reaching a peak of no. 6 in 2010. In Ireland, it reached no. 4. The song went from 80's soft-rock also-ran to ubiquity in bars and clubs around the world, becoming a mandatory staple for DJs, wedding bands and pub cover bands.
Part One: The Movies
Now we all know that a good soundtrack can make an average movie good (Zach Braff, we're looking at you) and a good movie great (Hello, Wes Anderson), but it takes a particular skill to re-invigorate an old, maligned song and make it relevant to new surroundings.
Perhaps the most consistent example of a director who takes a personal interest in selecting the soundtrack to his movies is Quentin Tarantino. Stuck in the Middle With You, the old Stealer's Wheel song, became a born-again classic after it jarringly sound-tracked a torture scene in Reservoir Dogs. Tarantino went on to curate idiosyncratic and original soundtracks for Pulp Fiction, Jackie Brown and Kill Bill.
Until the release of Wayne's World in 1992, Queen was considered a pompous old dinosaur of the '80s by Generation X. Then, a scene that featured Wayne, Garth and three friends squeezed into Wayne's hatchback, first miming and then moshing to Bohemian Rhapsody made the song the ultimate song to rock out to. On its original release in 1976, the song charted at no. 9 in the U.S. and on its re-charting in 1992 it climbed to no. 2.
2004 saw the release of one of the most original, and most quoted, comedies of the new millennium in Napoleon Dynamite. Its tale of an awkward teen with delusions of grandeur struggling with school, family and girls divided audiences: those who revelled in its absurdity and those that balked at it. One of the curious things about the movie is that it is never made clear in what year, or even in what decade, it is set. The prominent use of two songs from the '80s, Yazoo's Only You and Alphaville's Forever Young certainly point to that decade, but the whole movie had a retro feel and this only added to the ambiguity. Only You was a chart hit in 1982, reaching no. 2 in the UK chart, but it could hardly be called a classic. German act Alphaville, failed to make much of an impact with Forever Young outside of German-speaking Europe in 1984 (although the song is in English) but its use in the dance scene towards the end of the movie cemented its nostalgic qualities and spurred a revival of sorts.
Some directors, more so than others, are adept at resuscitating old songs that have flat-lined since their heyday. We have already mentioned Quentin Tarantino as revivalist-in-chief but there are other directors that run him close. Zach Braff seems to have a particular affinity for Paul Simon, with The Only Living Boy in New York getting an airing in Garden State and recent release Wish I Was Here taking Obvious Child and breathing new life into it. Coincidentally Obvious Child also featured in a film of the same name released this Summer.
Wes Anderson has a close relationship with Music Supervisor Randall Poster, and they have worked together on many of his films. He cites Cat Stevens' Here Comes My Baby as the song he is most happy about bringing to a mass audience in Rushmore as this happened at a point when Cat Stevens had stopped licencing his music. Françoise Hardy's Le Temps De L'amour in Moonrise Kingdom is another idiosyncratic song choice between these two collaborators. In that film, the two tweenage runaways dance together on a dreary beach while the song plays on a plastic record player. Suzy calls it her "favourite record album". So very Wes Anderson.
Next week we'll at how the influence of television advertising has taken some much maligned songs and given them a second chance at being loved.