The six-headed live assault of British Sea Power hits Ireland this February when Brighton's finest take to the stage in Whelan's and The Limelight, Belfast.
We caught up with guitarist Martin Noble to talk about average band stuff such as the Endless and Irremovable BSP Rock Matelot Entrance Tattoo, collapsing ice shelves and the 15 year stasis in The Decline Of British Sea Power.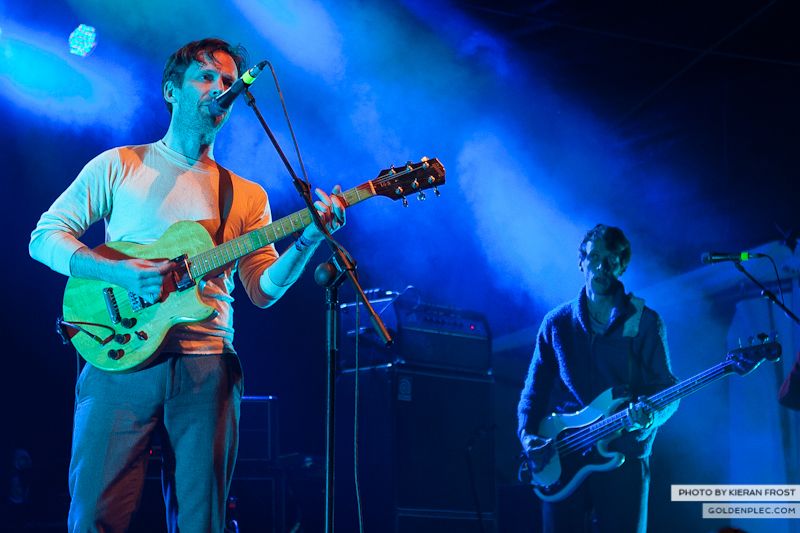 About 10 years ago I had my first introduction to BSP via my brother who told me "You'll like this band, they love nature, beer, Eastern Europe & playing small weird festivals!"- How accurate was he?
I'd say very accurate, but we also like lots of other stuff. Scandinavia, modern technology, Spirits and our local Postman.
There's lots of historical, literary and nature references in your music, Larsen B is one of my favourite tunes. What did you think about Larsen C breaking off last year?
Fucking Hell, not another one. That ones a trillion tons. Apparently if all the ice that the Larsen C is holding back was to enter the sea, they reckon global waters could rise up to 10cm. That's very bad news for some people.
Some of you are located in Brighton these days, how does the creative process work for you now compared to the past?
If it was in the 1990s then it would be a big barrier, but with modern technology we can send e-mails, demos, large music project files. We send stuff backwards and forwards. Songs like a Lone Piano was mostly recorded on the Isle of Skye, and me and Woody added some parts in a studio. You have a chat about the things that are needed & then hope that the things you do will go down well. The next step is live video links of Hamilton and Abi projected on the studio wall.
You are famous for your live shows which always have some great additions (some of my favourites being the Cumbrian wrestlers & the bears). What can we expect on this tour?
To be honest the bears get on our nerves sometimes. Some people like the bears more than us and it's a blow to our egos. The bears may be joined by Moss Man. He'll come to replace Phil (Phil our Keyboard & Cornet player can't make the first few shows). Moss Man is a walking bush who thinks he owns the fucking joint.
Your videos are always creative & great fun, how does that process work?
Sometime we get a 3rd party to make them but we've realised that we can't communicate our aesthetic very well, or other people have their own agenda to follow, so I think most of the videos have been done in-house by Hamilton or Yan.
Yan made the recent videos for Bad Bohemian and Keep on Trying. He got himself a green screen and taught himself how to use Final Cut Pro. Then he had a big old larry laugh (with some serious messages in there of course).
You've played some interesting venues like a wooden church on a stage in Norway… Is there anywhere you've always wanted to play but haven't got round to yet?
Lots of places really. North Korea would have been great but Laibach beat us too it. There is a brilliant Storyville documentary of that on BBC Iplayer. Incredible scenes.
I read somewhere that Yan was a bit nervous about touring after a break. How are you feeling now?
It's a different way of living. You don't have to make any food for yourself. You drink every day for 2-3 weeks. You have no responsibilities. It's not normal is it! It'll be our longest tour for a while. Luckily this show is early in the tour and we'll be at our physical and mental peak.
You had a four-year break between albums…during which you released Sea of Brass. What was it like putting that project together?
It was great. It was great to do a retrospective, hand picking lesser known atmospheric songs. It was like an Anti-Best-Of in a way. It was funny to play along to. The brass orchestras were always fractionally behind the beat, and they are so dynamic that sometimes they were deafening. They like a drink too.
You left Rough Trade a while ago, how has it been doing everything yourselves?
It's been fine. We licensed the album to Caroline Int, so they have done lots of great work on our behalf. I think we understand how much of the work load to take on now. We can't do it all and be in a band at the same time. We need some professional help. That's probably a general statement too.
You crowdfunded for the new album 'Let The Dancers Inherit The Party', how did you find that experience?
It's the future for us and many bands. I think once you've got a fan base then there is no reason not to go it alone, up to a point (we need professional help). I think we're going to do a similar thing for the next record, but maybe a more expanded one over a longer period. Basically, watch this space.
You offered the "Endless and Irremovable BSP Rock Matelot Entrance Tattoo" which gives entry to all your futures shows. Did many people go for it?
I think 15 people. 10 for a 3-year entry and 5 people for Life.
One of the things I like about crowdfunding is the some of the "out there" packages you can offer to fans….. was there anything mad you considered offering but thought fans wouldn't go for?
A canoe ride down the Danube with Hamilton for 5K.
It's been 15 years since your first album "The Decline Of British Sea Power" Has the way you approach writing albums changed much over the years?
Yes. We've learned new things and forgotten how to do some things. You read and learn and listen to different music. The only certainty in life is change, innit.
I'm always interested in what music bands I love listen to. What music do you love?
We all listen to lots of different stuff. I recently listened to Ken Nordine's 'colours' album. It's a funny '60s album, projecting personalities on colours. Well worth a listen. I also went to see a new band called Penelope Isles who are currently living in Brighton. I think they are working on an album and are signing with a good indie label soon. HMLTD are a good GlamPunk chaos band. Great live. And Neil Young's 'Broken Arrow' album has been on a lot in January.
Interview by Ruth O'Connor of 8 Radio
British Sea Power play Whelan's on February 6 and The Limelight, Belfast on February 7.  Tickets available from Ticketmaster.com