As ironical a statement it is to make, there's something oddly electrifying about a live brass ensemble, and Irish eight-piece Booka Brass Band are no exception to this rule. "There's definitely a novel aspect to [brass instruments]," explains alto saxophone player David Conway. "You don't see them around much. Brass, it's an acoustic sound, big, in your face, and we're playing right at people."
Booka Brass are often described as Ireland's only New Orleans brass band, a term which perhaps requires clarification; it is most commonly associated with the New Orleans "jazz funeral", which would generally encompass a fusion of European style military bands and African folk music brought to North American shores by the diaspora. However, Booka Brass themselves have branched out far beyond plaintive, sobering dirges. "There's so much we can do with the instruments we have... we can play disco, funk, R'n'B and hip-hop, which is interesting, and breaks things up a little... but the set comes from that New Orleans tradition originally."
They are self described as "urban brass", a term birthed from the struggle to properly encapsulate the band's "genre", given the huge variety in their music. "I think our music has changed so much since we put the term [urban brass] on it two years ago, through what we're listening to... we're doing things that are very groove based but then we're changing time signatures and using dissonant harmonies... People ask us, " What kind of music do you play?" and we don't know what to tell them!"

"Ireland" and "Jazz" don't tend to be closely associated terms, and yet jazz and brass bands seem to be experiencing a genuine surge in both visibility and popularity. Booka themselves have performed in venues ranging from Vicar Street to Cork Jazz Festival, supporting the likes of Imelda May and Hot 8 Brass Band, and are consistently lauded for their high-energy performance ("We're just acting the maggot") and playful brass renditions of Beyonce, Jason Derulo, Gorillaz and Justin Timberlake, to name a few.
Conway considers this jazz surge. "I think there's definitely been a movement, with the likes of Flying Lotus, you know, Thundercat...They're all playing on each other's records, similar to the way Coletraine and Miles Davis played on each other's records years ago."
There's a touch of it right here at home, too. " You've got bands like Snarky Puppy, Michael League, bands that in Ireland have become really popular... I definitely think there has been a surge in that music, especially in Dublin. We listen to a lot of that music and a lot of the music we write at the minute is definitely influenced by these bands. Then you have bands like Feather, Danny G and the Major 7ths, Zaska... It's really cool that music is branching away from the popular side."
While it can seem impossible to attempt to pinpoint how musical trends develop, David has his own ideas of possible causes. "I really think that BIMM has had an influence - when you go to these gigs like Hiatus, Snarky Puppy, there's a lot of people from BIMM who are interested in this wave of music... I definitely think there's a lot of people coming up through the college with a broad spectrum of music that they're listening to and playing. I think that could have something to do with it."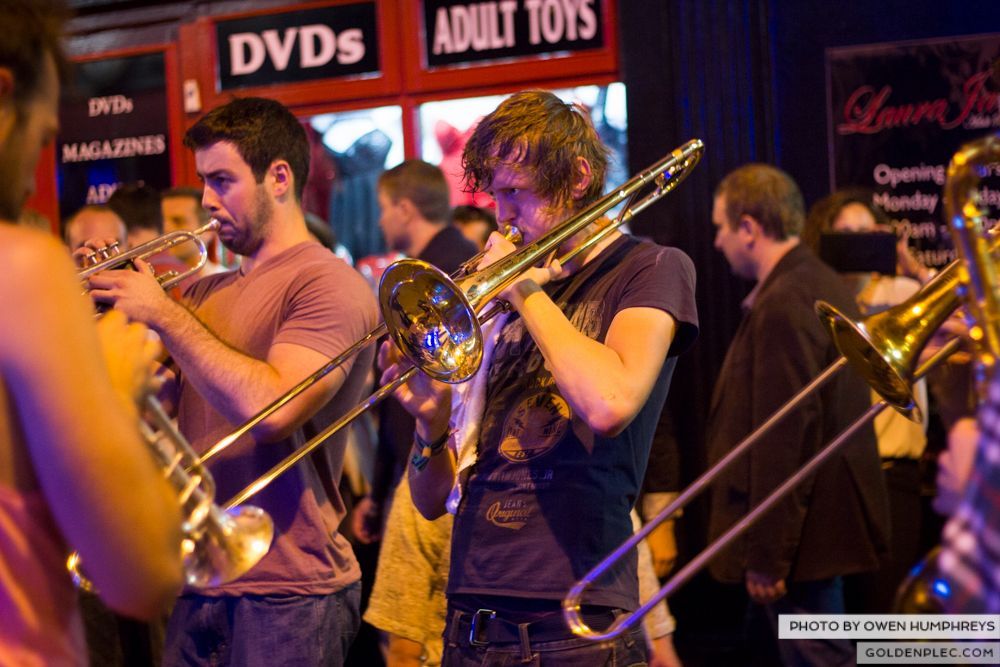 On the subject of broad spectrums, the band's latest venture will be a 5:20pm slot this Saturday at the highly anticipated Metropolis Festival, which will be Ireland's first ever winter festival. Scheduled alongside Hot Chip, Chic, Nile Rodgers and Jamie xx, Booka are one of the few Irish acts performing. "We're really excited to see The Roots, really looking forward to playing Metropolis. It'll probably be our last gig in Dublin for a while. It's going to be a great festival, especially for its first run, great lineup off the bat... It's indoors as well. I much prefer indoor gigs, the sound is just louder. When you're outside a lot of the sound just goes up into the air. So, having a roof is great."
Last gig, you say? " We've been over in the UK and France a lot this summer, so we're trying to spend next year branching out to the rest of Europe. We're planning on hitting the festival season next year.... Then we will actually be moving abroad, that's in the pipeline. We're moving to Europe, I think, as an experiment."
So they're leaving? " *laughs* We won't be that far away!"
It seems that if you have yet to catch Booka Brass live in action, this weekend could be one of the few chances left so see the ensemble on our shores.
They'll be performing at Metropolis Festival from 17:20-18:20, Shelbourne Hall in the RDS. Full details of the festival can be found here.