In what seems like a lifetime ago, we tipped three young lads from Limerick for big things in our inaugural Plec Picks 'ones to watch' series back in 2014 along with Hozier, Daithi, Wyvern Lingo and All Tvvins.
Their complex melodies, arrangements and lyrical subject matter belied their years and they were quickly snapped up by Virgin Records in the UK. Their austere, yet muscular debut album 'Is' arrived in 2016 to critical acclaim.
Drawing on a web of disparate influences from the realms of literature and audio visual arts, Mícheál Keating (Vocals, Guitar), Brendan McInerney (Drums, Backing Vocals) and Cathal Histon (Synthesizers, Sampling, Backing Vocals) were clearly operating on a different musical plain to most other Irish acts, and comparisons to Radiohead (the kiss of death) and other highbrow artists soon followed.
Although 'Is' was obviously a fine venture, it undoubtedly perplexed the casual listener and it's easy to see why the mainstream media did not take to Bleeding Heart Pigeons in the way they did many other acts in the class of 2014, but if Real Connections, the lead single from their forthcoming album 'Stir' is anything to go by, that could all be about to change.
Lead singer Mícheál Keating fills GoldenPlec in on the intervening years between 'Is' and 'Stir' and how Bleeding Heart Pigeons took back control of their own destiny in a cold shed in Limerick.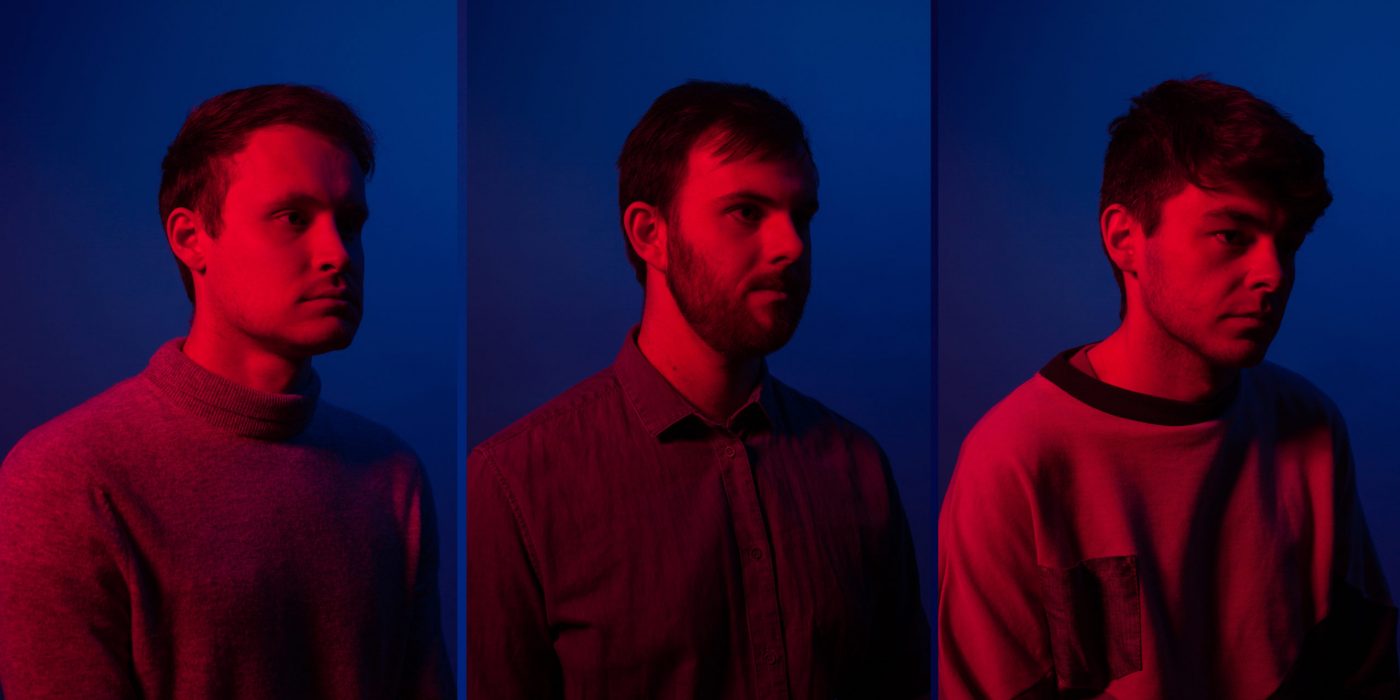 Limerick, it's not a bad auld city. What do you believe is behind the explosion of music in the city?

In a smaller city like Limerick, creative energy is highly infectious. It seems to take just a few people to create a spark, and it travels through the city (see: Naive Ted, Windings, Rusangano Family, the folks of DIY LK). Momentum has been building up in the past few years, more people are doing more creative things with more confidence and more support from the community. With venues like Pharmacia and The Record Room playing host to original, local music, performance art, niche-electronic-subgenre-nights, séances etc, the city centre is culturally rejuvenated. People are fed up of the inane s**b-city jokes, and they want to redefine Limerick with new noises.
It's four years since you guys released new music. How did you find being locked away from the Irish music scene during such an exciting period? Did you ever worry that you'd get left behind?
We've pretty much spent the four years attending gigs in Limerick and making friends with creative people, which has been amazing. We've never really had that sense of belonging before. In that sense, we didn't feel locked away, and we've all been collaborating (I've been recording with other artists a lot, Cathal has been recording, collaborating, making videos, and Brendan has been drumming for some other bands), and playing some small BHP gigs here and there. We've definitely been itching to get the new LP out though the whole time, so we're delighted that it's finally happening.
Real Connections is the most immediate track you've released to date. Is this a good indication of what we can expect from 'Stir'?
There is definitely a more direct character to some of the new songs – in general, the songs are more pared down and refined than the ones on 'Is'. The songs are still quite layered, but hopefully the immediacy will invite people to listen, and they can uncover the layers as they spend more time with them.
The video for Real Connections is visually stunning. Can you explain the concept behind the video and the process of making it?
Glad you think so! The concept grew out of discussions for the album artwork with 3D animator/graphic artist Hugh Heffernan (of Piquant Media). In a way the video is like an extension of the album artwork. The idea was simply to combine photorealistic 3D and live band imagery to visually echo the music, and the song's themes of isolation, connection, anxiety, and social media. Hugh meticulously animated the photorealistic 3D portions in Cinema 4D, and some shots took over 72 hours to render on his computer. Graham Patterson and Conor Buckley (also of Piquant Media) shot the live portions of the video with us in Ormston House in Limerick. Then Graham edited the live and 3D footage together. I think what's really cool about the video is that it's actually quite slowly paced, opting for slow camera movements and use of lighting techniques instead of frenetic editing, and that builds tension very interestingly. We're amazed at the result and are ever-grateful to the lads for their work.
You left Virgin Records and set up your own label, Hlym Records. Why did you decide to set up your own label rather than sign somewhere else and how did that affect the process of creating 'Stir'?
I think our industry experience left a bit of a sour taste in our mouths – we were signed to Virgin as teenagers and ultimately it was the wrong label for us to be on. We actually recorded 'Stir' when we were still on Virgin – we were in quite a frustrated headspace following the release of 'Is', with the idea in our heads that LP2 would be our last release with them. We still recorded it ourselves at home in our own shed, but that claustrophobic, yearning mindset definitely comes through on the album. We're enjoying taking charge of our own music and lives at the moment, and what better time to do it then now, when the DIY scene in Ireland is so strong. We're happy to partake in it.
Hlym Records translates from Old Norse/Irish as Mighty Noise Records. How did you select the name?
It's a play on the Viking word hlymrekr, which the name Limerick comes from. As you mentioned, hylmrekr translates as 'mighty noise'. It was no big deal picking the name or anything – we thought it'd be nice to have something we can continue to release music under, and who knows, maybe it will grow to put out releases by other artists. The central idea, of course, is that the music happens here in Limerick.
You recently posted a video on social media of Brendan playing drums in an agricultural shed. What are the pros and cons of recording in an unconventional space?
It's a very fun thing to do, and I highly recommend it. The pros are that it's very stimulating and you can get unique, natural reverbs – a lot more exciting than using reverb plugins. It's also really good for training your ear if you're a recording engineer. The cons are – having to lug all the gear out, trying to find an adapter for those weird safety plug things that are on farms, trying to avoid external noise bleeding into your recordings, and it being cold. One time it was really cold and Brendan had to take his coat off because it was rustling too loudly into the mic as he played.
Bleeding Heart Pigeons have always seemed like a band that's as influenced by other artistic disciplines as much as other musicians. What artists have fed into the creative process behind stir?
The films of David Lynch are a definite influence. 'Twin Peaks: The Return' was airing while we were recording the album, and it blew us away. One thing that's really influential for me is how Lynch takes things that are clichéd or kitschy and skews them to create this uncanny, surreal effect. We sometimes try to do the same thing with pop songs. Cathal remembers being inspired by the book '100 Years of Solitude' by Gabriel García Márquez during the making of the album, and Paul Thomas Anderson is a massive favourite of Brendan. I also remember reading 'Solar Bones' by Mike McCormack at the time, which is amazing.
The record title 'Stir' conjures up images of Bleeding Heart Pigeons awakening from their slumber and creating a commotion. But what is the real thinking behind the name?
I like the word as a title because it works on a few levels – it's cool that it made you think that! There's a song on the album called Stir, and the stir in that songs refers to a kind of twinge of dread in one's stomach. The narration of the songs are from this kind of dense, clouded headspace where things are stirring in circles, and the music sometimes sounds like that too. I was also thinking about this image of existence as a churning cosmic soup. There's also a definition of a stir as 'a prison, an immovable thing or place in which you cannot move' – when I saw this definition, I was sold on it as a title, because it tied everything together.
Real Connections was accompanied by the track Weddings and Wakes. Is this an old school B-Side or can we expect it to appear on 'Stir'?
It's an old school B-Side which was left over from the album.
Why did you decide to twin Real Connection with Weddings and Wakes?
Since we haven't released music in such a long time, we thought it would be nice to release a decent B-side with Real Connection. Always been a fan of B-sides.
Finally, how are the band navigating this isolation life?
For me, at the moment, I've been busy getting things together for the release of 'Stir' while also studying for a Masters degree and doing other work, so I haven't taken too much notice (yet!). The other lads are studying/working from home too. It's good to know that if it does start to get to me, I can always video call friends and family, listen to music, do some yoga, or maybe watch a Tarkovsky movie. I have only been seeing Cathal and Brendan through video chat, as we stay in our respective homes. We are currently doing a fun project with some friends where we do cover versions of each others' songs. Nice little things like that will keep us going.