We've been long-time admirers of Bitch Falcon here in GoldenPlec; the guys appeared in our Plec Picks series in 2015 and on the cover of Issue 3 of our magazine [RIP] and, as you'd expect, we have been keeping a close eye on them as their career progressed in the interim.

Despite an evolving line-up, Bitch Falcon have continued to raise their standards both in the studio and in a live setting and the current alignment of Lizzie Fitzpatrick (Guitar/Vox) Nigel Kenny (Drums) and Barry O'Sullivan (Bass) is undoubtedly the best line-up to date.
Bitch Falcon have recently released a vinyl collection of their work thus far, a brand new single Prime Number, and are about to make their American live debut in New York. They're also set to embark on the About To Break UK and Ireland tour with Upset Magazine, which concludes in The Bowery in Rathmines in November.
We caught up with Lizzie Fitzpatrick and Nigel Kenny as they prepare to commence this exciting new chapter for the band.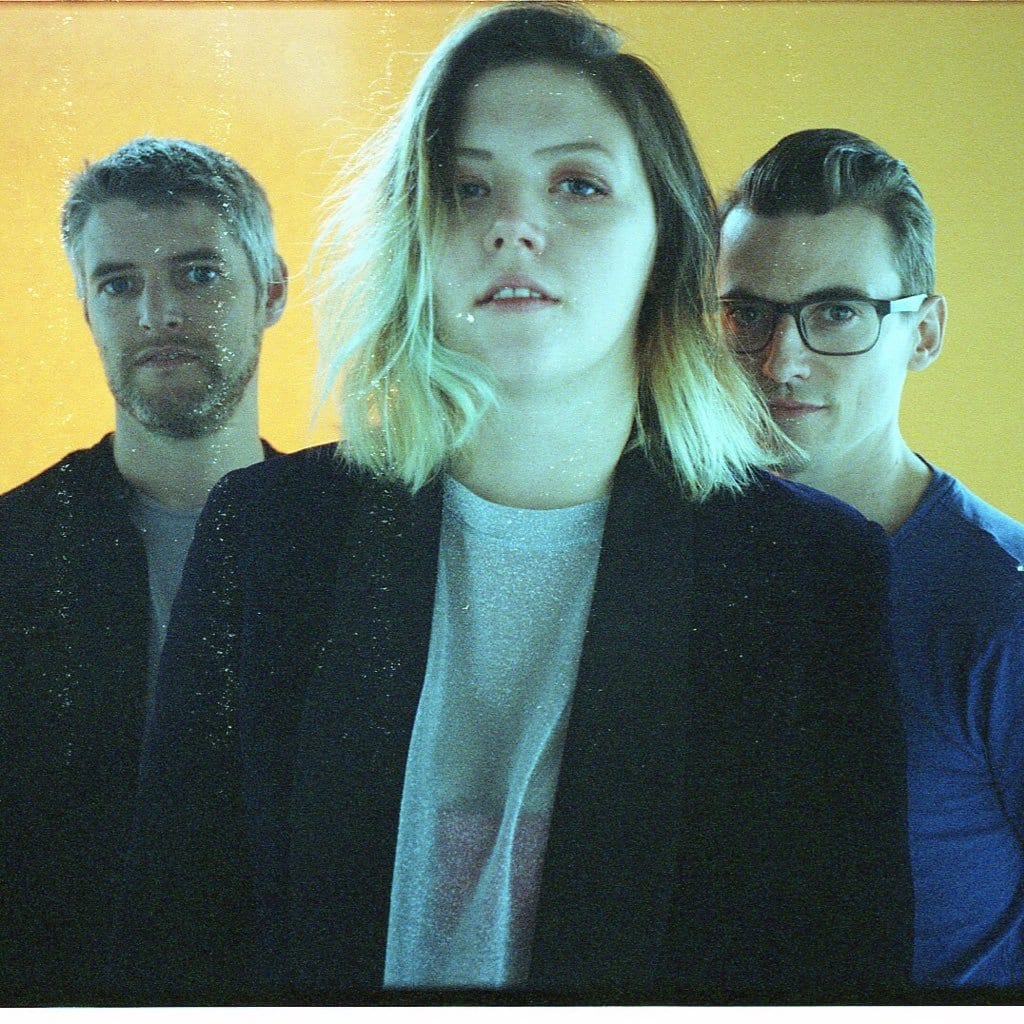 The last time we interviewed you guys was just ahead of Hard Working Class Heroes 2017. Your subsequent performance was regarded as one of the highlights of the festival. How much help has HWCH been in opening doors for the band?
NK: We got our manager, Irish promoter, booking agent (with added help from Simon [Merriman] @ Aiken [Promotions]) and some great showcases outside of Ireland as a direct result of HWCH. HWCH was also an early buzz builder for us and no doubt gave us a significantly better platform to launch from. We are so lucky to have FMC [First Music Contact] and Angela [Dorgan] directing international industry towards Irish music. I just can't imagine the landscape without them bringing attention to the Irish music scene for the last 14 years. That's a scary place to go!
LF: Before HWCH, generally the music industry was dark territory. Whatever impression you have about showcasing as an artist starting out, I would wholeheartedly recommend it without thinking about what success it brings you, but more of how much you'll learn about how to navigate the music industry. We had great successes from it, and the thought of travelling to other showcases abroad was far too expensive. With HWCH, we got to play to bookers in Ireland, and get funding to travel abroad.
You guys didn't play HWCH '18 but some of you appeared on panels at the festival. How did you find the transition from attendee to delegate?
NK: It was a great experience. I had a great time speaking with those that attended and hope they got something useful out of it. Attending it on the artist side and performing for the last several years was always great fun but it was an honour to be in attendance as a delegate this year. I hope I get the opportunity again.
LF: I was shitting it before. During, I learned loads from the other people on the panel so I found it as educational as an audience member!
Nigel you were talking about Endorsement deals. Can you give us some quick tips for anybody that wasn't lucky enough to attend?
NK: Know what you want and approach the right person. Research the format that each brand wants to receive endorsement requests and stick to it. Make sure you have a well-written, concise artist bio that gets across who you are and what makes you tick. Describe why you want to play their equipment and no one else's. Include some nice, hi-res shots of you performing (ideally with the brand you're chasing featured) where you are the focus of the image. Include all your contact information as well as links to your social media. Include some high quality video of you performing if possible. Any obvious high engagement on that content is a plus.
Chasing a deal is no different than your band chasing a gig, promoters, agents etc. Put a lot of work in to your submission and don't submit it until it's strong. Brands are looking for influencers in the market you operate in, if you cannot influence people's buying decisions locally then it's not the right time yet but work on that now and plan for a few years ahead when that can change.
You recently released a vinyl EP of Bitch Falcon tracks to date. Why did you decide to do that ahead of releasing your first new music since Barry joined the band?
NK: Those songs never got a physical release and it felt like they should be put together on one release. People were asking for that for a long time so we put it out. The new stuff since Barry came in is different, it still sounds like Bitch Falcon but we have a plan for that and it needs to be separate to what came before.
Although you guys are proudly loud, ear health is a passion within the band, especially for Nigel. Why is it so important to you?
NK: When I was in my early twenties, I played a biker rally in Co. Galway and was positioned directly beside an 8K rig for 3 hours at an insane volume. I didn't bring plugs, I rarely wore them back then and afterwards I noticed something was not quite right. The next day I woke up and I had lost all hearing in my left ear and days passed and it hadn't changed. Thankfully, after a week, it came back and shortly after I got a hearing test and impressions taken for custom earplugs.
Ever since then, I don't take any chances when it comes to my hearing and I try to encourage as many people as possible to protect their hearing so they can enjoy a long, healthy career in music because once you start losing it or getting tinnitus, it really sucks and you don't realise how much it sucks until it happens. Thankfully, this also makes up part of my day job and I consult people on a daily basis on moving over to custom IEM's via Ultimate Ears/Musicmaker so they can perform better and safer for as long as they choose to keep performing.
When we spoke previously, you guys mentioned how important it was for you as a band to reach beyond Ireland. You've since signed for United Talent Agency (UTA), one of the world's biggest booking agencies, and you are going to LA for your first US show at the end of the month. Do you feel closer to that goal than you did a year ago?
NK: Absolutely. We've gone over to Holland twice this year and will have played in the UK four times by the end of November. As you've mentioned, we'll also be playing the US for the first time (with thanks to the Arts Council and FMC) and we have a lot of new material recorded and demoed that will be coming out this year and next year. Playing out of Ireland more frequently to support this new material is a given. Very exciting!
LF: Yes, absolutely. I must remind myself to keep focusing on what is and has happened, as sometimes you can get too focused on climbing ladders. I'm very excited to be back in the van again for a few weeks. Our show in LA will be the first time I go to US so it's all comin' up Milhouse.
You are also set to play the About To Break tour in association with Upset Magazine - a 15 date UK and Ireland tour. Being pushed by non-Irish media must be a thrill?
NK: I'm still constantly surprised when anyone choose to write anything about us and even more surprised that it's been positive in almost all cases. Being pushed outside of Ireland is necessary to our development because you just can't survive here in our tiny market alone. Getting the press onside outside of Ireland will make the band more sustainable and exposes us to a much larger audience so it spurs you on and gives you a nice little push.
The tour also coincides with the release of your new single Prime Number. Tell us about the track and why you chose to release it as a single?
LF: Prime Number is a song we wrote a little while ago and when recording we came up with a new motif for the chorus, so it feels like a regenerated song that has a new bit of life to it. It's about trying too hard to impress people and really you should just focus on being yourself. The lyrics are bit of a letter to myself; to get over yourself and relax.
With the tour finishing in Dublin, does this mean you guys have to organise the wrap party?
NK: Jesus hadn't thought of that...do you fancy doing it?
LF: Yeah, please take care of us?
Most of the focus in the Irish media is on Irish hip hop these days but how do you guys rate the Irish rock scene currently?
NK: Fontaines DC and Thumper are doing a very good job at the moment aren't they?!
LF: Well a lil' bird told me that Girl Band are making sound in their studio so will hope for more soon. Tribal Dance are doing some cool stuff. We absolutely love Girlfriend, they have some great green room buzz.
Irish music is in fine fettle, but the infrastructure seems like it's about to break. How concerned are you about the closure of rehearsal spaces and venues in recent times?
NK: Very, very worried. It is being ignored and it will result in a culture brain drain that will be felt for generations. You can already see it! How many Irish artists do you know that are in Berlin and London now? If you're lucky to get a rehearsal room, you won't be able to afford it. Then you have no security as landlords sell off property and with another crash imminent, those properties will start moving over the next 18 months at an accelerated rate and the only decent facilities we have will be gone again.
It's the same with venues, what would've happened if there wasn't CBGB's or The Cavern or The Blue Note? No one in the government understands this but they can't be blamed them for it either because we're not jumping up and down about it. The only way we will ever get a proper look in is if we can develop some form of lobby group to present our case and create a voting body with an impact at general elections.
Now that Barry is fully bedded in as a member and things are starting to take off abroad, it must be time to start thinking about recording your debut album, are there any plans afoot currently?
NK: That has already begun.There's enough songs you haven't heard before finished for an album right now. There's another 30 we'd like to finish though. Plenty of stuff coming out one way or another and it's the best stuff we've ever written.
LF: Yeah it's super exciting. Writing and recording is such a lovely, cozy vibe and we're really enjoying it. We don't want to have any more long gaps in between releases, but we want to make something really special. Come to a gig and you might hear a new one or two.
Bitch Falcon play the Bowery Friday 16th November with Haggard Cat. Tickets €16.00.