We caught up with Northern Irish singer Amy Montgomery ahead of her upcoming show in Whelan's on Thursday, September 26th. Montgomery has recently been nominated for Best Single for Tree Song and for the Oh Yeah Centre Contender Award at the NI Music Prize 2019, which takes place in the Ulster Hall on November 7th.
Check out Montgomery's cover version of Donovan's Season Of The Witch which she released earlier today.
You wear Adam Ant-esque warpaint on stage. It's a striking visual look, but what is the reasoning behind this decision?
I have never been familiar with Adam Ant's music until I had realised he wore similar warpaint on his face. The reasoning behind it is to get myself into a certain place mentally and emotionally. After facing some difficult times in my life, I feel that it is important to channel the warrior within me, this is where I get my fire from. I also hope that when others see it on my face, it reminds them of the warrior within themselves too.
Most young people gravitate towards hip hop and indie rock these days. What attracted you to the blues rock end of the musical spectrum?
I gravitate towards anything that nourishes my soul. When I was younger, my dad had blues/rock blasting out of the family hi-fi all the time. I think this has definitely influenced my sound, if not, my passion. Around the house there would have been the likes of AC/DC, Eagles, Elvis, Suzi Quatro playing. As time has moved on though, I listen to a lot of different genres now.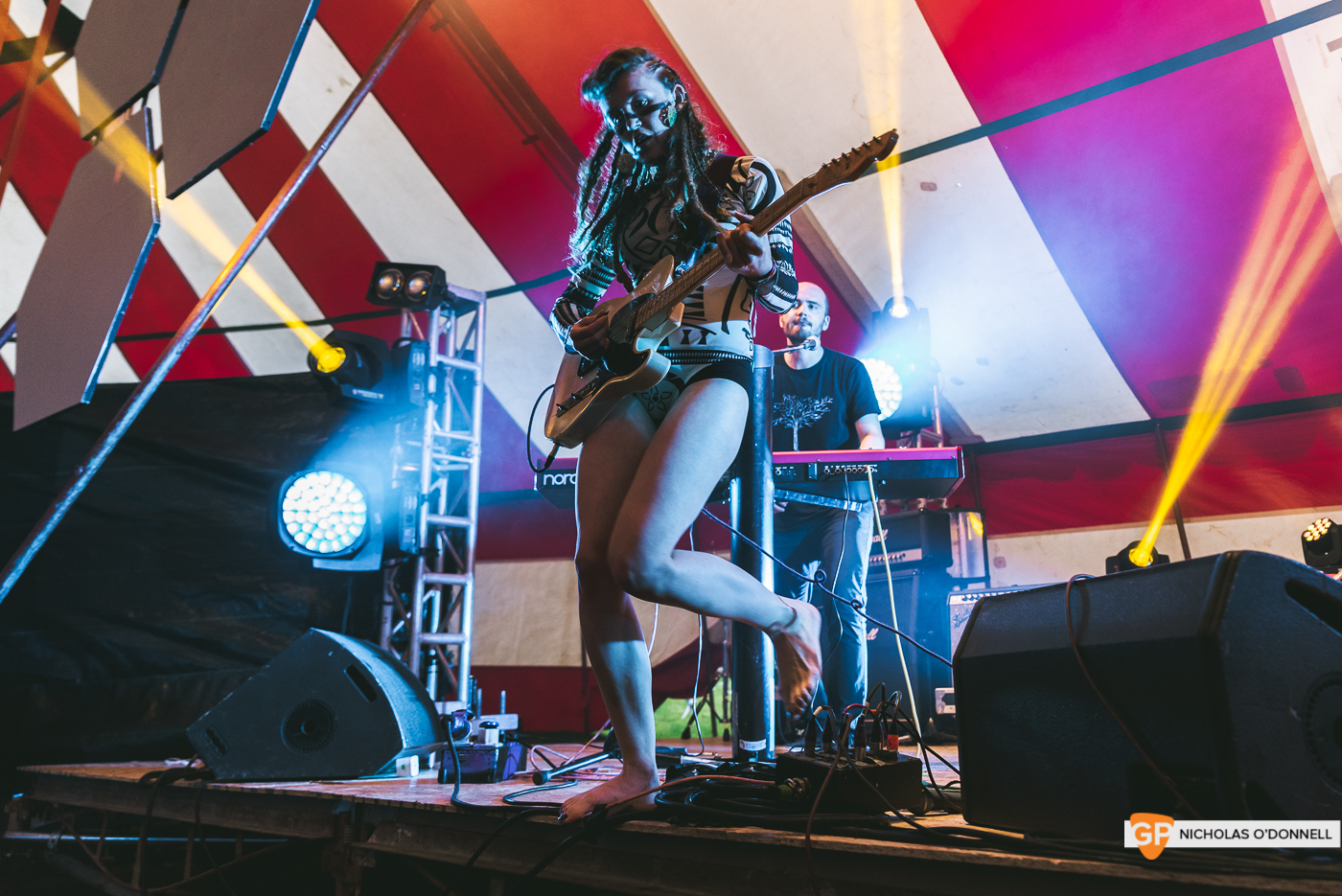 Your voice has been compared to some legendary singers such as Janis Joplin, but who are your influences and when did you discover you had a voice suited to this genre?
I listen to a lot of meditative music, bamboo flutes and sitars. Hariprasad Chaurasia is an especially great flautist. In terms of performing, my influences would be Freddie Mercury and Lady GaGa. Music that I listen to ranges from dance music like LCD Soundsystem and Soulwax, to acoustic folk/jazz like Norah Jones, I also love Alanis Morissette. At the minute I am listening to a lot of Sharon Van Etten. I take comfort from her energy in performing. But I think even though I listen to these artists, they don't exactly play a role in my artistry. I thrive to be myself, always.
When I went busking for the first time, I had to compete with the hustle and bustle of the streets, so perhaps then. But there wasn't really a definitive moment when I discovered. My voice changed and coincided with what happened in my life. After experiencing the tragedy of my mum's death at only 16, I believe not only my voice has changed, but I have too. I have explored confidence and personal growth in a way I hadn't before. So the power, and strength in my performance is not just me, it's like channelling something else. Maybe because inside it, there is pain, but also beauty and happiness. I don't really categorise my music to be one genre. If it's anything, it is healing.
In a world obsessed with streaming numbers and brand tie-ins you are building your career in a more traditional way by touring until you drop. Did you take to the road like a duck to water?
Yes! I love being on the road! One of my passions in life is travelling. This year I stepped on a plane by myself, and jetted off to India for two months to explore their culture. Being able to combine my love for music, and travelling is truly amazing. Now, I'm not going to tell you everything about touring is wonderfully great. It can be tough too. But I actually find the hardest thing about it is coming home and having to adapt back into your 'normal' life, then by the time you're settled, you're away again! Ha ha. But I wouldn't trade my life for anything else, I love it.
You've been playing major festivals in Europe and the UK such as Glastonbury. What have been your bucket-list moments to date and what's your dream gig?
I think getting to play Glastonbury was definitely a highlight of the Summer. I mean, it's Glastonbury?! But another really special moment this Summer was Cambridge Folk Festival, we played Stage 2 and it was absolutely rammed! After the gig, the longest queue I have ever seen was formed to meet me and sign a CD for them. It was a really humbling moment for me. I think I shed a tear when we left the festival, en route to another, just in awe of the kindness of the crowd.
My dream gig is not an exact place or name. My dream gig has already happened and continues to happen. It is when I am completely present in the performance, with the audience. No matter what size the stage or festival is. If I am totally present, I will have the best show. Such as life.
We caught you live for the first time at our favourite independent Irish festival Knockanstockan. How did you find it?
Knockanstockan was great fun! We actually had a few of our friends over from Germany and they came to the festival too, which made it really special. It was my beautiful German friend Manu who gave me that funky hairdo that I had at Knockanstockan!
What advice would you give to a band going on tour for the first time?
Bring a spare tyre. Make sure the spare tyre is not flat. Ha ha! I would say to soak up the alternative lifestyle of touring, and enjoy every moment of it. Speak to new people, you make so many great characters when you tour. Be professional, but also don't forget to have fun!!
You recently released your third single Tree Song, tell us the story behind the track!
Tree Song has a powerful mantra-like chorus 'I will not fall over, like the root of a tree, my feet are planted.' Myself and Michael Mormecha wrote this song in our farmhouse studio (the one that you see in the video!). Just outside the window, there stood a big, wise oak tree, almost as if he was listening and watching us in our daily life. The song as a whole is about the link between all things natural.
It is about the similarities of us and trees, we both grow. Trees grow physically and humans, we grow physically but also in ways you can't always see...emotionally and spiritually. The mantra-like chorus encourages and urges you to abide by the lyrics and surrender to the spontaneous personal growth that is possible within you. This track gives you the space to allow yourself to welcome changes that happen in your life. Everybody can take something from Tree Song I believe. No matter what age, race, religion, gender you are, we have all experienced the same emotions in different circumstances.
The split screen video treatment is quite effective in expressing the tension in the track. Where did that concept stem from?
One screen represents the inner of our minds, and the other the outer, more physical surroundings. In the left split screen, the figure that is played by David Quinn, a very talented clown from Belfast, is almost engulfing me with his presence, trying to distract me. This represents negative thought patterns that can drag us down and prevent us from doing what we really love. The idea of the video was slightly influenced by the topic of mental health. As I mentioned, my mum passed away tragically, by suicide, so I am an avid preacher of taking care of your inner self.
You had to upgrade your Belfast show from McHugh's to The Limelight 2. How gratifying is it to shift so many tickets for what is roughly speaking a hometown show?
AWESOME! I am so grateful to everybody that has bought a ticket. I was incredibly taken by the amount of ticket sales, I just didn't expect it at all. I can't wait to have the many familiar faces in one room.
Musicians within the Northern Irish music scene seems to be very supportive of each other. Why do you think that is?
Because our country is so teeny tiny! A bit of island mentality maybe? I think Irish people are at nature, quite empathetic, so they intrinsically support each other, especially in a scene like music. I get a sense of comfort and excitement connecting with and supporting other NI Artists, you understand what each other are trying to do.
Who are your favourite NI acts right now and why?
Wood Burning Savages! Those boys are just incredible performers. Big love to Paul Connolly! And Jealous Of The Birds. Naomi's songwriting abilities continue to amaze me, it's been so nice watching her musical journey so far.
You recently provided guest vocals on Gasoline Outlaws album. How did that collaboration come about?
The lead singer Matt got in touch with me via social media, asking if I'd like to guest vocal on the track. That simple! We had great fun and many laughs recording with Frankie at Einstein Studios.
Who would you like to collaborate with in the future?
I don't have any current collaboration desires. Perhaps collabing with Roisin Murphy would be cool. But that is just a flash of a dream in my mind.
Speaking of albums when can we expect a larger body of work from you?
Hopefully 2020 will see a release of an album from me. We have been working away in the studio for a while now and have lots of material. I suppose we have been waiting for the right moment. I wanted to focus on live shows in 2019, which is what I am currently doing.
Who would your ideal producer be and why?
Michael Mormecha. He's the best ;-)
Following your Irish dates in September you are heading to Australia for a tour with William Crighton and The Family Band. How did that tour come about?
William Crighton and I connected through a festival called Black Deer over in Kent. He wasn't at my show but had heard of me through a mutual friend who was working at the festival. He sent me a message online requesting if I had any interest in coming over to Australia to play. Of course I said yes! But I didn't expect things to come together as they did. A few weeks later, I got this offer for a short run of dates with him down the East Coast of Australia. It's like a dream. I won't believe it until I'm there! I'm very much looking forward to meeting William Crighton in person too.
Most people in Ireland will be unfamiliar with Crighton's work. What's your favorite song of his and why?
I really like 'Jesus Blues'. It reminds me of Father John Misty's sound. Very cool!
What's next after your Australian adventure?
After the Aussie tour, we fly from Sydney to Frankfurt, Germany for a few shows. In November we have some Irish dates booked but not announced yet. I am really looking forward to two German festivals in November too, Rolling Stone Beach and Rolling Stone Weekender!y
Amy Montgomery plays upstairs at Whelan's on Thursday September 26th. Tickets €13.00