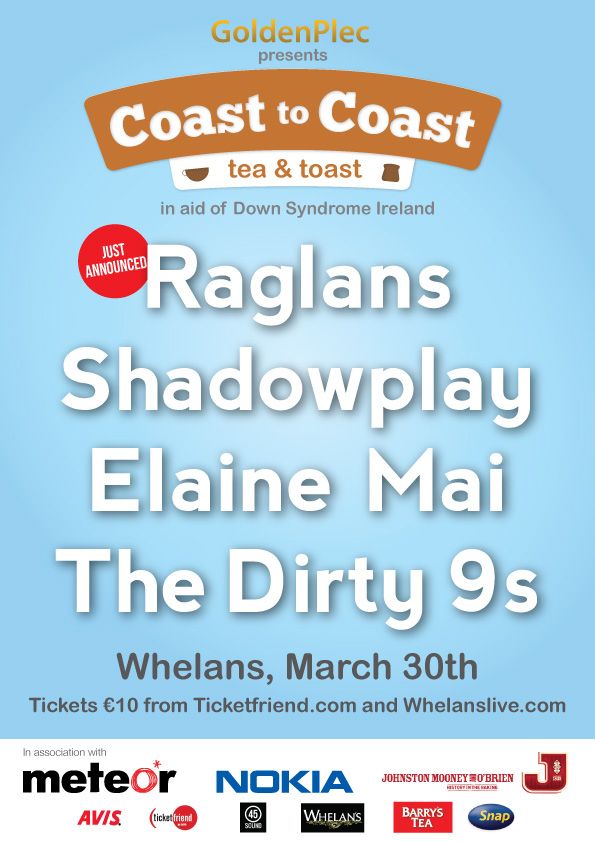 We're not ones to blow our own trumpets here at Goldenplec but this week we are bringing you something a little bit different and very special, so much so that we think it merits Gig of the Week. If you haven't heard of Coast to Coast: Tea and Toast, where have you been?? It is our cross-country dash where we'll meet a band for a one song gig and some tea and toast in as many towns as we can over two days with a cracker of a finale gig in Whelans on Saturday 30th. All the while raising money for Down Syndrome Ireland. Tickets for the finale are only a tenner and you'll be spoiled with sets from Raglans, Shadowplay, Elaine Mai and The Dirty 9's.
By booking tickets to the gig you'll not only be showing off what a good Samaritan you are, you'll automatically be entered in to a raffle for a swanky Nokia Lumia 920. So what are you waiting for get booking your tickets from Ticketfriend.com and Whelanslive.
Elsewhere this Easter week there's lots happening. Don't forget about Simple Minds in The Olympia Theatre on Monday and Tuesday. Tickets are still available and are €39.05.
X Factor 'bad boy' Frankie Cocozza is attempting to be relevant and plays The Academy 2 on Tuesday. Tickets are €12.50 and still available and are €12.50.
American folk-blues singer Maria Muldaur plays Whelans on Tuesday and The Black Box in Belfast on Wednesday. Tickets are still available and are from €24.90.
The Smiths Johnny Marr is in The Academy on Wednesday. Tickets are €24.50 and still available.
Scottish rockers Biffy Clyro are down in The O2 on Thursday night. Tickets are €36.50 and still available. Meanwhile across the river, The Saturdays will be heating up the Bord Gais Energy Theatre. Tickets are still available and start from €20.
For all other listings see below:
| | | | | |
| --- | --- | --- | --- | --- |
| 2013-03-25 | Dj Guru Josh Project | The Wright Venue | €17.15 | Ticketmaster |
| 2013-03-25 | Frankie Cocozza | Oh Yeah music Centre | €13.5 – 22.5 | Ticketmaster |
| 2013-03-25 | Simple Minds | Olympia Theatre | €39.05 – 49.65 | Ticketmaster |
| 2013-03-25 | Tom Baxter | Dolans Warehouse | €20.9 | Ticketmaster |
| 2013-03-26 | Cedric Gervais | The Wright Venue | €25.65 | Ticketmaster |
| 2013-03-26 | FRANKIE COCOZZA | Academy 2 | €12.5 | Ticketmaster |
| 2013-03-26 | Johnny Marr | Limelight | €22 | Ticketmaster |
| 2013-03-26 | Maria Muldaur | Whelan's | €24.50 | |
| 2013-03-26 | Simple Minds | Olympia Theatre | €39.05 – 49.65 | Ticketmaster |
| 2013-03-26 | Timber Elephant | Cyprus Avenue | €7.00 | |
| 2013-03-26 | Tiz McNamara | Cyprus Avenue | €6.3 | Ticketmaster |
| 2013-03-27 | Frankie Cocozza | Cyprus Avenue | €12.75 | Ticketmaster |
| 2013-03-27 | Johnny Marr | The Academy | €24.5 | Ticketmaster |
| 2013-03-27 | Maria Muldaur | The Black Box | €19.5 | Ticketmaster |
| 2013-03-27 | Mike Denver | Tullamore Court Hotel | €27.65 | Ticketmaster |
| 2013-03-27 | Student Day | Leopardstown Racecourse | €15.00 | |
| 2013-03-28 | Asiwyfa | Dolans Warehouse | €14.35 | Ticketmaster |
| 2013-03-28 | Biffy Clyro | The O2 | €36.5 | Ticketmaster |
| 2013-03-28 | Shoctopus – Album Launch | The Button Factory | €7.00 | |
| 2013-03-28 | Simple Minds | Waterfront Hall Auditorium | €34 – 39.5 | Ticketmaster |
| 2013-03-28 | The Saturdays | Bord Gáis Energy Theatre | €20 – 35 | Ticketmaster |
| 2013-03-29 | Biffy Clyro | Odyssey Arena | €31.5 | Ticketmaster |
| 2013-03-29 | Christy Moore | INEC – Gleneagle Hotel | €39.5 – 45 | Ticketmaster |
| 2013-03-29 | David O'Connor | Carlton Hotel Tralee | €15.00 | |
| 2013-03-29 | Good Friday Concert – Rossini's Stabat Mater | St Patrick's Cathedral | €25 | Ticketmaster |
| 2013-03-29 | Nathan Carter | Olympia Theatre | €23 – 28 | Ticketmaster |
| 2013-03-29 | Scar Symmetry | Voodoo | €14.5 | Ticketmaster |
| 2013-03-30 | Aril Brikha | Cyprus Avenue | €14.35 | Ticketmaster |
| 2013-03-30 | Axis of | Empire Music Hall | €6 | Ticketmaster |
| 2013-03-30 | Ben Pearce | The Stiff Kitten | €9 | Ticketmaster |
| 2013-03-30 | Bernard O'Shea | City Limits Comedy Club | €17.50 | |
| 2013-03-30 | Cole Medina | The Sugar Club | €12.00 | |
| 2013-03-30 | Maria Muldaur | The Pavilion | €17.50 | |
| 2013-03-30 | Mike Denver | INEC – Gleneagle Hotel | €30 | Ticketmaster |
| 2013-03-30 | Morgan Geist | The Twisted Pepper | €16.65 | Ticketmaster |
| 2013-03-30 | Scar Symmetry | The Pint | €16.5 | Ticketmaster |
| 2013-03-30 | Smokie | INEC – Gleneagle Hotel | €25 | Ticketmaster |
| 2013-03-30 | Spring Break | The Button Factory | €25.00 | |
| 2013-03-30 | The Beat | The Workmans Club | €22.5 | Ticketmaster |
| 2013-03-30 | The Original Rudeboys | Olympia Theatre | €18 – 20 | Ticketmaster |
| 2013-03-30 | The Song Collector Sessions | INEC – Gleneagle Hotel | €12.5 | Ticketmaster |
| 2013-03-30 | Wild Belle | Academy 2 | €12.5 | Ticketmaster |
| 2013-03-31 | Allianz Hurling League – Antrim v Offaly | Casement Park | € GBP 0.00 to GBP 13.00 | |
| 2013-03-31 | Allianz Hurling League – Dublin v Carlow | Parnell Park | €From EUR 0.00 – 13.00 | |
| 2013-03-31 | Allianz Hurling League – Kilkenny v Cork | Nowlan Park | €From EUR 0.00 – 13.00 | |
| 2013-03-31 | Allianz Hurling League – Tipperary v Clare | Semple Stadium | €From EUR 0.00 – 20.00 | |
| 2013-03-31 | Allianz Hurling League – Waterford v Galway | Walsh Park | €From EUR 0.00 – 13.00 | |
| 2013-03-31 | Bagatelle | Middleton Gaa Club | €17.35 | Ticketmaster |
| 2013-03-31 | Ben Sims | The Twisted Pepper | €17.65 | Ticketmaster |
| 2013-03-31 | Brian Kennedy | Playhouse Club, The | €22.5 | Ticketmaster |
| 2013-03-31 | Daley | The Sugar Club | €17.85 | Ticketmaster |
| 2013-03-31 | Eilen Jewell | Whelan's | €17.00 | |
| 2013-03-31 | Fairyhouse Easter Festival – Sunday | Fairyhouse Racecourse | €From EUR 10.00 – 85.00 | |
| 2013-03-31 | Flame Of Slane | The Hill Of Slane | €From EUR 7.00 – 12.00 | |
| 2013-03-31 | JOHN O'CALLAGHAN | Andrews Lane Theatre | €20 | Ticketmaster |
| 2013-03-31 | JUSTIN MARTIN & CATZ N DOGZ | The Button Factory | €15 | Ticketmaster |
| 2013-03-31 | Paddy Casey | McHugh's of Drogheda | €17.35 | Ticketmaster |
| 2013-03-31 | Pal Joey | The Sugar Club | €12.00 | |
| 2013-03-31 | Raime – LIVE (A/V Show) [B.E.B] | The Twisted Pepper | €14.00 | |
| 2013-03-31 | Subject Easter Sunday – BEN SIMS | The Twisted Pepper | €15.00 | |
| 2013-03-31 | The Furey's & Davey Arthur | Royal Theatre and Event Centre | €25.8 | Ticketmaster |
| 2013-03-31 | The Grove Reunion – Easter '13 | Clontarf Castle Hotel | €15.00 | |
| 2013-03-31 | The Original Rudeboys | Olympia Theatre | €18 – 20 | Ticketmaster |
Kodaline – High Hopes