Full of raw attitude, '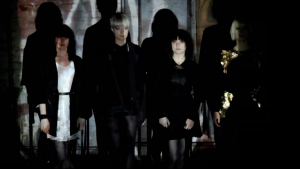 Girls Like Us' is the debut album from Manchester quartet PINS. The highly anticipated fourteen track creation from the all-female line-up is overflowing with vibes of punk. Throughout, heavy bass lines and steady percussion set the pace for this darting record. The band provide several interludes to allow the listener to catch their breath as they embark on the whirlwind journey through the album.
Title track Girls Like Us, opening with sparse, descending distorted guitar captures the mood of the entire record. Once Faith Holgate's vocals enter, the listener is exposed to the frank and upfront lyrics which are embellished by Holgate's vibrant yet forceful voice. From the onset the listener is confronted with one infectious track after another. Mad for You continues this trend, lyrically displaying the same blunt aggression as previous songs without losing the listeners attention. It's not just anger that simmers through the whole record; there is an honesty to the lyrics of tracks like I Want It All that makes the entirety of 'Girls Like Us' endearing. PINS prove that they don't need to do in your face intimidation to prove a point, and the delicate Velvet Morning is a real gem with its well-balanced sound and spoken lyrics.
'Girls Like Us' is well crafted without being rigid. Considering its infectious energy and emotive lyrics PINS have achieved a lot here with this debut. True, the album isn't flawless and with this number of tracks in just over half an hour it's difficult for the listener to connect with the act, but the energy captured in the songs shows their potential as a great live band. The album is overflowing with attitude but at no point does this turn to hostility, which could easily have been the case for a female only band. It's clear that although PINS could easily have overstepped the mark in an attempt to overcome a male orientated genre, they have given the listener something that appears to be a credible reflection of themselves.