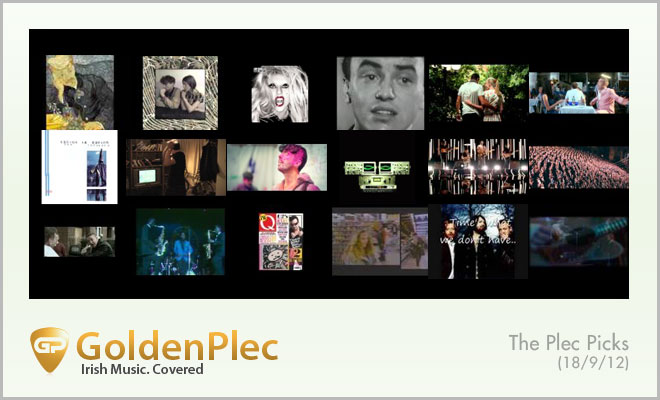 Welcome to week 3  of  "The Plec Picks: What We're Listening To" here on GoldenPlec. It's a playlist of songs that we've been listening to individually every week. As always, trying to be cool or hip is not allowed so even if it's a cheesy pop song and it's been in one of our heads this week, it's included and I think this is reflected in some of the choices this week! It's a chance to cast your ears on something different and maybe discover new music! What's to lose? Click play once (it's a playlist) and it'll cycle through all the videos / songs (so you can just leave the tab open and keep listening) and if you come across something that doesn't float your boat, just skip it. Simples! Hope you enjoy and let us know if you've found a new favourite band because of this! :)
Playlist me already!
What's in there?
1) Don McLean – Vincent (Chosen by Sean Noone)
Unfortunate circumstances meant that this song became poignant for me recently. But it is one of the most beautiful songs ever written; something I ought to have realised a long time ago.
2)  Chairlift – I Belong In Your Arms ( Chosen by Aisling O'Brien)
 Having written them off as a one hit wonder after Bruises a few years ago, a bit of youtube surfing brought me back to these synth pop masters to uncover this chooon from their most recent album.
3) Lady Gaga – Government Hooker (Chosen by Nicola Byrne)
The Aviva Stadium became the moat to Gaga's castle on Saturday night in a showcase that was half motivational speech, half illusive nightmare. This song serves to remind me of the gun bra, alien births, 'that weird head thing' and, of course, Black Jesus. But hey, I've been playing it loads in spite of that.
4) Gerry and The Pacemakers – You'll Never Walk Alone (Chosen by Stephen Byrne)
Because this week it proves that music matters and has the potential to unite people the world over.
5) Taylor Swift – We Are Never Ever Getting Back Together (Chosen by Deirdre Harrison)
Sometimes there is not thing better than just listening to pop, its not a bad thing. We all need to embrace it from time to time. Miss Swift makes zero attempts to be cool and just delivers one fine catchy ditty about finally ending it with her on again off again boyfriend. You tell him sister! Oh and it has a hipster bear and a donkey in the video, there is literally no more you could want!
6) Robbie Williams – Candy (Chosen by Aidan Cuffe)
On first listen I thought "Robbie, what have you done, second listen, I retracted my first statement and issued a new release "passable". By the third listen it was on a repeat loop. When Robbie said on Friday it will grow on you, he wasn't wrong. Catchy pop song that is destined for loads of airplay"
7) Guided By Voices – Tractor Rape Chain (Chosen by Justin McDaid)
They post stuff on Facebook every day…every fucking day. So I listen to it. Every fucking day. This is classic GBV from '94. Bob Pollard and Co. are about to release their third album of 2012 after an eight year hiatus, and the quality hasn't dropped. They probably won't play here. 'The Bears For Lunch' is released in November. In the meantime I'm going to listen to GBV every fucking day.
8)  Kodaline – All I Want (Chosen by Alice Goodwin)
This is just one of the prettiest songs I've heard in such a long time, and the videos great. Really chilled, no gimmicks, just a great tune.
9) Enemies – Indian Summer (Chosen by Greg Synnott)
I've always loved Enemies growing up among the music scene in Greystones/Kilcoole and this track is just incredibly done, the video makes me wish I was there for shooting it. Plus they sing which is something completely new.
10) Shit Robot – Grim Receiver (Chosen by Mark Earley)
One of my standout moments from Forbidden Fruit, even if he was on way too early, was this tune. An absolute belter. Gutted to be missing him next Saturday in the Sugar Club, should be one to remember.
11) The Temper Trap – Fader (Chosen by Liam O'Dubhghaill)
During a five hour journey back from Valentia Isle Festival, when we were cold, wet, tired, hungover, and just in an overall shitty mood, this song managed to perk our spirits back up. The chorus melody is as simplistic as they come yet it is a perfect hook for the song. Also the drive and sheer enormity of the sound really showcases what the band are capable of.
12) Mumford & Sons – I Will wait (Chosen by Craig McDonnell)
Yes it follows the exact same formula as every other Mumford & Sons song but it is still as catchy as the rest of their catalogue. As someone who has never seen them live, the video of them playing at the beautiful Red Rocks Amphitheatre leaves me excited for the new album and hopefully a chance to finally catch one of their infamous live sets.
12) Robert Delaney – Between The Canals (Chosen by Claire Kane)
Robert Delaney is a fantastic singer from Dublin and this song about his home city and how it has been "led astray" is an attention grabber. Very moving song for any Dubliner who has a love-hate relationship with the city.
13)  James Brown – Try Me (Chosen by Sean Conroy)
Lookit him, there. Crooning away like a pro. There's more sweat on him than the rowing machine in the gym after I get off it. '68 saw him at the height of his career (after a string of hits, before he started beating women) and The Apollo 2 album was his masterpiece. Try Me, a decade old by this stage, stole the show and set up a grand finale.
14) Jack White – Love is Blindness (Chosen by David Dooley)
As someone who's not particularly fond of either Jack White or U2 this cover of U2's 'Love is Blindness' blew me away after hearing it in the trailer for Baz Luhrmann's 'The Great Gatsby'.
15) Phil Oakey & Georgio Moroder – Together In Electric Dreams (Chosen by Claire Beck)
It's been a stressful week and this is my happy place song. I love it so much, I want it played at my funeral.
16) Biffy Clyro – Living is a problem because everything Dies (Chosen by Sean Smyth)
Biffy Clyro have been on my list of bands to listen to for literally years and I've got Deezer to thank for finally getting around to amending that. Love the "Only Revolutions" album and the intro song for "Puzzle" is an absolute stomper. So much so, I've found myself listening to it more than the rest of the album. That intro. Woah!
17) Colm Lynch – Bleed Us Dry (Chosen by Niall Swan)
A mid-week discussion of my debs 5 years ago led me to re-discovering this stunning tune from one of Dublin's most hard working musicians.