The crew at SelfMade are set to host their first event venturing outside of Dublin, a panel at this year's Sound of Belfast on November 12th, featuring ROE, DANI, Claire McCartney from Vokxen, and Cheylene Murphy from Beauty Sleep.
The panel will look at the ins and outs of releasing music from inception to promotion, with performances from ROE and DANI and their usual instalment of art and zines featuring local artists.
Check out the details below of what's sure to be an unmissable night for artist and industry alike…
Frameworks: Planning a Music Release
How are Northern Irish artists getting their music out into the world?
SelfMade presents a night of discussion, art, performance and zines exploring the DIY and digital tools available to artists to develop a release plan, connect with industry and fans and create visual assets that showcase a single, EP or album in a way that sticks.
The night is hosted by Cheylene Murphy vocalist and keys player in Beauty Sleep and the brains behind Honeymoon PR. The line-up features Claire McCartney, one third of synth-fuelled trio, VOKXEN, and solo artists ROE and DANI who will also be performing stripped back sets.
From Julie, Co-Founder of SelfMade
"We're really excited that Belfast is going to be our first venture outside of Dublin. Over the past few years, I've had the pleasure of dipping into the Belfast music scene, working with Rocky O'Reilly on the latest HAVVK releases. Every time I go to the Oh Yeah Music Centre, I get a huge sense that musicians in Belfast really have each other's back and that they're really supporting and making the most of the initiatives they have there, like Women's Work and Help Musicians NI. Speaking to the staff at Oh Yeah and the team behind Sound of Belfast, there's so much faith in the talent of Northern Irish artists."
What is SelfMade?
A platform to explore DIY music through performance, discussion, and art, with a strong focus on women in music. Our goal is to celebrate the work of DIY musicians and to create a supportive space to explore the realities of getting a music project or career off the ground. SelfMade is organised independently by artist, Joanna Bain, and musician/illustrator Julie Hawk (HAVVK/ Veta Records) in collaboration with a collective of Irish musicians.
On the night, SelfMade will be releasing their own zine:
To mark our first event in Belfast, for this issue, we asked musicians and artists from Northern Ireland to give us an unseen slice of their creative world. We've had contributions from all of our panellists and other artists like Cherym, The Wood Burning Savages and Fears. The zine is way for us to represent more local artists and people who work in and around music, at the event. It's a really cool form of expression, especially as it's not always easy to express exactly what's going on in your career in person – getting crafty with a zine feels like a really empowering way of sharing. And it's a little piece of the SelfMade project that people can take home with them.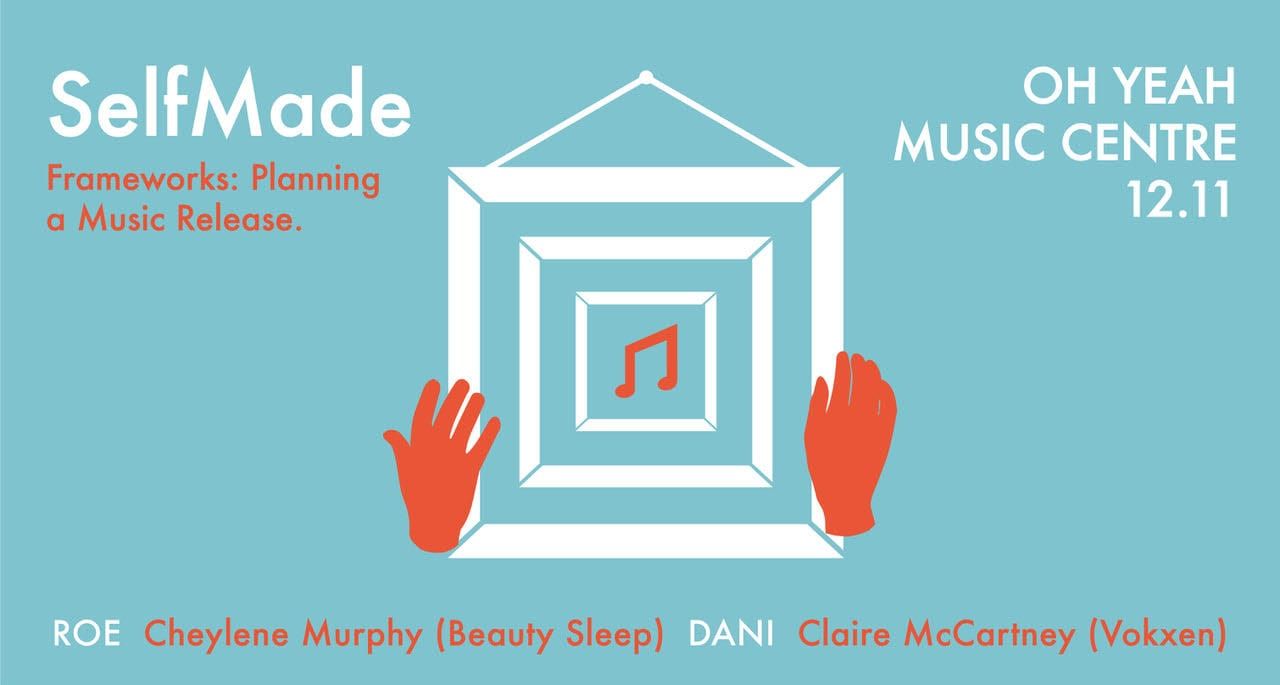 To check out the photos from the last SelfMade event in Dublin, click the photo below: