Review: Taylor Swift @ The O2 – March 27th 2011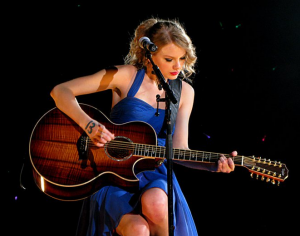 Review: Ros Madigan (twitter.com/rosmad)
Fan Photos: Abraham Tarrush
Tonight was to be another step outside my comfort zone as I attended a concert I would generally not go to. While Miss.Swift ticks a lot of boxes for the adolescent girls of this small nation, she only ticks a few for me. Mostly relating to the visual aesthetics of the Wyomissing born country star. As I know little about the young lady in question, apart from her Kanye West scandal and string of superstar boyfriends, it was a clean slate I was viewing this concert from.
Ryan Sheridan was the support act on the night, as he was this time 3 weeks ago for The Script in The O2. Ryan, I'm sure is thanking his lucky stars that MCD and/or his management are getting him these kind of support slots with internationally renowned artists such as Taylor Swift. As it was the exact same routine, this is what I thought 3 weeks ago and similarly now. Ryan Sheridan was the support act on the night and having missed Ryan play around Dublin a few times of late, I was looking forward to catching him. This was a different ball game for Ryan who only recently played Whelans, with a capacity of roughly 400 people, stepping onto the O2 stage in front of 16,000 screaming girls. I was worried that he might get swallowed up by the vast nature of the O2 surroundings, but after his first song "Standing Tall", I need not have worried. Ryan came out with a gushing enthusiasm that you could not but help and get sucked into. His up-tempo style was proving a hit as he played a few tracks of his eagerly anticipated album "The Day You Live Forever". A crowd favourite on the night was a cover of Mumford & Sons "Lion Man". It was a refreshing and brilliant version of the chart classic. "The Dreamer", his latest single was received very well but the definite highlight of his set was his hit single "Jigsaw". Jigsaw has received massive airplay on radio stations across Ireland and the crowd were obviously tuned in as they sang along. He left and the crowd reacted. A great support and I can't wait to see more of this man on the festival scene.
A quick jaunt to the lavatory and no sooner had my rear touched the seat, the lights went down and the O2 sell out crowd exploded with noise and excitement. Taylor appeared through the floor of her elaborate stage with "Sparks Fly". Such a theatrical introduction, which was whipping the crowd up into a teenage frenzy. The crowd immediately rose to their feet in order to accommodate a little boogie time. The stewards tried their usual trick of shouting out the orders of "you, yes you, sit down". This is usual protocol in the seating areas of the O2. Try telling that to the young ladies as they scream the chorus; "Drop everything now..". Turns out young girls are more uncontrollable than some rock 'n' roll crowds. The noise once her first song ends it quite frankly deafening as I look around in awe at this wonderful crowd.
Taylor revels in the adulation of the crowd before playing "Mine". Such is the grandiose nature of Taylor's 'Speak Now' tour, her LED display behind her beautifully tells the story of this song. It is not your standard LED show as every few seconds animations play with just as impressive framing of live footage. Taylor is accompanied by her 8-piece band, including two charismatic guitarists who follow her around the stage, with a power stance only seconds away. One of the guitarist looks like he has been taken from Toyko Hotel, while the other looks like an estranged member of Bon Jovi. Nonetheless, the kids go crazy for both guitarists as they strut their stuff on the runway type stage that extends into the crowd.
"Well hello Dublin, Ireland." *queue screams* "I'm Taylor" *more screams*" and so on for about 5 minutes. She then leads into a speech, which uses the word "love", roughly 19 times. I was beginning to see the pattern of love songs targeted towards the teen audience. It was soon to become apparent that Taylor mostly writes songs about guys, if either the guy was really nice, or really bad. Girl Power akin to The Spice Girls I suppose. She ends the speech with "Are you ready?" almost signaling that the fun has only just begun.
"The Story Of Us" involves some great backing vocals from her band who don't miss a beat. Taylor strikes me as a really humble star as she thanks the crowd over and over again, leaning down to high five members of the audience. "Back To December" was the first slow number of the night; giving the Mammy's some much needed time to calm the young girls down. This song then led into a cover of "Apologize" by One Republic, which sounded great and was to be the first cover of the night.
"Better Than Revenge" is an eternally catchy number that even had myself tapping my foot. Her two backing singers/dancers joined her in a dance number on the elevated part of the stage some 5 meters off the ground. She disappeared off the stage, leaving none other than Toyko Hotel and Bon Jovi to rock out to the adoring crowd. She appears again with a new dress, of course, for "Speak Now". She then navigates her way down through the crowd, with the aid of around 10 bodyguards, to a lofty position in between the standing crowd and the sitting audience.
Armed with only her guitar, she plays us "Fearless" before going into a rendition of "I'm Yours" by Jason Mraz. The crowd once more goes insane and sings back each and every single word. In what I thought was a nice little touch, as each song passed, she turned to a different section of the crowd in order so that they could get a better view. A little gesture but a significant one as Taylor Swift engages with the full crowd. She then picks up a simply beautiful 12 string guitar and performs "Fifteen". The song that addresses her target audience goes down really well with the younger crowd who immediately can relate to the song. Even the older crowd sway and can identify with the lyrics to this one. This was a really simple and easy to relate to, I was finding myself getting sucked in more and more.
As she made her way back on stage, interacting with the crowd the whole way, she sang "You Belong With Me". It was to be the first up-tempo track in a while. Oddly enough, I find myself knowing some of these tracks due to their frequent play on radio and TV. Best song of the night so far as the whole crowd love every second. There was no signs of a let up in proceedings as "Dear John" sweetly echoes around The O2. John evidently another ex to find himself immortalized in song. This song once more shows the different elements to this spectacular stage show as the LED spectacle once more proves fantastic.
She once more leaves the stage as a violin and piano fill the gaps for the costume change. She appears like an angel, all clad in white, rising from the floor once more for "Enchanted". She then rips off her dress, throws her hands in the air and rip roars through "Long Live". A lot of stock footage was used during this performance. Considering that it was done so well before, it was so eye catching that you lost track of the on stage performance.
She leaves the stage and can only be blamed for the near earthquake that followed. The O2 started to shack and rumble as every man, woman and child stomped their feet demanding she return for one last time. She returns for "Love Story" and even I knew the odd line or two. This song has been her breakout song and easily the best song on the night as it ends with a cheeky smile from Swift, which triggers a massive BOOM of confetti strings.
I never thought I would attend, let alone enjoy a Taylor Swift concert as much as I did. She is clearly an international star that does this standard of concerts all the time. While I don't believe her voice is a classic that will go down in the history books as the most powerful, interesting or flawless, she sure knows how to write a catchy country-pop tune. Those catchy tunes are accessible for young children and older generations alike. She clearly appreciates and rewards her fans, which is a rare commodity these days as artists allow fame to blow their ego into a dangerous proportion. Although I won't be rushing to buy her CD or queue for her next Irish date, I was sure as hell glad I went to see it for myself. My preconceptions were left in Block D, Row 14, Seat 101 as I went home well entertained.