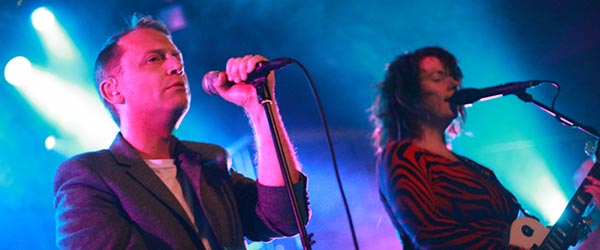 STARS at The Academy, Dublin on Nov 30th 2012
The Academy was packed last Friday night with people of all ages, keen to see one of Canada's finest indie-pop exports. "When people ask us where our favourite place to play is, Dublin is always one of my first answers. There's such a beautiful atmosphere here, you walk up Grafton Street and within two minutes you're confronted with about 45 musicians. It's amazing." enthused Stars' lead male vocalist Torquil Campbell. They are happy to be here and we're delighted to have them.
After knocking out the first three songs, dotted lights are projected around the room for Ageless Beauty. The set – a mix of new and old – sees the band hitting their stride at this point, enjoying the old favourite as they jump around the stage. Torquil hovers over the crowd, covers his eyes from the lights and peers into the audience. After having a good stare and sussing us all out he launches straight into We Don't Want Your Body. The band's onstage banter is entertaining. They are energetic, interactive and infectious. Things slow down for a minute with The North, the title track from their latest album. Midnight Coward is great, with an engaging build up and by the end of it Amy has to pat the guitarist on the shoulder to calm him down.
"This next little ditty, in Dublin's fair city, is for the prettiest cailín in the entire world. She's not actually from Ireland but she did get us breakfast for free. But no, this song's not about my lovely wife, this one is for the one you hate the most" The classic Your Ex-Lover is Dead receives an overwhelming response from the audience. It's expressively honest lyrics in story telling style epitomise what Stars are all about and why people are so drawn to them. They have a knack of capturing poignant moments and churning out hauntingly catchy pop songs. By the end of the song the crowd are swaying and chanting 'I'm not sorry there's nothing to say'. Torquil pauses, raising his hand to his heart and is clearly touched by the whole experience.
'This is our sixth or seventh time to play here. You guys have been fucked over by the bankers and you're still willing to give some of your hard earned money to us and make our dreams come true.' says Torquil dedicating Dead Hearts to the ghosts of Dublin.
Other highlights of the evening included some upbeat favourites; Elevator Love Song, Do You Want to Die Together and Take Me to The Riot. One of the only criticisms of the night was that on several occasions there seemed to be an imbalance with the sound that drowned the vocals out. This was a shame with a band like Stars whose lyrics are such an important and somewhat theatrical element of their performance. Aside from that, the band put on a highly enjoyable performance and their 'good vibe' energy is simply contagious. If you haven't seen Stars in Dublin before be sure to check them out the next time they are in town, you will not be sorry.
Stars Photo Gallery
Photos: Debbie Hickey