Robbie Williams at The Aviva, Dublin, 17 June 2017
There is something self-proclaiming about a leather kilt and tank top-clad Robbie Williams being held aloft the crowd in a giant boxing glove while being broadcast on a giant electronic cut-out of himself on either side of the stage.
Then again, how many people have gone from departing one of the most successful boy bands ever known to selling over nineteen million albums and selling out arenas all over the globe?
In addition, a lot of him doesn't give a shit, the Stoke man leading the crowd into sing-along, "He's stuck, he's stuck, he's stuck, he's stuck, in a glove, like a twat" to the tune of ole, ole, ole upon getting stuck and having to get one of his crew to help him out.
A fitting sing-along in the home of Irish football and a fantastically quick-witted response to an otherwise awkward situation.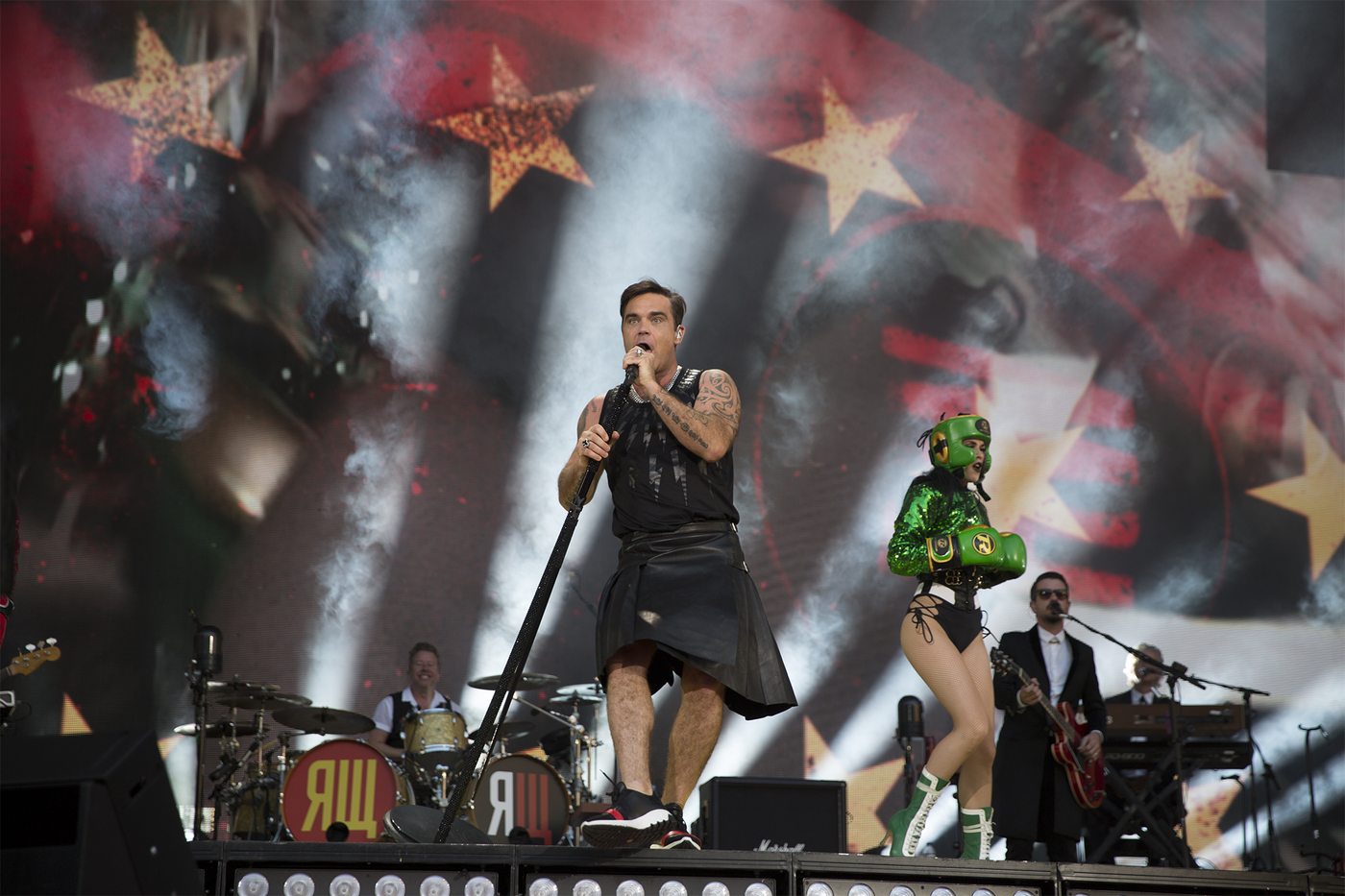 Williams has been around for over twenty years now. But it's a testament to his enduring appeal and penchant for a tune that tens of thousands arrive to Lansdowne to see the former Take That star.
He kept in theme with everything that has made him so captivating over the years on last year's 'The Heavy Entertainment Show'; the killer choruses (of course), the classical chic and showmanship of a Tony Bennett and the unequivocal Britishness to match it. With a few musings on becoming middle-aged and having kids thrown in too.
And it is that album's titular opener which begins proceedings, a worthy statement of intent with its explosive refrain and charging melody. But it's Let me Entertain You – along with its simmering piano, tambourine and raucous bassline – that really gets the party started.
Most of the crowd in attendance are in their early to mid forties and all have work at 9 in the morning. But for a couple of hours at least they are prancing about like it's 1997 again.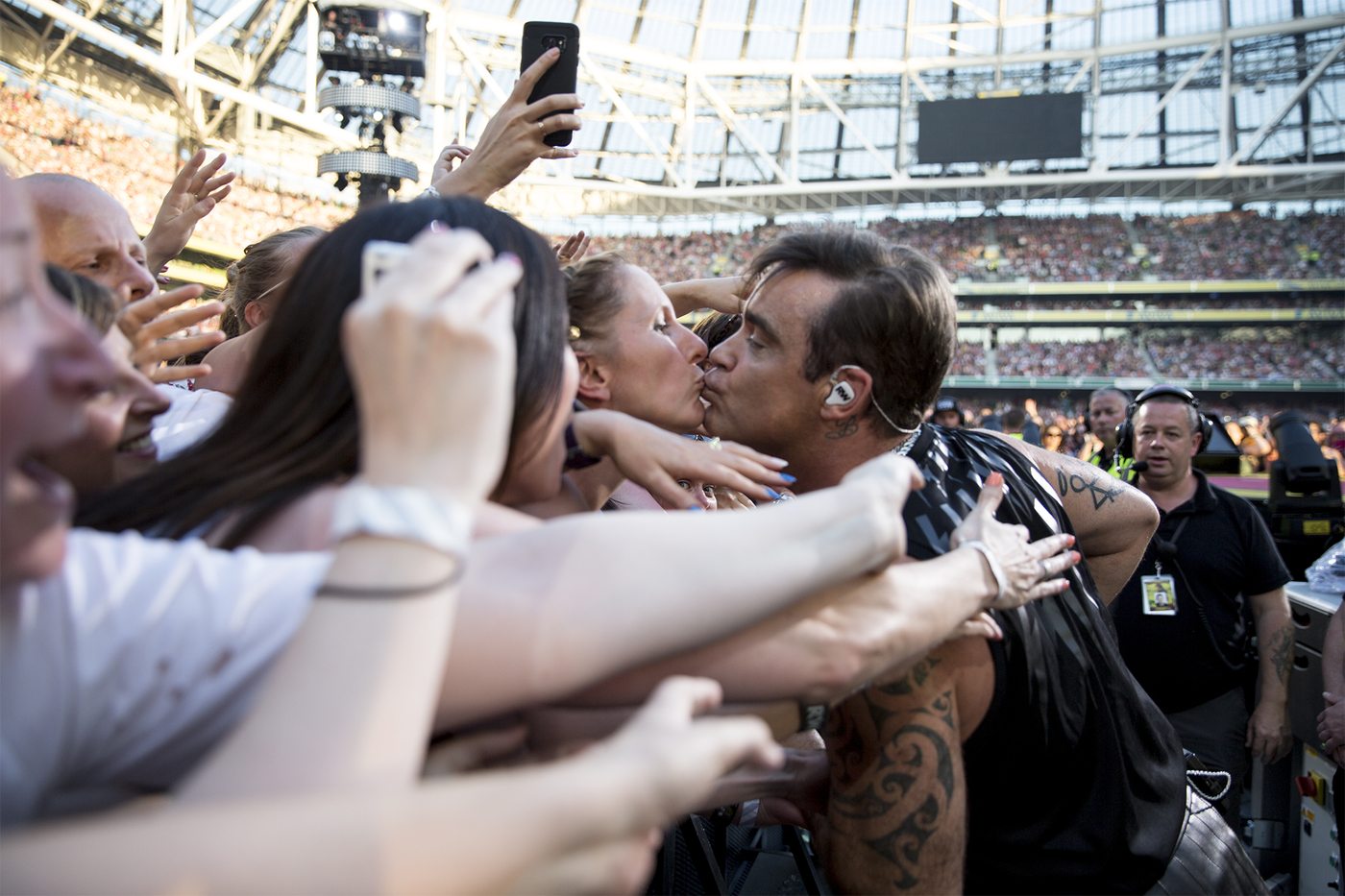 Things take a step back for a bit with Monsoon and Party Like a Russian but kick straight back into gear when, after telling of quitting his part-time job to join Take That, he breaks into their 2010 smash-hit, The Flood, a special from not his early years with the Mancunians, but his return after their split. This leads to one of the biggest sing-alongs of the evening and is an early highlight.
He then stops to tell us of the band's time in Berlin (a typically grimy destination for music) and of hearing George Michael for the first time and it reaffirming his desire to become a popstar before firing into Freedom '90. It was a beautiful tribute to the late musician's passing.
The covers didn't sop there either. In Edinburgh it was the Proclaimers I'm Gonna be (500 Miles). This time it was Good Looking Woman by Joe Dolan.
The annoying Love My Life from last year's album and a rally through a host of sing-alongs such as Livin' on a Prayer and, em, Rehab (yeah, we didn't get it either) which cuts the gorgeous ballad, She's the One and 2012's equally as infectious Candy frustratingly short puts somewhat of a halt to proceedings. Or, well, maybe not for the dilettantes.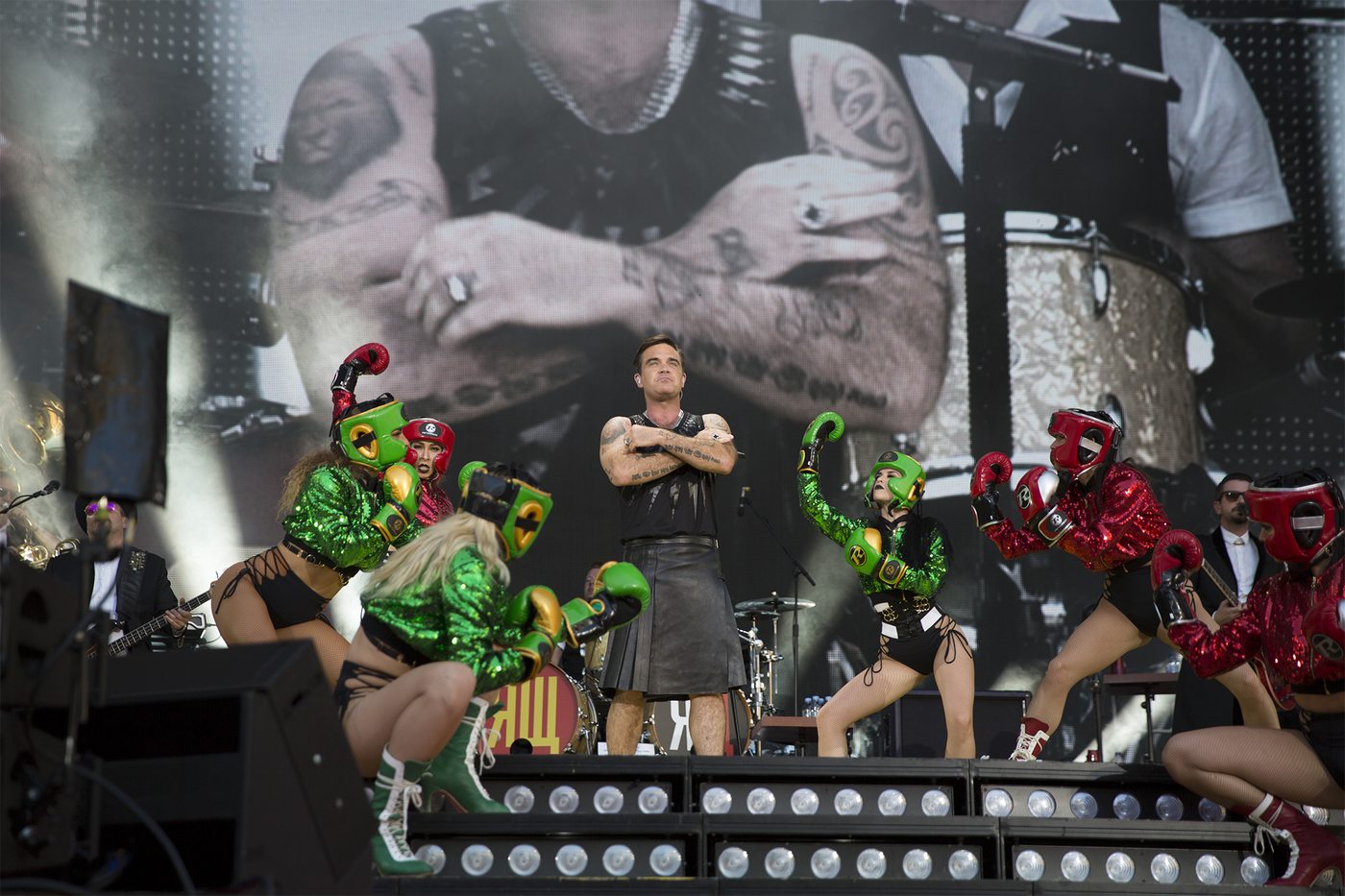 But he's firing on all cylinders again when, joined by his father he gives a terrific performance of Neil Diamond's Sweet Caroline which he informs us was one of the main songs (played by his Dad at home) that inspired him to become a musician in the first place.
Rock DJ (sounding every bit as good as it did when it was first aired at the start of the millennium) concludes the main part of the show before he returns for an encore of Strong (particularly resonating given recent events in Manchester), Angels and Claude Francois' My Way.
All were delivered impressively. But fault could be taken towards how abruptly he switched from Strong to Angels. But overall, a delectable finish to a delectable evening. One achieved with familial humour, orchestral delight and enough choruses to supply a heaven of angels (we're sorry).
Despite his foray into middle age and an increasingly worrying saturation of tepid boy band copycats, Robbie continues to bring the goods.
Photos: Leo Baron