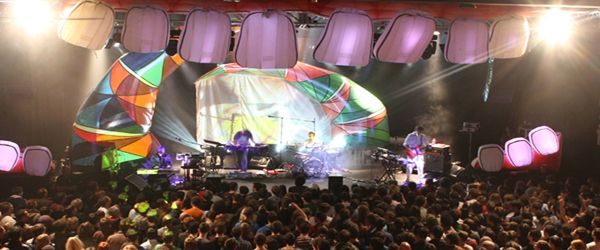 Animal Collective at Vicar Street, Dublin on the 6th of November 2012
It is usually with a certain amount of trepidation that Goldenplec enters an Animal Collective gig. Over the past number of years their trips to this country have left us awed, bored, frustrated and overjoyed in equal measure, and often in the same gig. But it's interesting that way, and that's why we keep going back. That and the sheer inventiveness of their recorded output and experimental shenanigans. Here tonight on the back of 'Centipede Hz' Avey Tare, Geologist, Panda Bear and the newly re-instated Deakin take Vicar Street on a kaleidoscopic journey that rights all past wrongs.
Isn't there some sort of unspoken agreement between all of us that support bands start at half eight? Because of this non-existent pact we only manage to catch the last ten minutes of Brooklyn's Prince Rama…but what a glimpse. The decent sized crowd has been split down the centre to form an aisle while sisters Taraka and Namai Larson pull off demented synchronised dance moves. They pirouette up and down the floor, acrobatically moving over and under one another and periodically singing right into the faces of the crowd, while the band lays down that bright psych-synth. It's a fun thing to watch and judging from the crowd reaction a band to catch on the live trail again.
Vicar Street is transformed into a psychedelic space for the main act. Large inflatable shapes – horns, fins, tentacles, sails; all or none of the above – dominate the stage, both a mosaic rainbow and multi-coloured conceptual representation of the new album. Framing the top and bottom of the stage are giant foam teeth and within this gaping, comical maw the band span the stage. The visuals kick off the night with a pulsating kaleidoscope to accompany the noise collage that heralds Rosie Oh, as Panda Bear sings over a digital rainforest of sounds. Today's Supernatural follows. Avey Tare takes over and literally kicks the teeth in as they strobe on and off erratically in red, white and blue above the stage and the band changes gear.
A chant-like Wide Eyed sees Deakin take over vocal duties, the three vocalists swapping and harmonising loosely and organically throughout the set. Applesauce is sweet and rhythmic, its jolts and irresistible vocal melodies giving way to the band coming up for air for the first time tonight. In what is almost a tripartite gig, Honeycomb sees the gig take off in another direction, noisier and garage-y, with Moonjock just as banging and fun as it is on record. As Tare and Deakin share vocals it comes with added power from it's recorded form, and if anyone here tonight is unfamiliar with the new material it seems irrelevant when things are this good.
Ominous drones solidify into trancier, dancier segments before melding into New Town Burnout, starting heavily with Panda Bear leading the charge from behind his minimalist, eclectic drumkit. A hypnotic drumbeat and psych swirls lead directly into the glitching highlight of Monkey Riches and a boiler-suited Deakin comes centre stage to dance. 'Merriweather Post Pavillion' track Brother Sport provides the night's first mass singalong with bodies moving now more than ever and it's pure tribal – strobed, drum-heavy and repetitive. Tare leaves his station to join the guitarist for Peacebone, a track from 'Strawberry Jam' and another crowd-pleaser with everyone joining in with that high vocal refrain.
Cobwebs eases us into the encore and comes with the added comedy of a one-man stage invasion as one punter leaps up to chat with Geologist, only to be reefed out by a bouncer to good-humoured cheers. The lights take over again, bombarding the stage with colour, then the music joins them. Some sort of bizarre, crouching non-moshpit has formed mid-floor but it is swiftly dispelled by the intro to My Girls and the place erupts. Mass bouncing ensues and the song is as effervescent as the light show that accompanies it. The venue lights up for the chorus and a sea of pointing arms respond to the band. Amanita closes the night, transforming from it's eastern lilt into a dense, noisy finale. Crowd and band alike are in fine fettle tonight, with Animal Collective on the best, most cohesive form this reviewer has seen them. A pleasure, from the moment we walked into the venue.
Animal Collective Photo Gallery
Photos: Mark Earley