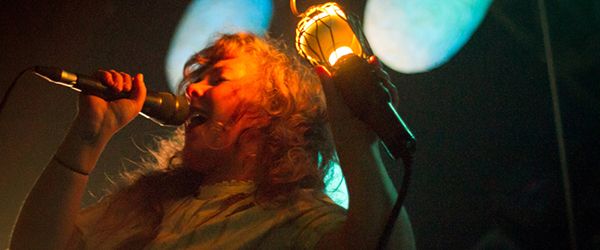 Purity Ring at the Button Factory, Dublin 29th of November 2012
It's been a bit of a whirlwind year for Purity Ring. They have released one of the finest albums of the year in 'Shrines' and find themselves playing to a packed Button Factory on Thursday night. Granted, the venue may not have been one the band have on their list to prove to themselves that they've made, but it should still count as an achievement for the Canadian duo given the lack of radio play they have received.
When the two-piece – Megan James singing and Corin Roddick on knob twiddling duties – enter the stage, a stage decorated with several cocoon-like lanterns, there is a buzz in the air. Opener Belispeak is a fine electro tune and performed perfectly, but there are warning signs hanging in the air. Without any instruments being played, it's hard to determine how much of the show is actually being performed live. The audience chatter, too, hasn't subsided fully and there is constant mutterings from various parts of the crowd.
The light show is very impressive – with the cocoons lighting up in time with the music and the lanterns on Roddick's table lighting up when struck with a drum stick (it seems to have no musical effect) – and the music is constantly interesting: the catchy Amenamy and Asian-sounding Lofticries early highlights.
James doesn't seem a natural lead however, and never really serves as a focus of attention. She looks out to the crowd, but never really engages it. When she tries to speak to the crowd for the one and only time of the night her words are, for some unknown reason, drown out by pantomime cheers from parts of the audience. It seems highly disrespectful, and it's disappointing that the chatter only seems to die for one song, Obedear in the second half of the show. Fine songs like Crawlersout and Ungirthed do not seem to able to sustain the attentions of those present.
The show finished up with Shuck after only thirty five minutes; it's short, but is all you can expect from a band with only one album to their name. The music is great throughout, with James's vocals sounding like they do on the album, but Purity Ring need to be more engaging on stage if they are to become a top live band.
Setlist
1.  Belispeak
2.  Amenamy
3. Fineshrine
4.  Lofticries
5. Cartographist
6.  Saltkin
7. Obedear
8.  Crawlersout
9.  Ungirthed
10. Shuck
Purity Ring Photo Gallery
Photos: Aaron Corr