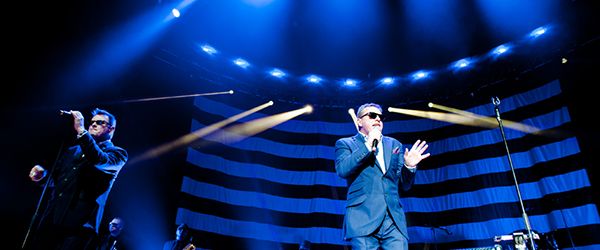 Madness at The O2, Dublin on November 28th 2012
Harrington jackets, fez hats, sunglasses and loafers seemed to be the outfit of choice on Wednesday night as Madness made a welcome return to Dublin's O2 arena. Support act Man like me failed to make a big impression with the crowd despite their enthusiasm. They were energetic, upbeat and listenable, but unfortunately their songs failed to register with this audience.
Madness themselves got off to a bit of a rocky start thanks to a malfunctioning curtain, but the crowd either failed to notice or chose to ignore it as they blasted through One Step Beyond for their opening number. When the song had ended he jokingly bid the crowd a goodnight as the curtains inexplicably began to close again, thankfully it was quickly sorted and they were allowed to get on with the show and reveal the musicians who had been hidden behind the curtain.  The set comprised a healthy mix of new and old material which worked surprisingly well together. It can be daunting for legendary bands to perform new material when they know it's the classics that people want to hear, but they tackled it head on and made sure that each song hit home. Clever segways like how they went straight from the classic song My girl into new song My girl 2 filter new to old effortlessly with perfect blending. Suggs slowed things right down by beginning My girl with a solo piano piece before the whole band joined in to give it an extra kick. 
There were times that the songs benefited from the extensive range of musicians on stage, but the atmosphere in the crowd was just as energetic as the band's performance on stage with people dusting of their ska and skank dances with seemingly endless energy. At stages, art imitated life with a large screen behind the band and another smaller screen to the left in front of the crowd.  Throughout, video's and songs sync'd up on these screens including the crowd dancing away to their favourite songs, a very nice touch. A surprising cover of the Beastie Boys classic (You Gotta) Fight for Your Right (To Party) goes down well with an unexpected knowledge of lyrics from the crowd. The biggest reactions were unsurprisingly reserved for classics such as Our House, Baggy Trousers and House of Fun, they all sounded as fresh as if they had been released yesterday. Suggs vocals really impress throughout, living up to the recorded version impeccably. Your attention is always pulled to something different on stage, the people beside you dancing, the crowd interaction from the band. This is Madness in their element and you really just can't fault them. It's a setlist filled with songs to satisfy and spare a few choice tracks, we were served up most of what we wanted to hear.
The massive love-in finishes with It Must Be Love, arms swaying, heads back in the air singing aloud in unison as if they had all known each other for years. Madness left the stage briefly to give fans a moment to recover, before returning with Death Of A Rude Boy from their most recent album 'Oui Oui Si Si Ja Ja Da Da', which as a new track, completely stands up against their back catalogue. They paid tribute to their namesake Prince Buster, by doing a slowed down version of Madness before finishing the evening off with Night Boat to Cairo. They exited the stage amid a  sea of fezes and bowler hats slowly making their way to the exit, chattering excitedly about what they had just experienced. 
Madness at The O2 Photo Gallery
Photos: Sean Conroy