Irish Baroque Orchestra at St. Ann's Church, 18th February 2017 | Review
This weekend the Irish Baroque Orchestra invites us to what it calls An Hour of Pure Indulgence: a selection of baroque favourites by Handel, Purcell and Vivaldi, with a surprise or two thrown in.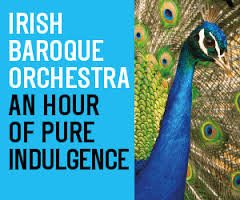 The programme begins with Handel's Concerto Grosso No. 1 in G, establishing immediately a vitality of performance that characterizes the pieces that follow. Malcolm Proud provides a lively and expressive continuo accompaniment, with the ensemble showing mastery of both instrumental playing and comic timing. Antiphonal passages between soloists and orchestra see musicians respond in gesture as well as musically, with light-hearted leanings and or imitative bowing drawing the odd chuckle from the audience. Director Claire Duff communicates impeccably with the group, and a real sense of camaraderie is apparent among the orchestra, with smiles from one performer to another as they play revealing a true enjoyment of their work.
Purcell's Sonata in 4 parts No. 6 in G minor follows, putting Duff and fellow violinist Huw Daniel in the limelight. The pair work a seamless dialogue over broken chords and decorative trills in harpsichord, and chromatic bassline in the cello. Their rapid bowing of the faster passages lends the work an impeccable sheen.
The performance of Vivaldi's double violin concerto is immense fun, and the rollicking playing of the first movement brings out the vitality and movement of Vivaldi's writing, before transitioning to the sombre second movement. Duff shines as both director and performer. Her understanding of dramatic gesture is clear in her understated yet expressive performance, maintaining a steady tempo and gentle dynamics within the orchestra throughout.
Proud takes centre-stage in the next work, performing Purcell's solo Suite no. 7 in D minor. As ever, his playing is well-informed, his ornaments never over-done. The final hornpipe is short and sweet: a flawless rendition that leaves us wishing for more, before the orchestra returns with Handel's Concerto Grosso No. 11 in A. The ensemble tackle this with vim, the collective sense of humour once again coming to the fore in the contrasted solo and orchestra sections.
St. Ann's is the ideal venue for an hour such as this. Acoustic qualities aside, the glow of stained glass windows in the twilight and the glimmer of burnished stucco is enough to lend a feeling of decadence to any performance, and immersed in the music of Purcell and Vivaldi the ambiance is near-heavenly. The orchestra has one last trick up its sleeve, as the audience's applause is met with a final indulgence: Bach's 'Air on a G string', as an encore, the playing stately and warm. The audience leave the gentle cocoon of sound to yet again brave the outside world, comforted by knowing that the Irish Baroque Orchestra will continue to lend us hours of indulgence.
Programme:
Handel – Concerto Grosso in G major, Op. 6/1

Purcell – Sonata in 4 parts, no. 6 in G minor 
Vivaldi – Violin Concerto for two violins op.3/8  (soloists: Claire Duff & Huw Daniel, violins)
Purcell – Suite no. 7 in D minor  (soloist: Malcolm Proud, harpsichord)
Handel – Concerto Grosso in A major, Op. 6/11

Encore:
Bach – Air (2nd movt.), from Orchestral Suite No. 3 in D major, BWV1068