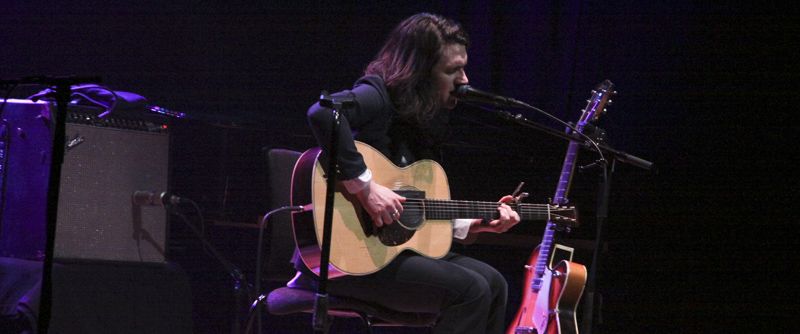 There was something very refreshing about seeing the National Concert Hall, the epitome of classical music in Ireland, filled to the brim with young, excited faces. It seemed half of Dublin city had arrived out to see American musician Conor Oberst bring his eclectic style of song-writing to the city. Combining folk, country-rock, electronics and his own highly confessional style of song-writing, Oberst's take on songwriting is unique, and hugely note-worthy, as the very healthy crowd on the night confirmed.
Simone Felice opens the show, joined by violinist and vocalist Samantha, with his own singer/songwriter stylings. Folky and simple, Felice suits the tone of the evening well, and provides some beautiful opening music.
Opening with a track from band Bright Eyes, The Big Picture, Oberst is greeted with raucous applause. He is endearing from the word go, sitting alone on the stage under a single spotlight, and singing almost as if alone, and to himself. His signature traits shine through, an uncomfortable passion, being released almost as if by accident. Moving swiftly into one of his most famous hits First Day Of My Life, it's an instant crowd-pleaser. A beautiful love song, Oberst has the entire crowd hanging off his every word as he sings.
Arienette is a highlight, as Oberst abandons his guitar in favour of piano. Dark, haunting, and ethereal in the grand surroundings of the concert hall, this is a wonderful moment, as every pair of eyes stare entranced at Oberst as he sings. Oberst dedicates the following song to "anyone who likes to lay on their car, stare at the stars and dream of the possibilities". Cape Canaveral is the song, and against a backdrop dotted with fairy lights, with artificial smoke crawling over the stage, the scene becomes almost magical.
Ladder Song provides another highlight of the night. Juxtaposing simple piano lines with drawn out and effects-laden guitar, the resulting performance is incredibly haunting and effective. White Shoes is sad and soulful, showing off once again Oberst's deep personal connection to his music – songwriting as it should be. Closing track Breezy is a slow starter, building up to a huge climax of music, rhythm and voice. Jumping offstage, Oberst heads off to meet and greet a few fans before departing. Handing over his microphone to a pair of blonde girls in the front row, they happily take over vocals as Oberst makes his way along the front row shaking hand and giving hugs.
Truly a slave to his fans, and after an awful lot of encouragement from the crowd, Oberst returns for an encore. he opens with An Attempt to Tip the Scales, followed by Make War, for which he is joined by Simone Felice and Samantha once again. Closing with Waste of Paint, the night is truly completed, and this is clear by the standing ovation Oberst receives as he takes his final bow before leaving the stage.
A common, and unfortunate,  fault in Irish gigs these days is audience chatter, distraction, or non-nonchalance about the act on stage. However, for every moment of Oberst's performance, he was accompanied by incredible silence and concentration, his every word taken in and pondered. Each song ends, basking in the awesome silence, before the eruption of applause. Conor Oberst is one man who knows his art, and does it well. A perfect evening of music, from start to finish.
Conor Oberst Photo Gallery
Photos: Colm Kelly