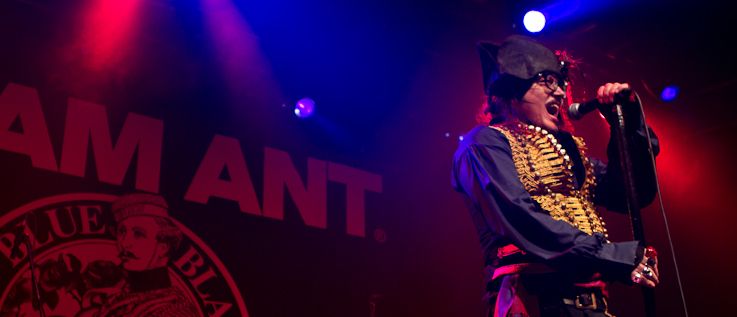 What's there to say about Adam Ant's miraculous return to the stage? Only that's it's fantastic, he's as much of a performer as he's always been, and the sound of his new show is world-class. Having not released new music in almost twenty years, he balanced his time off between padded cells, courtrooms, and antidepressants, but that doesn't really matter. He's back with a sure-footed live presence – he's stepped back into his comfortable shoes.
Now, Adam has added his name to the long list of artists making what could be described as a lap of honour but it's hard not to feel part of the joy that one of the most iconic artists of the '80s has returned. And Adam's return is that bit different – it's a true artistic return and there isn't an air of cashing in about it. He's not trashing out the same old material, but is a perfect mirror of his former self – artistic, magnificent, standing, delivering, and charming. His new album, the long-winded and eccentrically titled 'Adam Ant is the Blueblack Hussar in Marrying the Gunners Daughter', has been described as shaky and it really is.
But the songs take on a  new life onstage and they just make much more sense. Goddard probably has a lot to get off his chest since his last release in 1995 so the recorded counterpart to the live show is a bit haphazard. The live versions stand up very well and fit snugly with the old hits so the show ends up mesmerising.
Every one of Ant's movements are completely encapsulating. He sucks you in and fills every corner of the room. He's a true performer and he's retained his energy levels despite being 58 years old. His fashion sense has always been unique and again it was on show. He's done highwaymen, dandies, pirates, and now comes the time of the hussars to get Ant's treatment.  It's hard to filter what makes his return great and rather than putting your finger too much on his performance or his voice, it's his whole persona and his own aura that makes it so infectious. It's a turn for the better and the world is a better place with Adam Ant in it.
Adam Ant Photo Gallery
Photos: Aaron Corr