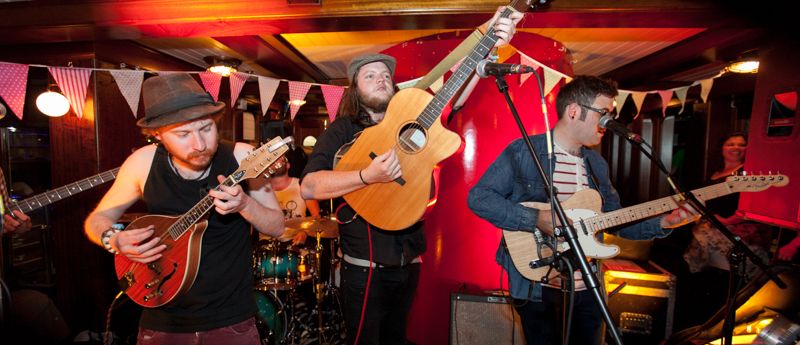 Knockanstockan Festival 2013 is back bigger and better than ever. The not for profit event that pumps all it's energies into the promotion and support of small Irish artists is back in Wicklow on the grounds of Blessington Lakes on Friday 28th July to 28th July 2013.
They have lots of great acts in the lineup including a rake of the great bands who dropped in to support Coast to Coast: Tea and Toast earlier in the year. On the lineup you can catch super acts like The Hot Sprockets, Enemies, Liza Flume, Crouper, Failte Ireland's latest ad choice Corner Boy, Fox E. And The Good Hands, Conor Linnei, Crow Black Chicken, Mikey & The Scalleywags, The Fitzfrenics, The Rusty Fixtures and around 140 more acts on the lineup over the weekend.
Tickets for the festival are €95 for the weekend passes or €40 for the Sunday day passes.
Knockanstockan Festival 2013 lineup
Enemies
Blind Yackety
Cocaine Ponytail
Liza Flume
Croupier
Corner Boy
The Hot Sprockets
Nanu Nanu
The Calvinists
Earthship
Fox.E & The Good Hands
Hassle Merchants
John Blek & The Rats
The Eskies
Juhn Echo
Land Of The Giants
Markas Carcas
Arrow In The Sky
The City Apples
New Secret Weapon
Conor Linnie
New Valley Wolves
The Multiverse
Punch Face Champions
Quincy
Redwoods
Crow Black Chicken
Ross Breen
Rufus Coates & The Blackened Trees
Sarah Red
Saucy Jack & The Bang Bang Band
Mikey & The Scallywags
Sinead White
Stephen Young & The Union
Tandem Felix
Raglans
Rob Steenson & The Apartment Six Club
The FitzaFrenic
Rocher
The Radioactive Grandma
The Rusty Fixtures
Tod Doyle & The Troubled
Veroa
She's A Beauty
Wyvern Lingo
King Kong Company
In Their Thousands
Kasper Rosa
Colour//Sound
The Indecent Cigar Emporium
Mutefish
Those Creeps
Overhead, The Albatross
Tied To Machines
The Urchin Collective
Val Normal
Girl Band
Zaska
We Arrive Alive
Leading Armies
Gypsy Rebel Rabble
The Cravingz
Tic Til Friday
Mongoose
The Barley Mob
Cat Dowling
Sive
The Greasy Coat String Band
Myles Manley & The Little People
VANN MUSIC
King Modo
Mossy Nolan
Slow Skies
More Than Conquerors
Willow Sea
My Fellow Sponges
Slackers Symphony
Orchid Collective
Sails
Cold Comfort Radio Friendlies
The Salad Circus
Mumblin Deaf Ro
The Stoney Brokes
LaFaro
Twin Headed Wolf
The Cujo Family
Psy Am
Worries Outernational
Psytori
The Yips
Siam
Old Hannah
Fox Jaw Bounty Hunters
Tiny Fingers
Anunitu
Spirit Riders
The Young Folk
Sen Lotus
Elevation Falls
The Northern Drones
Miles Iwes
The Vincent(s)
Blazin 38s
Kerouac
The Boneyard Collective
White Trash & The Spearheaded Sparraw Hawks
GKB
Tamala & The Clark Family
Sixth String Out
Sophis D Kate
Bandia
Sotols
Sorcha Richardson
The Ragmen
Daydream Regime
Kapitals
Jef Jef Jef
Swords
Real Horrorshow
Ste O Brien
Hot Colossus
Sal Vitro
Bee Mick See
Cfit
Lotus Eater
Saint John The Gambler
Adi Sharma
Garr Cleary
Ghost Estates
Michael Lovatt
Lights Camera
Sundown Tongue Bundle
Yatha-bhuta
Stevie Cliff
The Boo Box
The Forbidden Itch
The Urges
Spunje
Pete & The Purehearts
Rag & Bone Stomp
Qpop
The Amazing Few
Laura Ann Brady
Mixile
Brian Keary
Daithi
Barry Krishna
Nursery Crimes
Andy Earley
Zyme
The Viking Project
Noise Machine
Hugh Taggart & Friends
The Hip-Neck Blues Collective
The Altered Hours
Oddsocks