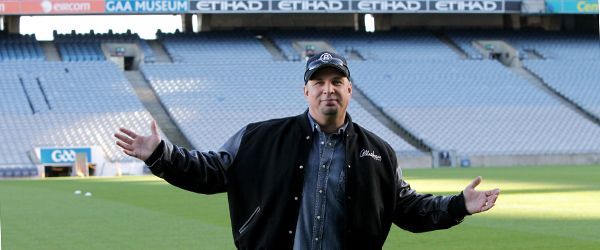 Country music star Garth Brooks announced his return at Croke Park this month and had plenty to say as he met the media to announce two massive concerts. Tickets for his shows go on sale tomorrow morning at 9am and we have gone back through the Croke Park announcement to pick out some of the choice quotes and interesting things he had to say about his past, his family, the Vegas shows and returning to Croke Park as promised 17 years ago.
A lunchtime rendezvous with the Irish media could be a turbulent affair, fielding questions on a 17 year gap absence that dissects a massive career, family growing up and a four year run in Vegas at the Wynn Hotel. However, it was the flight over that was the start of the drama as Garth spent three hours in Maine as he forgot his passport, then halfway over the windshield cracked on the pilot side, an interesting journey.
Fans gathered outside to hopefully catch a glimpse of the man, and as he is asked why does Ireland love him, the journalist quoting him as being "bigger than Supermacs", Garth playfully responds "I'm gonna lose weight, trust me", his popularity though he says he hopes is the music, but he can't explain it but Ireland has "always been a wonderful place for him and if Garth Brooks was going to do a comeback special, this would be the place to do it.". Croke Park holds some special moments for the 120,000 fans that caught him live back in 1997, concerts Garth regards as some of the greatest shows of his career, but Garth doesn't want to recreate moments, he wants to create new ones.
So what is Croke Park like to play and does he have any particular memories? "Playing here last time, I don't know how to explain it and you're going to think I'm crazy but there was this white thin haze over everything all three nights. God forgive me is saying this was a religious experience was blasphemy, but it was something different. No offense to any other place I've played, but there was something different that went on here. Never go to the well twice, well I'm coming back to the well. I would love to see that haze again and feel that same feeling, because that felt what we were doing was right. The older I get and more confusing life gets, those special moments are rare"
Garth spoke briefly on Irish fans and how fun and flattering the Irish crowd can be, "You don't know how many miles I come to hear YOU sing". So much so that the Irish crowd make it that little bit easier on an ageing performer, "It's great, you know, because I'm not getting any younger, so coming here and just starting 'Sometimes late….' and then it's over because they just take it from there". The Irish always have a great voice at concerts and with so many years passing since his last show, he is also acutely aware that he is not just playing to the existing fans; he is playing to a whole new generation of fans. He also hopes to have Trisha Yearwood with him when he goes on tour, but couldn't confirm she would definitely be a part of the show "It's hard to imagine a Garth Brooks show without Trisha Yearwood, because she is so much a part of the sound", "It's like being a race-car driver and having a Ferrari in the garage you don't drive. Because you know that if you pull her out here the whole show is going to elevate, because she is nothing but quality and class and she can sing her butt off".
Garth took a lot of time out, referring to his semi-retirement from music to spend time with his wife and kids. When asked if he regretted taking that time out he responded "no,no,no,no,no,no", but that he would go out to watch his kids playing softball and would have to bring sunglasses to hide him sobbing like a baby. The wakeup call he got was when his eldest daughter was saying words like the nanny, and that made him take notice and decide to stop and go raise his kids.
So what does he have in store for us at Croke Park? Well he's looking to get back in shape and let the music take it to where it's going to take it… "Technology has killed our business, the music industry, albums stuff like that, but technology also swings both ways. Technology has really helped the touring business, so hopefully we can come with some stuff that kinda makes memories and then the crazy thing that's the difference between now and then is the phones". When asked what he is looking forward to most he said "To get to sing again. I'm going to try and give this answer without crying but it's like when you're a dad there is no mistaking that you're supposed to be a dad. So why do I feel like a fish that just gets back in the water when you just play music. I don't know how to explain it; I'm looking forward to that! slipping into that warm pool and swimming until I'm tired, and that might be 30 second but I'm hoping it's going to be a whole night and if we're lucky, maybe more."
When it's put to him that he's been away for seventeen years and country music has gone through a lot of change, is his going to save it. Garth shirks such a notion as far too much pressure, while flattering. The return of Garth has yielded the talk of new material, and as exciting as that is for fans, Garth is taking this potential very seriously. "Just do your own thing, that's what makes you set apart from everybody else. Right now, whether it's record label driven or whatever, we're trying to jump on other people's success. There was a kid named Jason Aldeon, this kid came out with muscle, I mean real muscle, and then you heard a lot of muscle after that.  So that makes an artist work doubly hard to stand out if everyone is copying your stuff. He was one guy everyone jumped on because it was working for him. My encouragement for all those artists and myself, it's a big thing I'm having in the mirror with myself. You can't try to fit in, you've just got to be yourself, and if it's in the cards, then it's going to happen. The worst mistake I could make is try to fit in. The best thing I can do is try to be me!"
So will we be getting new material in time for the concerts? "We'll see, one, if the new music is done by then and two, remember I am a fan, and when I go to concerts I don't go to hear the new stuff, so I think the smart thing to do is come loaded with the old stuff and then if you feel like you have a song that's right for these people, break it out on them. We played a song, 'Tearin It Up And Burnin It Down' here, the only place we ever played it and it worked. So we do have one or two things in our pocket that I think people would have fun listening to, but 99% old stuff, yeah."

In a particularly poignant moment in the press conference, Garth is asked about how he spends his down time, participating in normal life. "No I gotta tell you man, I kinda get my kicks… you people…" As Garth pauses to reverent silence "You know I… I never understood why people went to airports and just watched people, you want to stand up on stage and just watch em. That's the most fun people watching I can think of right there… Especially here man, they got their eyes closed and their just singing, they don't care. It's like for two hours this dome sets over the place and nothing that bothered them before they got here, nothing that troubled them when they walked through these doors is even in their mind anymore, they're playing music and the reason I know that is because before I walked out on that stage, everything that was bothering me before I walked out on that stage, ain't bothering me anymore. I think that's my favourite thing to do, people watching and watching from about 4 or 5 foot higher, down, that's the best way to go."
We got to ask Garth about his music back catalogue and managing to keep all his music and videos off digital services like iTunes, YouTube, Spotify and any other digital entity. He also mentioned earlier that technology was ruining music, so we asked why he felt that was the case. "I did a recent interview with Larry King, and he's everything you think he is, GARTH, GARTH (in a deep Larry King voice), and we talked about how you were raised, and how I was raised was God first, wife second, your children and then your job, and all through the 90s, I think I had it the other way around. So let's talk about music that way, music is the songwriter, the artist, the label and technology but anybody I see in this room that grew up on the technology phase, it's sitting exactly the other way around. Technology is running the game which makes the labels a slave to it, so the labels just basically (no offense to the labels), crap on the bottom two. So the reason our stuff is not on iTunes or YouTube is because if every artist owned their own stuff, you'd see half of us not on iTunes or YouTube. No offense to iTunes or YouTube, it's just basically giving your stuff away, stuff these song writers have traded their lives to make their living doing. I gotta tell you; too much of anything is too much".  
So it's quite clear that Garth from early days could see the negative effect that digital could have on the music industry and managed to stay out of that firing line. In a way there is an element of genius to his approach, with popular material harder to access creating a demand for it. He's not entirely out of digital though, with his Dublin shows and upcoming World Tour, he has to dip back into social media. "When we talk about the internet and we have to step into social media now because we're going to put our hat back into the ring to run, you gotta get into social media. The word we use is quality, not quantity. Too many times again like the Easter egg hunt, we're trying to go for a gazillion views, where the truth is I'd rather have 100,000 if those 100,000 would die for what you're doing."
As people sit out queuing at Ticketmaster outlets around Ireland in the hope of procuring some of the first tickets for the Garth Brooks show, the question of can Garth Brooks sell out two nights at the full capacity Croke Park was put to us. We don't think it's a matter of if Garth Brooks can sell out both nights; it's a matter of when. If ticket sales are as brisk as social media might suggest, there might even be scope for a third show. For now we are just circling the dates in our calendar and looking forward to the return of one of the biggest selling artists of all time, to a venue where some magic happened seventeen years ago, hoping we'll capture a night as magical as the last one.
Photo: Mark Stedman/Photocall Ireland