▪

The Hot Sprockets

▪

Raglans

▪

The Eskies

▪

Booka Brass Band

▪

Overhead, The Albatross
▪

Meltybrains?

▪

AE Mak

▪

Shrug Life

▪

Ye Vagabonds

▪

New Secret Weapon

▪

Red Enemy

▪

White_Mice (Sinéad White)

▪

Zaska

▪

Search Party Animal (Bagels)

▪

Feather

▪

Enemies

▪

The Altered Hours

▪

Beach

▪

Pretty Beast

▪

Vernon Jane

▪

Sample Answer

▪

Mongrel State

▪

The Vincent(s)

▪

Come On Live Long

▪

This Other Kingdom

▪

Naoise Roo

▪

Val Normal

▪

Mixtapes From The Underground

▪

Slow Place Like Home

▪

Farah Elle

▪

Myles Manley

▪

My Fellow Sponges

▪

Vameel

▪

Fangclub

▪

Bad Bones

▪

I Have A Tribe

▪

Land Lovers

▪

Wastefellow

▪

Secret Guests

▪

Woven Skull

▪

Amica

▪

No Monster Club

▪

Viper Higgins

▪

Cúla Búla

▪

Cut Once

▪

Johnny Carroll
▪

August Wells

▪

ETC.

▪

ILenkus

▪

Jiggy

▪

i am niamh

▪

Robocobra Quartet

▪

Malojian

▪

MEGACONE

▪

Spines

▪

Mescalito

▪

Oh Boland

▪

Peppy

▪

Crow Black Chicken

▪

Elm

▪

Slackers Symphony

▪

Profound

▪

Slouch

▪

THUMPER

▪

AikJ

▪

Paddy Dennehy & The Red Herring

▪

Orchid Collective

▪

Anderson

▪

Chinese Newspaper

▪

BARQ

▪

Kara J Richards

▪

Sixth String Out

▪

Miriam Donohue

▪

Chewing on Tinfoil

▪

Declan Millar

▪

Squarehead

▪

Eclectic Ballroom

▪

Shabba Franks

▪

Medicine Tones

▪

Alright You Restless

▪

Guilty Boy Association

▪

Ranking Rez

▪

Secret Guests

▪

Hot Cops

▪

Burna Boy

▪

Not Monsters

▪

Travis Oaks

▪

Bernhardt Badting

▪

Free Sunshine Acid

▪

Secret Guests

▪

Cult Called Man

▪

Stephen James Smith & Enda Reilly

▪

Lonesome George

▪

Soundman Soro

▪

The New Social

▪

The Fuck Ensemble

▪

Docktah Irie

▪

Mustang Hobo

▪

Ross Breen

▪

The Driftwood Manor

▪

Tim Timma

▪

Nix Moon

▪

Tongue Bundle

▪

SpudGun

▪

Teknopeasant

▪

Race The Flux

▪

Sarah Red
Festival

Details

Knockanstockan Festival 2016! Yes it's back once again like a renegade master and we couldn't be happier. One of the best festivals in Ireland is great news and Knockanstockan is a real smile bringer.

As always it will take place in the lovely surrounds of Blessington. Located in Wicklow overlooking Blessington Lakes, over three magical days with some of Ireland's greatest bands and entertainers congregating and putting on a show for the fans of Irish music. Still holding true to its original ethos it is a barrier-free, open and very welcoming festival.

Oh and this is Knockanstockans 10th year. How awesome and they have promised that this year it will be very much treated as a birthday celebration and lots of surprises and mystery. We'll have more information very soon, just keep your eyes peeled.
Update
Over 50 news acts added! They include…
Mixtapes From The Underground | Slow Place Like Home | Farah Elle | Myles Manley | My Fellow Sponges | Vameel | Fangclub | Bad Bones | I Have A Tribe | Land Lovers | Wastefellow | Secret Guests | Woven Skull | Amica | No Monster Club | Viper Higgins | Cúla Búla | Cut Once | Johnny Carroll | Anderson | Chinese Newspaper | BARQ | Kara J Richards | Sixth String Out | Miriam Donohue | Chewing on Tinfoil | Declan Millar | Squarehead | Eclectic Ballroom | Shabba Franks | Medicine Tones | Alright You Restless | Guilty Boy Association | Ranking Rez | Secret Guests | Hot Cops | Burna Boy | Not Monsters | Travis Oaks | Bernhardt Badting | Free Sunshine Acid | Secret Guests | Cult Called Man | Stephen James Smith & Enda Reilly | Lonesome George | Soundman Soro | The New Social | The Fuck Ensemble | Docktah Irie | Mustang Hobo | Ross Breen | The Driftwood Manor | Secret Guests | Tim Timma | Nix Moon | Tongue Bundle | SpudGun | Teknopeasant | Race The Flux | Sarah Red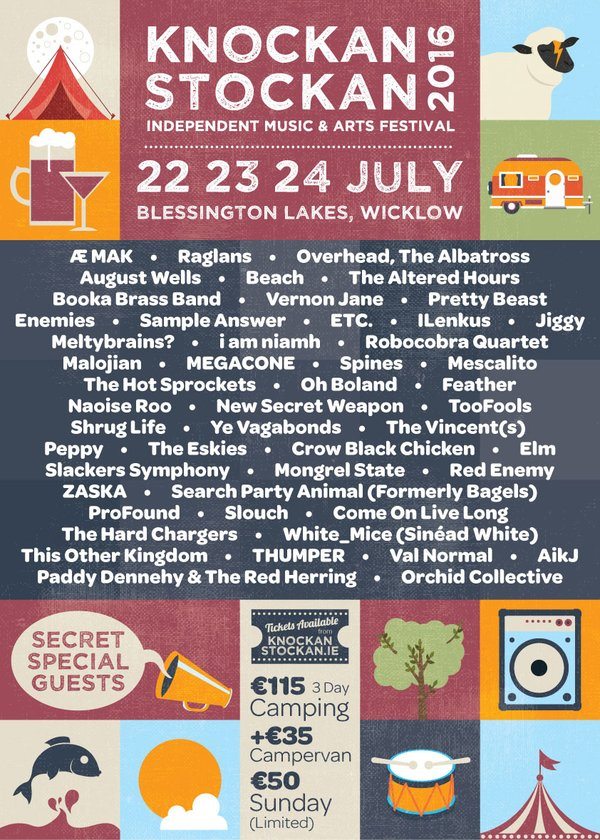 So you wanna go do ya!
Tickets are on sale now
The Breakdown
Early Bird Weekend

€SOLD OUT
Weekend Camping Ticket

€115
Buy Now