▪

Kylie Minogue

▪

Janelle Monae
Festival

Details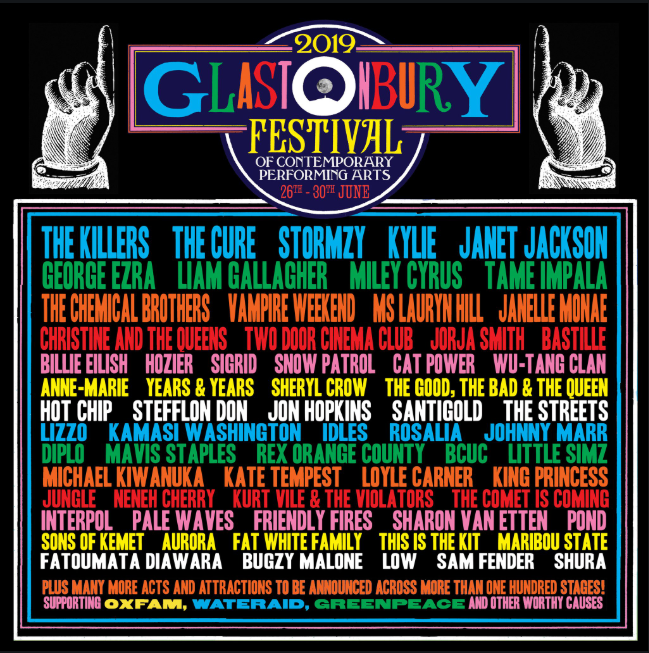 After 2018's fallow year, Glastonbury, the world's greatest festival, returns to Somerset once more at the end of June.
Already Announced
So far, all we know is that grime sensation Stormzy will become the first UK rap artist to headline the Pyramid Stage, Kylie Minogue will get the chance to make up for that previously missed headline appearance when she fills the Glastonbury Legends' slot on Sunday afternoon, and US superstar Janelle Monae will close out the West Holts stage with a bang.
Line-Up Rumours
If you've somehow managed to get tickets, you can expect further line-up announcements in and around the ticket re-sale date in April. Rumoured to be among the potential additions are both Gallagher brothers Liam and Noel, The Strokes, Hot Chip, Chemical Brothers, The Cure, Paul McCartney, Childish Gambino, Anderson Paak, Fatboy Slim, IDLES and Lana Del Rey.
And many, many, MANY more.
SOLD OUT
Tickets for Glastonbury 2019 are currently sold out. Ticket holders who can no longer attend may put their tickets up for resale in April. Keep checking www.glastonburyfestivals.co.uk for details.