▪

Mike Skinner & Murkage present Tonga

▪

The Correspondents

▪

DJ Dan Shake

▪

The Hot Sprockets

▪

Maddog McCrea

▪

New Secret Weapon

▪

Sounds of System Breakdown

▪

Rews

▪

Akala

▪

Rubberbandits

▪

Whomadewho

▪

Right Said Fred

▪

Alvarez Kings

▪

Jon Stevens (INXS)

▪

The Frank & Walters

▪

RSAG

▪

Chastity Brown

▪

Bunoscionn

▪

Heroes In Hiding

▪

Craic Appeal

▪

Mind Riot

▪

Scoops

▪

Chasing Abbey

▪

Wolves of Youth

▪

Exiles

▪

The Revellions

▪

Emma Jai

▪

The Kilo 1977

▪

Dreaming of Jupiter

▪

Montreal State

▪

Not Monsters

▪

Gemma Bradley

▪

Quangodelic
Festival

Details

Ireland's fastest growing boutique festival BARE in the Woods is set to expand in 2017, evolving into a three-day event, bursting at the seams with new features at one of this country's most amazing festival sites.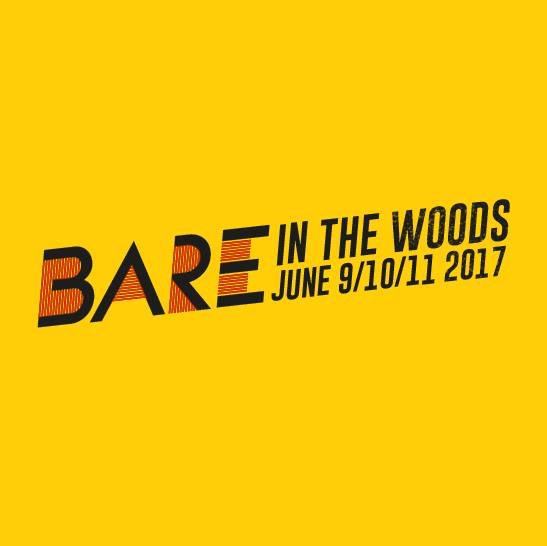 BARE in the Woods established itself in 2016 with a sold out festival at Garryhinch Woods, with headliners The Sugar Hill Gang delivering one of the performances of the summer. BARE17 will bring some amazing international acts, the best of Irish music, DJs, Comedy and Spoken Word; incorporating art installations alongside a new Games Arena, a Sports Space and an artisan food village.
Early Bird Tickets are on sale from midday on Tuesday December 13 at €100 for a three-day camping ticket, before rising to €150 thereafter. Day Tickets will also be on sale for Saturday and Sunday at an Early Bird price of €40.
Peter Dunne, BARE promoter says, "The festival has doubled in size every year, so obviously we are doing something right. The main thing people have said to us is that it's over too fast and one day is too short.  So we are delighted to go to three days and even more delighted to be able to attract bigger talent for our stages in 2017. We're looking forward to releasing the line up early in 2017."
BARE in the Woods Tickets
Tickets to BARE in the Woods are on sale with options for the full three-day weekend and individual day tickets are also available for Saturday and Sunday only.
Ticket Options
Early Bird 3-Day Camping

€100
Early Bird Day Tickets Sat/Sun

€40
Here