Ye Vagabonds - Awards, Cause, and the Community of Music
In 2019, Diarmuid and Brían Mac Gloinn of Ye Vagabonds were beginning to reap the rewards of years of small sessions, inventive gigging and an expanding repertoire of originals and sensitive reinterpretations of folk songs from both sides of the Atlantic. At the start of the year, their debut album 'The Hare's Lament' had been released on the Rough Trade subsidiary to which Lankum were signed; by the end of it, they'd won awards from both the BBC and RTE for their sweet, lilting acoustic folk. 
So it felt like a broken link being reforged when RTE announced last week that the duo had again won Best Folk Group, in a year in which the brothers also look forward to a new album release - plus a return to playing live in large venues with a headline gig in the National Concert Hall.
When discussing the award, it's evident that for the Mac Gloinns, the most important thing about it was not personal recognition - as Diarmiud says, "we're not super concerned with awards, and we don't see making music as a competitive thing". Instead, it was the way it provided an opportunity to celebrate community and cause. Those two threads run through everything the band has done in recent years.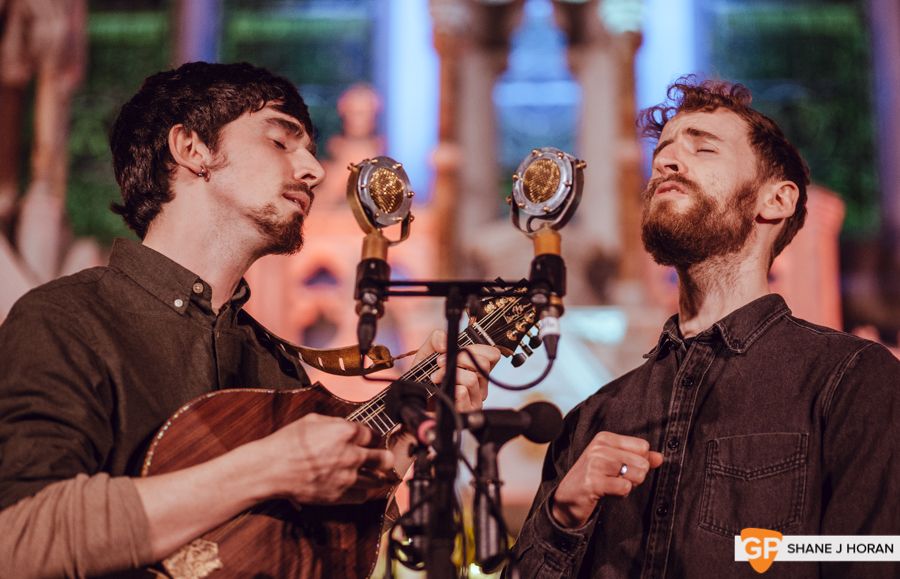 At the Folk Award ceremony, community meant the musicians and audio workers of venues around Ireland. Diarmiud says that "the best thing about the event was that the room was full of our friends, like John Francis O'Brien", and Brian adds that "it was the first time we'd all met in 2 years. For a touring musician, it's part of the fabric of what you do, and it was funny to be away from it and the people we'd normally meet for so long."
The cause they highlighted on the night was that of the Cobblestone, the Dublin pub that has nurtured the careers of so many of the contemporary musicians remaking Irish folk. On a street in Smithfield that's been semi-derelict for 2 decades, in the very year that the music world reawakens it's now threatened with partial demolition to allow the building of yet another hotel.
Brian mentions how "it was good to give the Cobblestone a shout out on the night". And not just on the night of the Folk awards: Ye Vagabonds have helped rally support for the retention of this part of Dublin's contemporary cultural heritage, and they mention with satisfaction that "there are now over 700 objections [to the redevelopment], from the Department of Housing and the Arts Council to personal ones. And there's such a team of people involved, with a WhatsApp group and regular meetings. There are people who are working on it like it's their job".
That affinity for community and cause is also evident in how the duo approached their return to touring. In a year of sitting room sessions and pop-up gigs, their boat tour of small midlands towns in the area along the river Barrow and the Royal and Grand canals was one of the loveliest ways to bring live music back to the world.
Brian describes it fondly: "it was like learning to tour all over again - arriving into small communities, maybe a hall with a basketball hoop in the corner, and having to set it all up. We had to approach them very differently, but it was a lot of fun, and forced us to improvise more. There were a good few people there who hadn't seen us before, and in one place we heard a group of old men talking about how 'a music boat had pulled in'. But we also had regulars making the trip, and people who were as much a fan of the idea as of the music".
And it was not just a way of playing new songs, or reconnecting with an audience; the brothers used it to raise funds for Refugee Rescue, a cause they're both passionate about. The idea of Home in folk music is often intense because it's also often a music of the itinerant and dispossessed. As Brian puts it, "songs were one of the only possessions people could take with them. Immigration is a privilege Irish people have held, and there's a connection [with Refugee Rescue] to the Irish experience of sea rescues around our coastline".
That connection also runs through Ye Vagabonds' most recent release, a recording of 2 traditional songs that pick up the theme of wayfaring and rootlessness - "I'm a Rover" and "The Bothy Boys". Both were laid down with John 'Spud' Murphy, who recorded and co-produced the last two Lankum albums as well as a host of more extreme bands like Woven Skull and fellow Rough Traders Black Midi. 
The subterranean rumble he's conjured for Lankum might initially seem ill-matched to the aerial grace of Ye Vagabonds' chiming guitars and bouzoukis, but Diarmuid is adamant that it's been perfect for the album they've just completed. "Working with Spud was a game changer. We did 'The Bothy Lads' and 'I'm A Rover' in 2019, and it was great to get back with him again. We were pushing in this direction where we wanted it to be a little dirtier sonically. And he's really good at creating space and atmosphere around the songs. Sonically it's different, but you have to create surprises for yourself - you have to counter your instincts"
Brian agrees: "he's effortless to work with. There were a good few times when we had the same idea at the same time. He cares about the underground, the alternative and the unheard'.
As for what the music they've created together is going to sound like, they won't be drawn, other than to say that "it'll probably be no surprise except to people who don't know us well and don't know how much cross pollination goes on in this scene. We're really happy with how it's turned out".
Although they played Vicar Street at the end of their All Boats Rise canal tour, they both feel that night was more a celebration of the other artists they'd worked with than a straight up Ye Vagabonds gig. Their headliner in the NCH at the end of the month will therefore be the first opportunity to showcase the new music they've recorded this year.
And again, it'll be an opportunity to celebrate community and cause, to reengage with their audience and champion the power of music to forge connections: "judging by the rate of ticket sales we're bringing a good section of our own audience, and there'll be some special guests, some old friends appearing. Over the pandemic people felt music was a way of self soothing, and it will be good to connect people back with where they come from".
Ye Vagabonds play the National Concert Hall on Sunday November 28