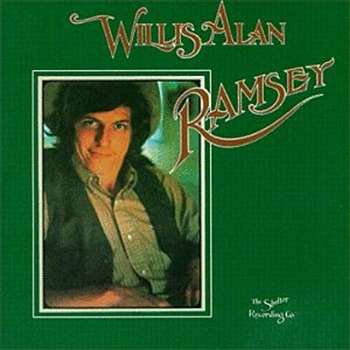 "What's wrong with the first one?" Argue with that reasoning, why don't you? On the back of one classic record Willis Alan Ramsey became – and remains – something of an enigmatic cult figure. Barely into his twenties in 1972, Ramsey released a remarkable album of soulful country then disappeared from the view of the record buying public. Was it that he had said everything he wanted to say in one perfect moment? Was his head turned by other pursuits? Was it writer's block on a mammoth scale, the pressure to surpass his achievement simply too great to bear? Whatever his reasons Ramsey has spent the ensuing forty-odd years deflecting the persisting question about the second album that refused to be. But again, as Ramsey would have facetiously countered, "Was something wrong with the first one?"
Born in Alabama and raised in Austin, Texas, Ramsey picked up a style that had its roots in the 'outlaw country' movement, one exemplified by a more unruly bunch of balladeers than the establishment was used to. The outlaw movement was a reaction against the Nashville sound, a more polished product borne from honky-tonk, or for a more astute summation from guitarist and producer Chet Atkins, "It's the sound of money." One of outlaw country's leading lights, Waylon Jennings, released his 'Ladies Love Outlaws' album in the same year as Ramsey's eponymous collection, and subsequently put his own signature on Ramsey's Satin Sheets a few years later.
Though Ramsey's songs may not have shown the same roughly hewn rebelliousness of Jennings or Willie Nelson, alongside the likes of Townes Van Zandt and Guy Clarke - whose own debut came three years after Ramsey's - and in ensuing decades their one-time protégé Steve Earle, Ramsey's album quietly resided with the best of those of his contemporaries. His self-imposed absenteeism, though, ensured his name would rarely be uttered in the mainstream like those of his peers.
It seems there was a dispute of sorts between Ramsey and Shelter Records, a worthy label according to the singer but seemingly lackadaisical in dealings with their artists. Despite having a good relationship with founder Leon Russell, who played keys on the record, Ramsey's relationship with co-founder (and subsequent chief after Russell's departure) Denny Cordell was less than cordial. Details are vague, but Ramsey claims that there was little support for the label's artists, but didn't have the money to buy himself out of his contract. In an interview for Jan Reid's 'The Improbable Rise of Redneck Rock' in 1974, though, Ramsey claims that he asked the label not to promote his album, that "I know that people who listen to records as much as I do will gradually hear one if it's any good. Let it stand the test of time. Just float it out there and see what happens."
Ramsey was naïve about the marketing machine, it seems; at such a young age, and with a rapidly changing musical landscape, it appears he became disillusioned with the industry and its workings, upping sticks to London and then Scotland, where he apparently studied Celtic music. This presumed naiveté has no corroboration within the grooves of 'Willis Alan Ramsey', an album of richly crafted character studies and songs that seemed already well-worn by the time the young songwriter got around to recording them.
It is the record's couplings that stand out most from Ramsey's vignettes, each distinctively covering love, lust and loss - Muskrat Susie and Muskrat Sam; Geraldine and the Honeybee; Spider John and Diamond Lil ("She thought I was a saint, not a sinner gone astray"). The latter eponymous narrator opens the record, a character with a shady past and a "loaded hand". We glimpse past, present and future with masterfully poignant simplicity, as he recounts his loss to some fellow freight riders; an outlaw doomed to wander. No less affecting, yet a world apart from Spider John's stoic heartache, are the lovers of Muskright Candlelight ("Sammy says to Susie 'Honey would you please be my missus?'/ She says yes with her kisses"). Such is the intimacy that Ramsey conjures, it's almost an intrusion on these fictional lives, infinitely more starry-eyed than the bawdy "I can't wait to pollinate" on Geraldine and the Honeybee.
Watermelon Man switches to twanging blues hokum, with its thinly veiled "Why don't you come to the cabin/ Bring your watermelon patch", while a folky fiddle buoys Painted Lady. Despite that traditional foundation, though, the progressive influence comes to the fore after each chorus and the band suddenly seem to get louder, the drummer hitting that bit harder. Boy From Oklahoma's telling couplet - "Now you know that Woodie Guthrie's dead and buried in the ground/ But sometimes I sing his songs and I get to thinking that he's still around" - seems to speak most overtly about Ramsey's pedigree; progressive, yet with a stake in a rootsier folk tradition.
Although filled with some sublime moments, not least the peerless Goodbye Old Missoula, it is the album's closer, Northeast Texas Woman that leaves the lasting impression. It sputters to life, a comic count-in pulls the threads together, and a band that sound like they're sitting around a kitchen table playing whatever comes to hand begin a provincial paean with universal application - "South of Oklahoma/ East of New Mexico/ West of Louisiana/ Where all them Cajuns go/ We got a little place called Texas/ Where the women grow on trees/ They're right there for the pickin'/ Just as easy as you please"
It's a rollicking little number that trips percussively along, with the band seeming like they're having a ball - "Them Dallas women standing up/ Beat the others lyin' down" - as they whoop, bark, and howl the song to a close. That is, until it clatters back in from the silence of a false ending; implements are frantically tapped with sticks, guitars are erratically plucked, and a voice finally says "That's it". Forty-three years later that voice has still to be contradicted.
In 2013, just months away from finishing his second album, 'Gentilly', Ramsey's studio in Loveland, Colorado was hit by floods due to unprecedented rainfall. The ensuing costs blew "a hole in the schedule and the budget" for the long-awaited follow-up. Ramsey is taking the independent route, funding the album through donations and one-off house concerts. "I guess I'm one of those sensitive-artist types that ends up being broke and at odds with everybody in the music industry" Ramsey prophetically told Jan Reid in '73. Perhaps, like Spider John searching for his precious jewel, he's doomed to pursue that elusive album another while yet.