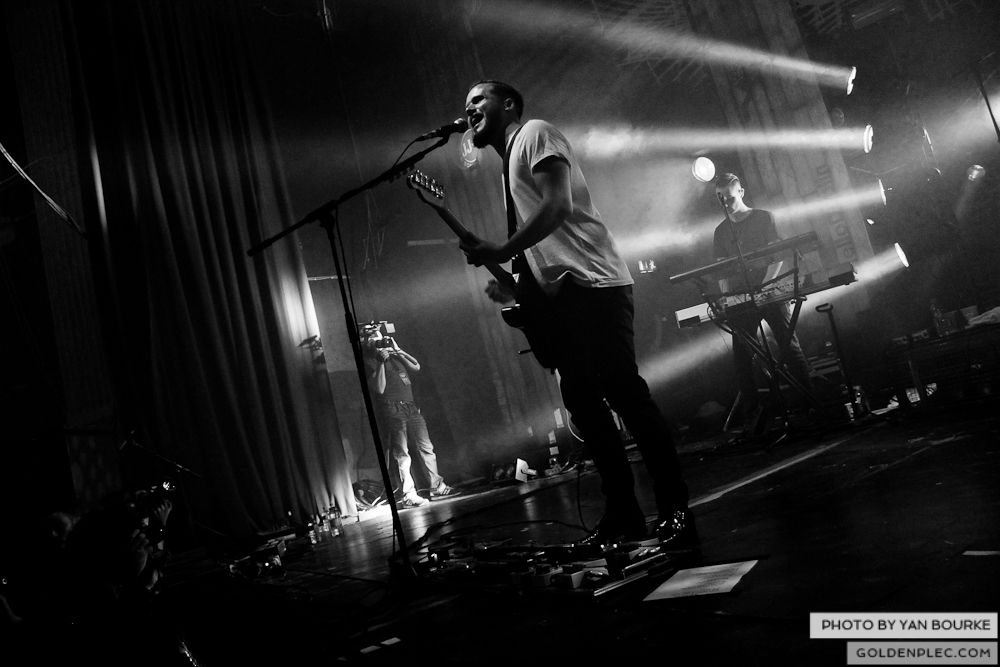 White Lies returned to Dublin recently for their first show in Ireland since 2009 courtesy of Jameson Live. We sat down with Harry, Charles and Jack in the plush surrounds of the "hyper stylish" Marker Hotel (the brochures words, not ours) in the heart of Dublin's docklands.
We are ushered into "a room downtown" minus a big TV to find the Ealing trio debating a typically modern problem for bands today with their management, who knows the Instagram password? This is a momentary distraction however and the trio are remarkably fresh-faced for a group of guys let loose in a whiskey distillery the night before for a special acoustic performance.
"It was the sort of offer you can't refuse" lead singer Harry McVeigh says when we enquire whose bright idea was it to come to Dublin for St. Patrick's Day weekend. "They're gonna be so happy with me for saying this but Jameson is genuinely one of our favourite things to drink. So it's a double whammy we get to come here on St. Patrick's Day and drink some free whiskey."
This may have just been a bit of rock star bravado on the part of McVeigh though as there clearly isn't a hangover between them. "We got to do the tour of the distillery" says drummer Jack Lawrence-Brown "which was pretty fun. It was very interesting in regards to how the whiskey gets its colour and the barrel aging process." However, this wasn't the only Irish experience that the group were swept along with like all the other tourists entering Dublin this weekend. "We went to this little pub across the bridge from the distillery and watched the Six Nations."
Surprisingly the English rock outfit were more than happy for their own country to lose out to Ireland, and more specifically, to Brian O'Driscoll. "I felt great about it" Harry McVeigh says, "I never actually support England, I always support the underdog I suppose. Not that Ireland were because they were definitely the best team in the tournament but they haven't won that much so it was great to see someone else take the crown and it was really nice to see Brian O'Driscoll in his last match." The rest of the band are shocked when McVeigh mentions "Apparently Obama tweeted about him" but are taken aback further still when we tell them of Obama's Irish heritage and Moneygall.
Reducing White Lies sonic architecture to an acoustic bedrock seems a wholly alien representation of the group's raison d'etre to date. "It's taken three albums to figure out a way of doing it that we are happy with," McVeigh admits, but even then the experience still seems to hold some trepidation for the group. "Apart from the first couple of songs we did last night with just acoustic guitar it's not really an acoustic session in the traditional sense. We don't use any acoustic instruments apart from a xylophone. I prefer to think of it as a different way of approaching production. Stripped back might be the right word."
Watch White Lies perform in a stripped back fashion - xylophone and all - below.
http://www.youtube.com/watch?v=sR78GfE9RbA&feature=youtu.be
This trepadation seems all but confirmed when you consider that of the six songs White Lies performed in a stripped back production two of them were covers. "We did a cover of Prince's I Would Die For You and a Lana Del Ray song called Ride," confirms McVeigh .
"If you are gonna do a cover the only really important thing is that it's a good song and it has to be a particular type of song that can be played in any way and I think those two songs are good examples of that." He continues offering an explanation at the unexpected song selections: "You can strip them back and take everything away apart from a piano and a vocal and it would still sound like a good song so that's why we chose those particular songs"
White Lies are about to head to America to open for Oscar-winning actor Jared Leto's group 30 Seconds To Mars but that sort of fame is not something any of them yearn for.
"It's very different for them (30 Seconds to Mars)" Harry McVeigh tells us. "I suppose there are some bands who are generally very famous but for them it's doubly so because Jared Leto is a massive film star and that's a totally different type of exposure. People fall in love with your characters or hate them in your films and they feel like they know you and that's something that will never happen to us I don't think, unless one of us ends up being a massive film star."
"I think we are very comfortable I think we really enjoy pretty much every aspect of the way our fans appreciate music and the way we tour and the way we play and I've always said it's really nice that our music is a lot more famous than we are. I think that's a good thing"
" I always think Radiohead are a good example of that and Muse actually. Their music is massively famous, they play huge stadiums but nobody really knows them. I wouldn't expect people to stop them walking down the street."
On White Lies' latest album 'Big TV' the band reconvened working with producer Ed Buller (Suede) who produced their debut album 'To Lose My Life' and bassist and lyricist Charles Cave is more than happy to wax lyrical about Buller's capabilities.
"If we could work with Ed on every album we would and will and we might" says Cave, "and of course there's reasons not to work with the same producer again and again but Ed is as far as I know or have heard from other musicians or bands the most qualified producer there is in terms of scope of expertise."
"There's a hell of a lot of amazing producers out there" he continues "that can record a band and make you sound absolutely incredible. But if you were to say 'how do you feel about this key?' or 'what do we feel about this tempo or this chord progression in the middle section, is this quite right?' Ed can sit down and answer all those questions at a keyboard with you and go 'right, what's the chord progression here?' write it down and go 'right, you've already used this chord here in the verse so why don't you do the minor third of it instead?'"
"He's very, very big on his theory and for the last record where all our focus was on the songwriting and in some ways the production was an afterthought really. We've quite a good palette of sounds that we've defined over the last two records that we know how to call up very quickly so we needed someone that was on the one hand very invested in us and our music but on the other hand could be slightly outside and have perspective on things."
However working with Buller, a notorious perfectionist and hard taskmaster, can be a frustrating, challenging and inspirational experience. "Harry and I could spend four or five days on a song and go absolutely nuts over it and then finish it and think 'right, because we've spent four days on it, we've battered it until it's really good' and then you play it for Ed and he goes 'no, the verse isn't good but the rest is amazing' and you go 'what do you mean the verse isn't good?' So it can be frustrating at times too but he's a maverick. I think that's probably the best word for it he's a maverick."
The band acknowledge that 'Big TV' sees White Lies' sound veer away from the sound of their sophomore album 'Ritual' produced by Alan Moulder (Nine Inch Nails) back towards their debut 'To Lose My Life'. "The second album was a very, very sonic-orientated process" says drummer Jack Lawrence-Brown, "working with Alan which was another amazing experience. It's one that so many bands would give their right arm for and we were very lucky to have the opportunity to work with him. He's a great guy to have like your music… but it was a different process. It was all about working in the studio with him improving every sound for hours on end until it was immaculate."
"We always relate much more to Tears For Fears" says bassist Charles Cave when asked about the constant comparisons to Joy Division and The Smiths and the dour and miserable tag which the British music press have placed upon White Lies.
"They do write a lot of miserable music as well" he concedes before going on to explain. "There's just a good juxtaposition with their music, even with Mad World, which is one of their biggest hits, the lyric in the chorus being 'The dreams in which I'm dying are the best I've ever had' is a thoroughly miserable lyric. But then there's also a sense of humour in that it feels slightly tongue-in-cheek, but then also the melody is like a nursery rhyme. It's like a really sweet, sweet melody there. Whereas if bands like Joy Division were delivering that lyric you could imagine it being a lot more austere. There wouldn't be that kind of colourful quality to the tune and to the instrumentation. It would just be bleak - 'I'm dying in my dreams' - and I think we definitely get such a kick out of melody and music that it doesn't allow us to be totally bleak."
The lyrics from Death the opening track from White Lies' debut album 'To Lose My Life' ponder how White Lies may react as a plane goes down "If we suddenly fall/should I scream out/Or keep very quiet/and cling to my mouth as I'm crying/So frightened of dying/Relax, yes, I'm trying/But fear's got a hold on me." While the group are keen for this not to become a prophetic statement the recent disappearance of flight MH370 has heightened their awareness of the dangers of aviation.
"We are flying all over that area soon, those parts of the world are on our agenda. It'll be quite terrifying" Jack Lawrence-Brown tells us at the mention of missing Flight MH370. "It does get scary every now and again though," adds McVeigh. "Sometimes you think 'oh shit this could be the moment this plane is going down.' The less you think about being in a metal tube 35,000 feet in the air the better."
"I think the next time I go to America I'm gonna buy some Xanax," says Charles Cave. "I think I would feel better if I was carrying two emergency beta blockers, just in case I had a panic attack, because I can see it happening, going a bit nuts at one point and going fuuuuck."
But fear not, Whites Lies shan't be going the way of Buddy Holly any time soon and they'll be back in Ireland this summer as one of the main attractions of Indiependence Festival.