whenyoung have progressed at a startling pace in recent times. The trio have gone from playing Shane McGowan's 60th birthday party in The National Concert Hall to touring Europe and taking festival season by storm - including a standout performance at All Together Now - and also signed to Virgin EMI along the way. The Limerick natives also paid tribute to The Cranberries Dolores O'Riordan by covering Dreams and completed work on their debut EP 'Pretty Pure'.
We caught up with the guys as they prepare to hit the road with The Vaccines and Blossoms to talk about all these things and more. But don't worry they won't be saving all the craic for themselves. They'll be back in Ireland to celebrate the release of their EP with three dates at the beginning of November.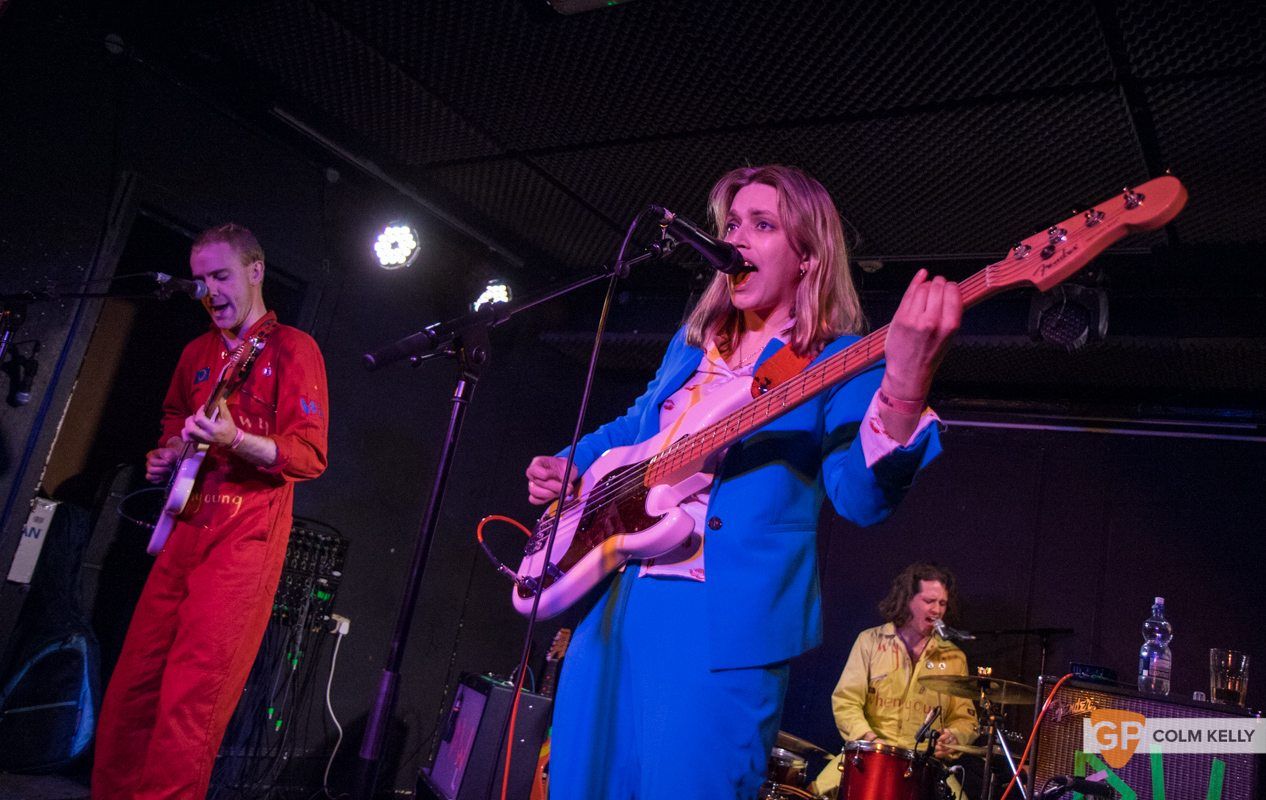 Why did you guys change the name of the band from Sisters to whenyoung?
When we started Sisters, we really had no idea what we were doing. We were finding our feet in public rather than formulating a cohesive idea of a band and pressing go. After a couple of years, we had a clearer picture of what we wanted to be and it felt like a natural progression to have a fresh start.
How did you guys wind up playing Shane McGowan's birthday party? What was your biggest takeaway from that experience?
We're huge Pogues fans and we recorded a cover of Fairytale of New York last Christmas. We sent it to Shane's manager and both he and Shane liked it and extended an invite to partake in the gig of a lifetime. The biggest thing we took away was the level of humility in the room despite the massive amount of talent and success. It was beautiful and inspiring to see.
Why was it important for you guys to cover Dreams by The Cranberries?
Dolores actually passed away the night of that gig. I remember walking out of the hotel to go to the NCH and seeing it on the news. It was such a huge loss for music. Hailing from the same place, it felt as though we had a responsibility to keep her spirit alive to some extent. Our small gesture was to cover that song.
Did you guys get The Cranberries' blessing on your version and were you surprised by the reaction from fans?
We sent it to Noel Hogan and he approved, which was important for us. It's such a beautiful pop song. No matter what style it's performed in, it will always connect with people. We had some great reactions to it at festivals over the summer.
At your show at All Together Now, you dedicated your song The Others to the victims of Grenfell Tower. When can we expect to hear a studio version of that song and can we expect more social commentary songs from the band going forwards?
We're working on that song at the moment so hopefully a release is not too far away. Our songs reflect our lives, our feelings and the times we live in. That particular one was a direct reaction to a horrible tragedy and the unforgivable aftermath.
Rumour has it that the queue to sign you guys would put your average doughnut shop in Dublin to shame, why did you opt for YALA! Records in the end?
God, what is that doughnut thing all about? We jumped at the chance to release a single with Yala because they are arguably the most supportive indie label for new music and artists at the moment. We didn't even have to think about it. We then subsequently got to sign a deal with Virgin EMI, which was very special.
It's one thing to sign for a label ran by one of your idols, but what has it been like to work with them in the studio?
Felix is indeed an idol of ours, growing up as huge Maccabees fans. His enthusiasm for music is infectious and working with him and Mo from the label and also Hugo and Sam from the band was like a dream.
You recently announced your debut EP 'Given Up', which features new track Sleeper. You've included strings in the track, which is a bit of a departure for you guys. Can we expect more orchestration in the future?
Yes, I suppose it seems that way but quite a few of our songs are actually slower and more emotive. I guess, when we've normally only got 30-40mins in front of a crowd, we want to keep it upbeat. That's why we're really looking forward to working on our album, so that we can expand the palette and show both sides to people.
Now that the EP is almost upon us, how are plans progressing on recording your debut album?
Once we return from Europe and our Irish tour, we begin recording. So it's all ready to go. We can't wait, it's something we've dreamed about doing for what seems like our whole lives.
You're gonna hit one million streams on Spotify soon (congratulations) will you mark the occasion or do those type of things not matter to you guys?
Really? Cool, didn't even realise!! Maybe we will mark the occasion by buying some Tesco value prosecco or something else to the value of our 'one million streams' paycheck. Of course streams matter to us but we try not to focus too much on stats because you can get caught up in the world of followers and streams and lose sight of the road ahead. But yes, more streams would be great please!
You've been picking up some great support slots recently around Europe (Vaccines, Blossoms) but how much are you looking forwards to coming home in November?
We've had so much help from artists inviting us to support them this year and we have learnt so much from it. We will be forever thankful to them. But finally doing our own headline tour has been fantastic and getting to come home to play Dublin, Limerick and Cork will feel extra special.
Tour Dates:
The Workman's, Dublin – Nov 2 Tickets €14.00.
Dolan's Warehouse, Limerick – Nov 3
Cyprus Avenue, Cork – Nov 4