Every year the GoldenPlec community of writers and photographers (50+) come together to vote on their ones to watch for the upcoming year. After pulling the votes together, we selected our 'Plec Picks' for 2018. We have classical artists alongside rap, jazz, funk, operatic, soul and anything in between. Our list strives to encompass a broad spectrum of music in order to highlight the thriving and evolving music scene that exists in Ireland.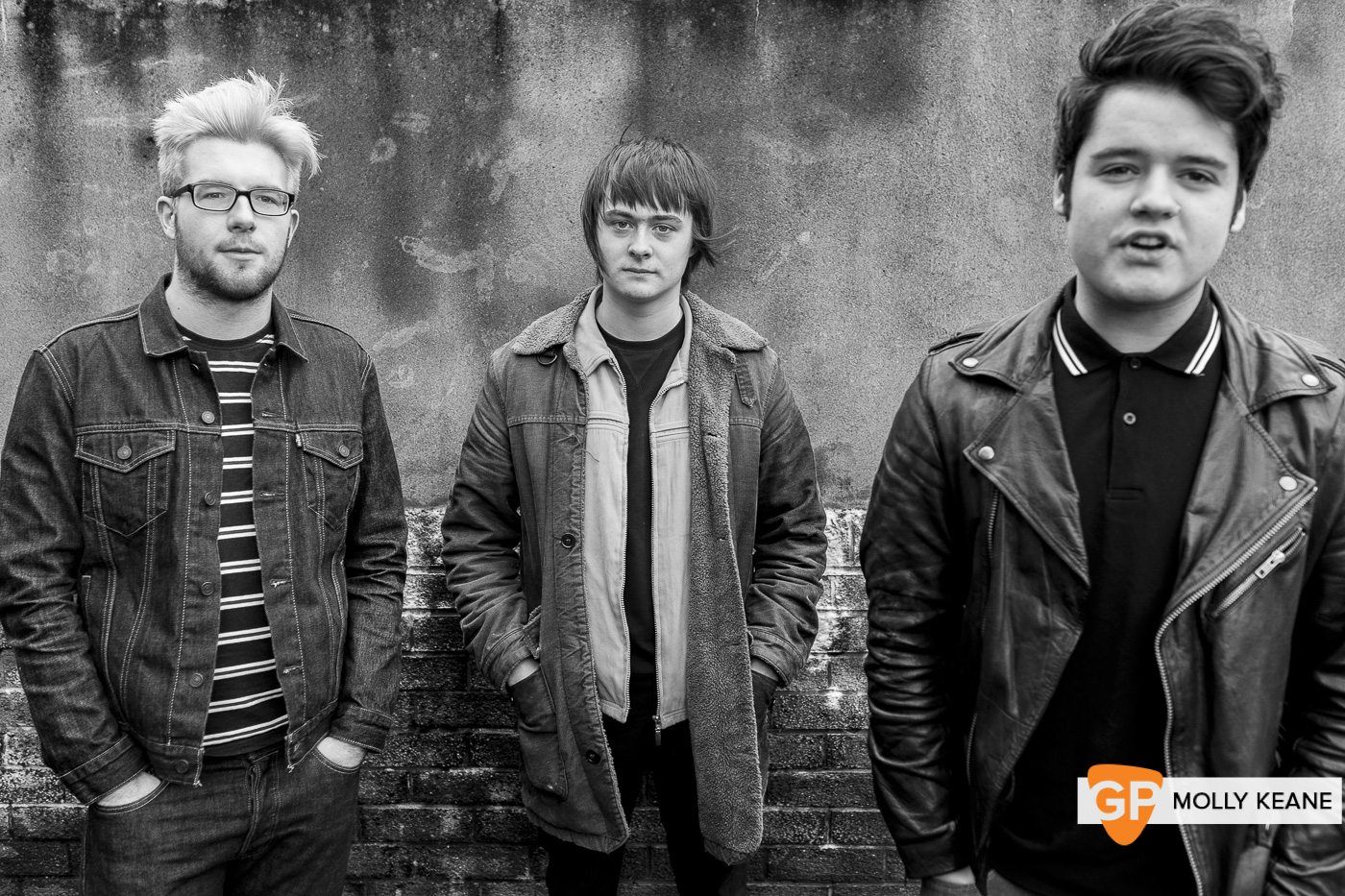 It's only just gone four o'clock in an industrial estate on the outskirts of Derry but it's already getting dark. Here, amongst the sleety December rain and the dreary warehouses, is where TOUTS have their rehearsal space, a small room filled with music gear, cans and rollies.
It's a fitting place to meet the three lads, all from Derry, all under 20 years old, one (Jason) turning up still in his school uniform.
It has been just under a year since this incarnation of the band have been together, with Luke on bass joining Jason on drums and Matthew on guitar.
The year has included 2 blistering EPs (both in length and ferocity), a British tour including Reading and Leeds, and some high profile support slots.
The first thing that hits you listening to TOUTS is Matthew's unhinged vocal, which has a remarkable similarity to Joe Strummer. It's a comparison the band appreciate.
"We're like The Clash meets Dr. Feelgood. I think that just about sums us up. That covers it," reckons Luke, sitting on the ground and rolling a smoke.
If the sound of their two-minute punk songs could pass for tracks The Clash left off their eponymous debut, the subject matter isn't far behind. From Political People on their debut EP to new single Bombscare, they naturally write about social and political themes. Would they say they write political music?
"Ya know what, I've decided to just say yes to that from now on!" says Luke, with the air of a man who has been asked about it before. "We don't necessarily sit down to write a political song," interjects Matthew, "it just happens we're three people who give a fuck about things".
"There's a lot of fucked up shit happening in the world. We can write about that, and we can also write about going out getting blocked," says Luke.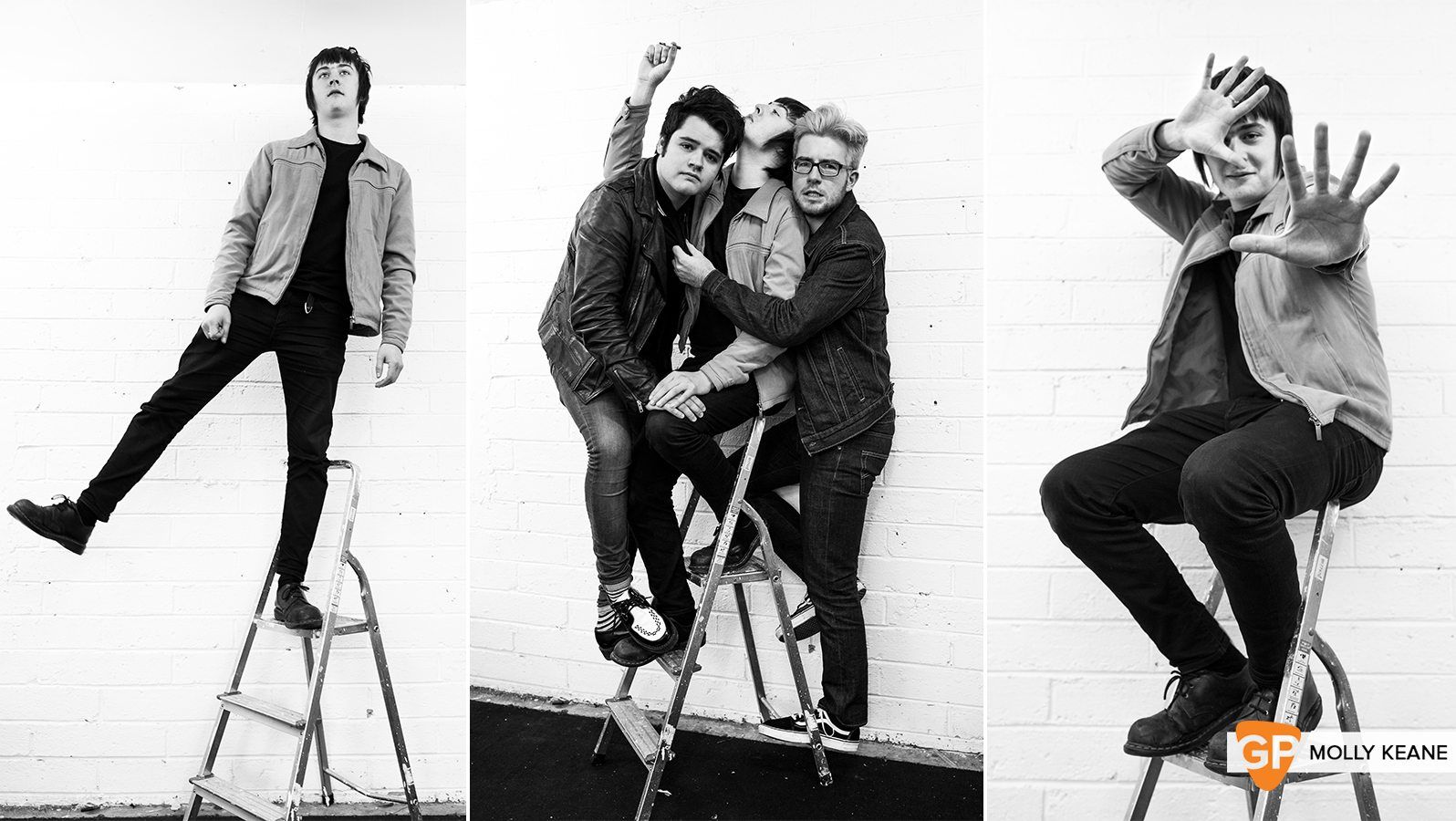 Whether about getting blocked or getting scammed by politicians, every one of their 8 released songs is built on the kind of irresistible three chord hooks The Ramones or The Buzzcocks specialised in. Often they implode within a minute or two, descending into feedback and barely vocal screeches from Matthew.
As catchy as their two EP's are, they are best experienced live, "I think to get us, you need to go mental" says Luke. They've developed a reputation for sparking feverish reactions in their hometown in particular.  "Manchester too. And Liverpool," says Matthew, "they're just music mad".
2017 has seen their stock rise. This time last year they were supporting punk Derry icons The Undertones in The Millennium Forum. Since then they've added international heavyweights Liam Gallagher and Kasabian to their support experience, along with a string of dates across the water.
Highlights of the year?
They look at each other. "Probably Other Voices actually," says Matthew. "Yeah" Luke agrees, "people might think we're just saying that 'cause it's an Irish festival, but it's actually so full of music heads. It's a class festival."
Part of what makes meeting them here fitting is their relationship with their home. From songs with names like Marty and Micky to the rich punk lineage in the North, the backdrop of Derry looms large over their music and their personalities.
Derry I tell them, feels like the fourth member of the band.
"Yeah, like - I'm proud that I'm from Derry. I don't actually know too many people who are proud of where they're from," says Jason.
I agree. I tell them I can't think of too many people who seem proud to be in a band from Dublin for example.
"I think you can be proud from there too. The Dubliners and stuff like that," says Matthew, correctly enough in fairness. Ronnie Drew and the boys are perhaps a less obvious influence on the band, but they have been known to throw in a a capella rendition of The Auld Triangle into sets. This once resulted in accusations of sectarianism from "some melt on Twitter", the kind of extra baggage you might have to deal with if you're a punk band from Derry. Presumably this doesn't happen to Girl Band or Thumper.
Their laidback and DIY attitude sits well with where they're from. "I've been playing around Derry for years. I don't even own a bass guitar!" says bassist Luke. Even their name seems like it could have been chosen because it sounds good with a Derry accent. "In England they don't know what's going on," laughs Luke. "People always think it's something to do with ticket touts. We tell them to come to Ireland, ticket touts don't get shot."
Their 2018 is taking shape already. They're back in the studio in January. For an album?
"Nah, not necessarily to be honest. We're in no rush. Maybe another EP, we'll see."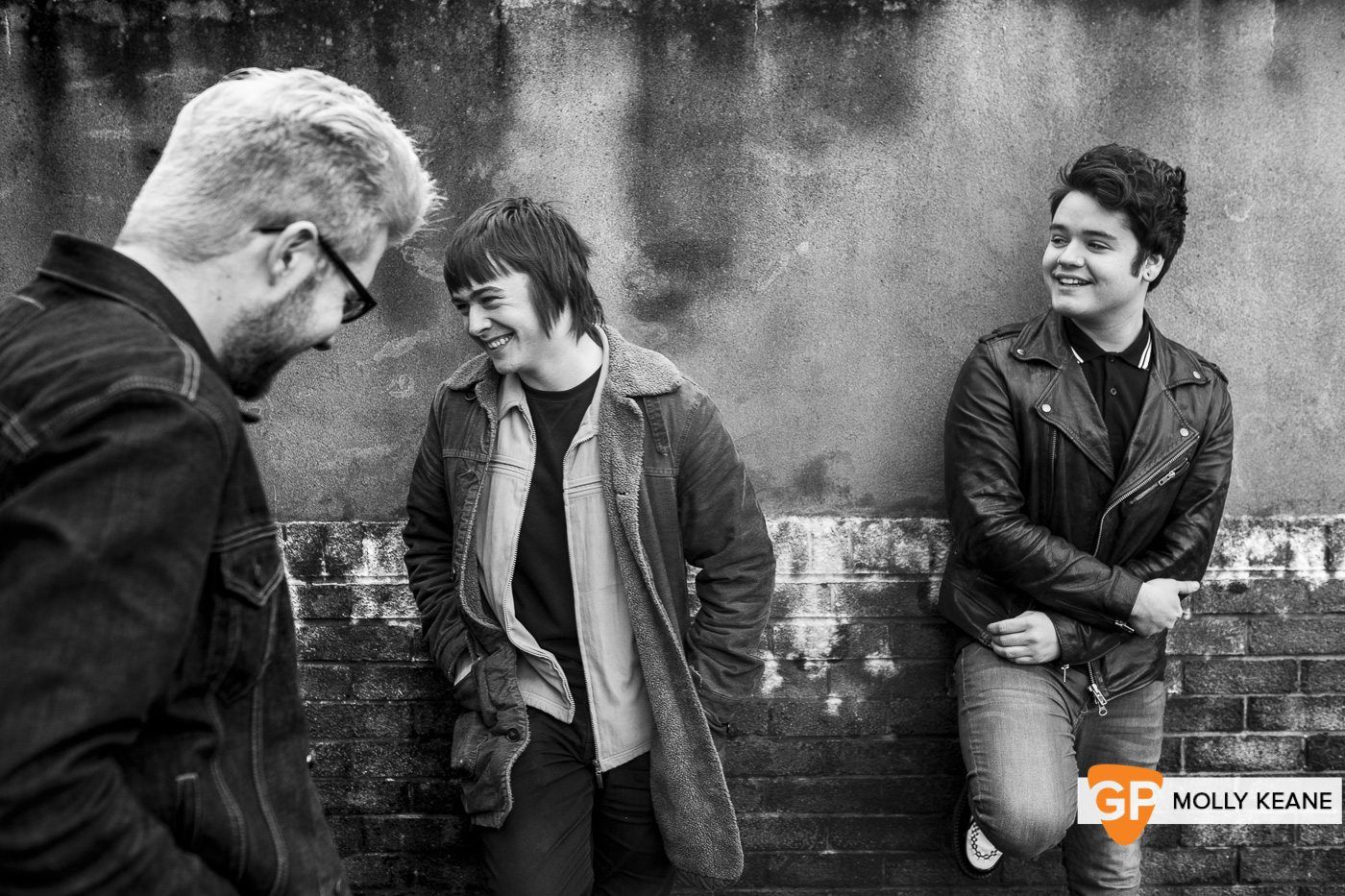 They're also planning an Irish tour in March. "We're actually just putting it together now," says Luke, roaring in the direction of my recorder, "so if anyone has any venues, they can let us know. Cheers."
March will also see them make their first trip to America for South By Southwest, something they're all excited about. "I actually watched Man Vs Food – the Austin one. To get ready like," says Luke. "That's your preparation for SXSW," Jason interjects, "Man Vs Food?" Add in 5-nights supporting Mod icon Paul Weller. "Need to keep up with 5 different nights of his clothes. While on the beer," says Matthew; and it looks like a busy year ahead.
Do they have specific goals in mind for the future of the band?
"Meet Holly Willoughby" says Jason, without a seconds hesitation.
"Sideburns" says Matthew.
"Probably just play and travel as much as possible," says Luke, the voice of reason.
"Yeah, I'd like to do like what Otherkin did. Play like fifty dates around Europe," agrees Matthew. "And loads of festivals. I'd like to play some of those mad festivals, like Burning Man"
It's typical of the band that they're not getting carried away, instead focusing on gigging and writing and working hard.
It's pitch dark now, as we begin to head off. Luke is going out in Derry.
"It's a kind of musicians Christmas night out," he says.
"What night out?" demands Jason.
"Just boys who play around Derry. Yous aren't invited. A load of musicians, some of them wearing Christmas jumpers".
"Are you wearing one?"
"Am I fuck."