The Flowers Of Hell is a fascinating organism - a trans-Atlantic indie orchestral group based between Toronto and London, consisting of anything up to thirty musicians crafting elements of post-rock, shoegaze, psychedelia, and classical music into an all-enveloping aural experience. The formula is simple: 'Velvets + classical = a lot of what we do.' The places, personalities, and projects that crop up in a conversation with Greg Jarvis – founding member and helmsman of the group – are many and varied, to understate things just a bit, but we managed to cover some ground with the intriguing musician before his Dublin visit later this month.
Jarvis is a synesthete – he experiences sounds as abstract shapes, a condition which he explored on the band's second album 'Come Hell Or High Water'. "It was the first record I'd made since I'd learnt the rest of the world doesn't see sound. And so it was me beginning to understand how I was drawn to certain instruments and forms of music due to the way my syni visions of them look - and finding out that if I layer them all up on top of each other for maximum visual effect, it also sounds good."
Certainly, it isn't the most tangible concept to illustrate, a hereditary brain wiring where two of the senses are fused. "Some people taste words, others see time, some see abstract shapes based on sounds, smells, or personalities", Jarvis explains."I have sound-vision synesthesia which causes me to perceive all sounds as abstract shapes around me based on where the sound is coming from (be it in front or behind me), what all's making the sound, and the volume of each bit of it. I became aware of it when marking a music business student's paper on synesthesia about ten years ago. Like all synesthetes, you just assume everyone experiences the world that way and the sight of sound just isn't talked about, so it doesn't cross your mind to ever mention it. He became an A&R guy at Rough Trade, so it was fun to send him my music that he'd influenced…didn't sign us though!"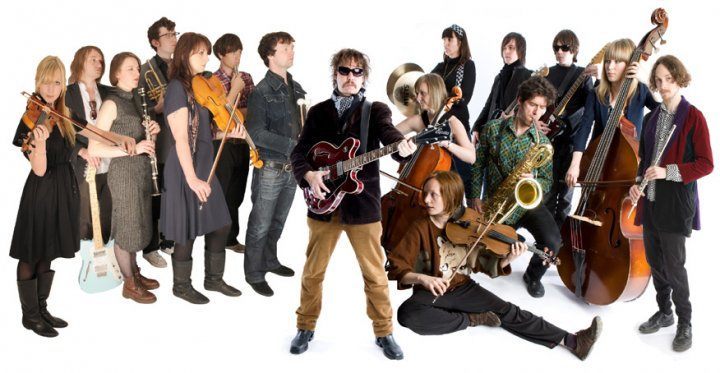 Now back in his hometown of Toronto after a spell in London and Eastern Europe, Jarvis is currently working on the band's fifth album, 'Symphony No.1'. "It's been six years in the works - there was a whole lot of experimenting involved in how to make the best full orchestral sound, how to fuck with it to move it forward, and how to develop melodies for that sound. I took a cargo freighter across the ocean, intending to do the final mix with zero distractions only to decide halfway across the Atlantic on a ship with just me, 30 sailors, and 800 cargo containers, that I needed an opera soprano on it and would have to scrap a lot of what I'd done so far. So I drank rum with the sailors and played Pogues tunes for them (the only sea shanties I know!)"
This undertaking, and the 45 minute long instrumental album "O" recorded in a single take, is removed somewhat from Jarvis' early live shenanigans in London playing punk-reggae covers of White Stripes songs as The Red Stripes; an endeavour that he and his drummer knocked on the head before things got out of hand: "We stopped it when it started getting crazy big with Peel, the NME, BBC6, The Face, Duran Duran and some peripheral members of The Clash and The Pistols getting into it. We signed to a Universal imprint, met The Wailers in a medieval fortress in Serbia, shot a video in Africa and felt we had to kill it before we became too known for it. We just wanted to play live - we weren't much into reggae or The White Stripes!"
Jarvis' primary influence instead stems from a band with much to answer for, and indeed one member in particular has come out in praise of his efforts. "Laurie Anderson loved the concept and title of O Superheroin [an intermingling of Anderson's O Superman and VU's Heroin] when I gave her the CD, and I guess she liked the music since she passed it on to Lou Reed who was really into the album" That covers album, 'Odes', featured inimitable reimagining's of bands as diverse as Neutral Milk Hotel, Klaatu, Fleetwood Mac, and The Plastic People Of The Universe - the latter band were responsible for Jarvis' true induction into the music of The Velvet Underground: "I heard them as a teen, but got into them living in Prague in the '90s watching members of The Plastic People Of The Universe playing Velvets covers sets. Initially the government was led and made up by a lot of the dissident artists who'd overthrown the communists. They'd come together as Plastics fans in the '70s, pissed off that the band was jailed by the regime. In the years I lived there, VU songs were played a couple times a day on Radio 1, a volunteer station based in Prague bunker. The Velvets soundtracked the town going through five decades of development in five years, with an absurdist playwright at the helm! The band's partly why it was called The Velvet Revolution."
Although he mentions The Velvets' John Cale, and Phil Spector as people he'd like to work with – and even more in keeping with the band's ethereal musings, a Japanese artist who creates large outdoor sculptures out of fog - Lady Gaga's name also crops up… a synesthete too, apparently. Such a sojourn into the world of pop music by a space rock outfit whose music has been used by NASA on their mission footage could be one way to shake things up a bit: "I'm really bored with the 21st century's lack of musical progress - everyone's too rooted in the past. I want there to be acts as revolutionary and sonically fresh as Beethoven, The Velvets, Kraftwerk, and N.W.A., but new sounds aren't taking hold. Bring on new genres with new rhythms and new instruments. I'm hoping Africa will shake it all up when they get digital this decade."
Collaborations with the likes of Death In Vegas' Tim Holmes, and Pete 'Sonic Boom' Kember of Spacemen 3 ("I sent Pete a CD of demos in the post, with a letter falsely saying that I'd be passing through Rugby sometime in the next week and had some good skunk") have been a useful learning tool in the production side of the band's releases, but Jarvis is no stranger to wrangling massive soundscapes with sweeping classical music inflections through their tenure, even if there is a self-deprecating tone to his claim that this falls under the influence of "seeing Classical Spectacular at the Royal Albert Hall. We're really low brow!" The show is a synesthetes dream, it seems,"a 200 piece orchestra, plus the 100 strong Royal Welsh Guard's brass band, and a 100 voice choir - with pyro! And lasers! Plus I've got synesthesia which causes me to see sounds! And I was tripping balls."
Reality was never more apparent to Jarvis, though, when - hilariously, all things considered – he was mistaken for a spy by a rebel army when travelling in Papua New Guinea. This may also have been one of the few occasions where a ukulele saved a man's life, as Jarvis recalls: "I was in West Papua and some people at a small town political rally saw my camera and mistook me for a spy. So I was chased by a mob, found shelter in a hotel, and was interrogated by soldiers of the rebel OPM army who were deciding whether to kidnap or kill me. I was losing it and began to play to soothe myself, not knowing if I'd ever get to play again. One of the soldiers was lulled and calmed by it, saw my distress, and ordered them all to go and let me be free." Despite this semi-miraculous four-stringed escape, Jarvis is adamant he's never returning to this particular area of his musical explorations: "I wanted to hear the music of people who've gone from cannibalism to computers in one generation. Not die…being savagely beaten to death by a lynch mob in the street. It's quite the opposite of 'he died peacefully in his sleep, surrounded by loved ones'".
These days Jarvis is surrounded by a troupe of players in the town he calls home, after eight years in London and "realizing Toronto had become a great music city while I'd been gone" With such a large and spatially dislocated group as The Flowers Of Hell, though, it can only be a logistical and financial struggle to translate the recorded cornucopia into a live setting. Jarvis admits that the band rarely plays outside of Toronto, remaining largely obscure as a result. "We're recording artists first and foremost - our goal is to explore and push the artform of recorded sound. And we spend ages making our records, time that other acts spend touring. The only reason we play live is so we can give good performances in the studio - we need the energy, musical cohesion, and bond that only comes from being a live band. And it's nice to get out and connect with people."
For the Irish show the band is pared back to six musicians, playing material from all the band's records along with new material from the upcoming 'Aria 51' EP and aforementioned first symphony, although no doubt there'll be some sonic meandering in there too. "There's usually a setlist but how long we play any piece or section depends on the feel of the moment, and many songs have fully improvised sections - a bit like how spiritual performers in India play the first note and don't know what the second will be until they've felt how the first has gone."
The Flowers Of Hell's lofty ambition of "world peace through sound, by Christmas" might be a push at this late juncture – instead it's best to keep all senses alert for Jarvis' ongoing process of "developing & exploring bigger and stronger ways to achieve synesthetic sensory lift off." We'll certainly be along for the trip.
The Flowers Of Hell play Bello Bar, Dublin, with ¡NO! and Katie O' Neill on Thursday 24th September 2015. Admission is €10 advance, 12 € on door Tickets available here.