This weekend will see the third annual International Cassette Store Day take place. While Record Store Day has been stripped of much of its legitimacy, there remains a certain authentic charm to its cassette tape equivalent. But does anyone even still use cassettes? We spoke to the (ultimately) New York-based Robert Prisco, the founding member of Beach Moon/Peach Moon who, earlier this year, released their sweetly whimsical album 'Kite Without A String' on cassette.
Some background information is perhaps necessary. Originally Beach Moon/Peach Moon was Prisco's solo project, as he wrote while wandering between home and the West Coast. The name encapsulates the particularly isolated, personal subject nature of his music. "I'm from Long Island on the East Coast and I used to always sneak onto the beach at night when no one was allowed just for the solitude and time to think," he explains, "It's a pretty awesome and overwhelming thing going to the beach when there's no one on it, especially because it's super crowded during the day. And that's the sort of imagery I like to evoke, so when I first started it was the name that I gave myself."
The project expanded almost organically from these initial DIY lo-fi sounds, with the transformation into a band beginning solely because "the drummer of the band approached me and asked if I'd be interested in adding drums to my music after he saw me play at an open-mic once." Though initially hesitant, Prisco soon embraced the fuller sound working with a band allowed for, enjoying jamming with others. Although he ultimately feels that "Beach Moon remains a solo project at heart," the output from the collective so far has been delightful. The songs have been either entirely new, or reinterpretations of older, lo-fi songs from Prisco's previous work - "I was trying to bring everything full circle," he explains, "Because I didn't want to record to deviate too far from what I was originally doing."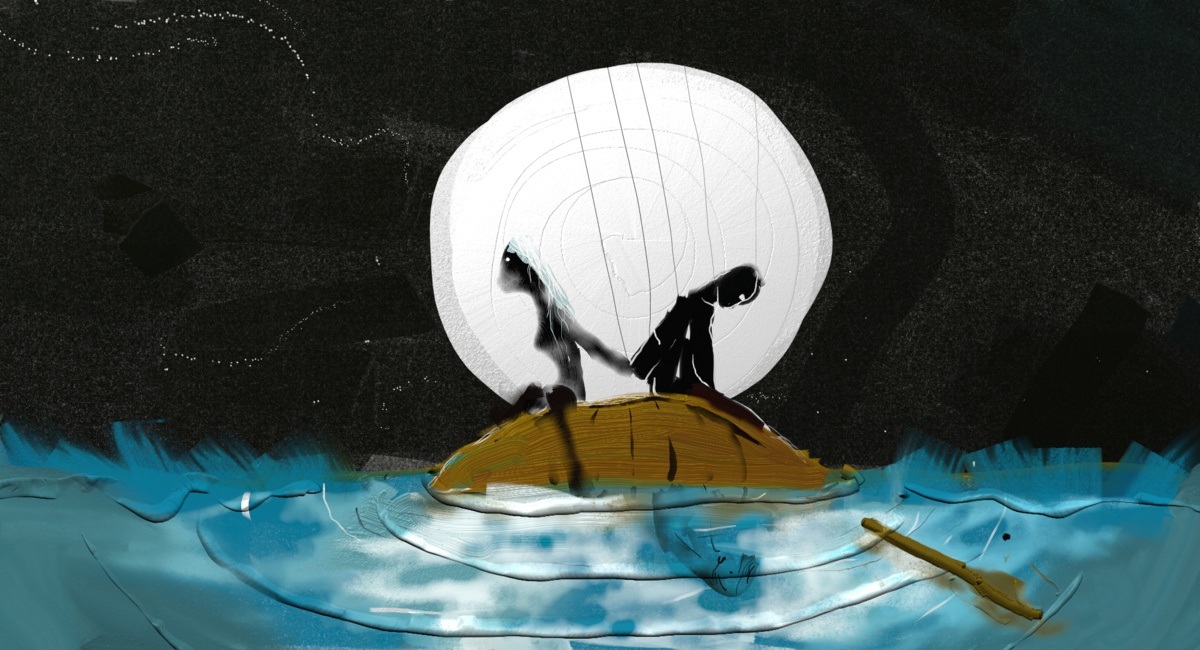 Before being introduced to Dublin label Paper Trail Records via Prisco's friend Tyler (Taormina, of Zen), Beach Moon/Peach Moon had only really considered the songs they'd been working on as an enterprise for themselves. "Originally I just wanted to finish the album and send it to my band and just be like 'hey guys - this is a cool thing we did together once.' And then Paper Trail came through and wanted to make it into something way bigger and so that's pretty much what's happening now and it's awesome."
Indeed, 'Kite Without A String' is certainly a record that deserved more than what Prisco had in mind. All intimate, comforting post-rock sounds with intricate, fluid guitar lines and vocals wispy like gossamer, the album is the perfect, short but sweet antidote to the jading anxieties of adulthood. "Don't forget the air is all around you / just breathe," is the charming, calming line that comes in opening track Philosophy at 23/at 24. For fans of delicate, zen songs with a warm pulse beneath, 'Kite Without A String' has much to offer. To Prisco, the record is one that is "more or less the culmination of everything I've been doing coming to fruition."
But why release it on cassette?
"We wanted to have something you can hold," is his initial response, though when talking to him later he clarifies, "Cassettes are strictly novelty, relevant as a way to physically own music in the digital age if that means something to you. As an artist in the digital age, you have to be both imaginative and practical when it comes to releasing physical forms of music. Cassettes are great because they're cheap to produce, and you can get really creative with the art and packaging...I do love vinyl, but it's a pricier investment and they're harder to store. "
Aside from being a practical, low budget means for an indie artist to release in physical formats, Prisco does have an affection for the sound quality (or, rather, the lack thereof), "I love the charm of tapes' natural warm compression and limited EQ range. It works perfectly for the lo-fi sound I was going for, and it can give a nostalgic overtone to anyone's music. It's a much prettier form of "lo-fi" than an MP3, which offers nothing charming about it's loss of sound quality."
Needless to say, Prisco is pretty positive about the benefits of something like Cassette Store Day. "I like Cassette Store Day, it seems much more centered around the celebration of the medium itself than the economics of saving music stores like Record Store Day is. Cassettes are the less popular novelty medium, and I don't see it getting co-opted by big labels as an opportunity to make money (clogging things up for indie labels), or forcing record stores into a position where they feel reliant on it economically, and have to take the gamble and participate if they want to stay afloat."
Prisco does, however, laughingly admit to a devastating truth: "I don't have a cassette player! I love tapes and I have a cassette collection, which I can't really listen to right now…"
But, in fairness, the point of Cassette Store Day is perhaps less to do with sitting round listening to the medium. Cassettes are a fun, cheap means of physical distribution with something comforting and nostalgic about them - which is perfect, when considering the soothing sounds on 'Kite Without A String'. Prisco is right when he muses, "For now, it's just a fun way for artists and collectors alike to celebrate, simple as that. I hope it stays that way." So do we.
Cassette Store Day will take place this Saturday (October 17). You can take a look at a list of the releases here. 'Kite Without A String' is out on Paper Trail Records now.