Ahead of their sold-out single launch in Islington, London, GoldenPlec caught up with Brighton rockers The Big Push to talk about their new single, busking and being in a rock band. With viral videos of live covers amassing over eight million views altogether on YouTube, the group is now defining their own sound and forging their own identity through original music.
The Big Push are celebrating the release of their second single 'Why My Woman' which is representative of the direction they are going, "We do a lot more heavy songs when we're busking," bassist Ren explains. "We wanted a song that captured that energy. We always wanted to put out a song that captured all the songs we love" The song also came to them quite naturally, guitarist Romain Axisa received a voice note from Ren, "I dreamt it," he remembers, "I had that bass riff, I had that idea and then we went into the studio and it grew from there."
Despite it being only their second single, The Big Push have already built up a remarkable following. It all started when the four musicians met through the busking scene in Brighton, after a break-up led Ren and Romain to move in together, as Ren explains "I was like, I need to live with someone noisy or else they're not going to put up with my shit!" After the duo played music together, Gorran Kendall then joined the equation, and after a bit of time (and a bit of persuasion) they got drummer Glenn Chambers to quit his previous band and join them.
The transition from just having fun together to forming a band of their own was not something they had planned. "it just started becoming a regular thing at the beach during the summer," Gorran explains, "we were just jamming, then one time after Pride we were like let's go out and bring Ren's drum kit, that will be a laugh, we were just pissing around in the street. In the weeks that followed, we kept doing it and people were coming up to us asking what we were called and we were like what? We're not a band," he laughs, "So then we were like… hey, we should be a band!"
Gorran, Romain, and Ren are all songwriters and create music on their own, but it seems with The Big Push the phrase 'too many chefs spoil the broth' could not be further from the truth. "It's a great thing because we always have songs! So many songs…" Romain laughs, "everyone brings their own thing."
"Yeah, It develops together," agrees Glenn, with Ren adding, "everyone is coming at it from a different angle. There's never stagnancy because if someone can't come up with a chorus, one of the others is like 'okay, what about this?'"
When it came to deciding to write their own music, it all happened pretty naturally, "in one of the first houses we lived in, we said let's write a bunch of songs, and put down a bunch of ideas," Ren explains. I was during this initial flurry that they wrote debut single 'It's Alright'. The success of which took them a bit by surprise, "it did really well, better than any of us were expecting it to do."
Following that, they wanted to write some songs that represented them more, Ren explains, "we were busking The Rolling Stones and The Black Keys and we were like, we fucking love playing this stuff but we haven't written anything like it so that's what we did."
Having originally made a name for themselves with covers isn't something the group want to belittle, but they do want to show that they are capable songwriters in their own right too. "We want to transition away from covers," Ren says, "we all write songs. Loads of great bands started doing covers, even The Beatles started doing covers, but we're all songwriters so we want to show we're doing that too."
The band are very honest about the part YouTube has played in their success, "it's the reason we're selling out shows," says Ren, with Romain adding that they have more followers on the platform than any of the others.
The band's online presence means that they are already building up a global fanbase, "we did our first show in Brighton, but there were people travelling from like 20 different countries," says Gorran, adding that their fans have set up their own little circles, with WhatApp groups and meet-ups being organised within themselves ahead of shows.
Speaking of their ever-growing fanbase, their appreciation is clear, and the fact that their fans are becoming a community is something they care about. But they also talk about some of the madness that comes with it, as Ren recounts, "we were sitting in a pub and this dude came up to us and pulled up his sleeve and he had "'It's Alright' on it and we were like "oh, shit!" and then another guy comes up and does it and another guy … all pulling their sleeves up. There was like eight of them, it was like a cult man!"
With viral videos and growing digital interest, moments like that, real-world experiences, is a different feeling for them. "When [the last show] was selling out, none of it made sense to us!" Glenn explains, "It was just a number in our heads, and even when people were like telling us they were leaving the day before the show to come see us, it was cool but it didn't really hit us until we were there and then after that, we saw it was something big."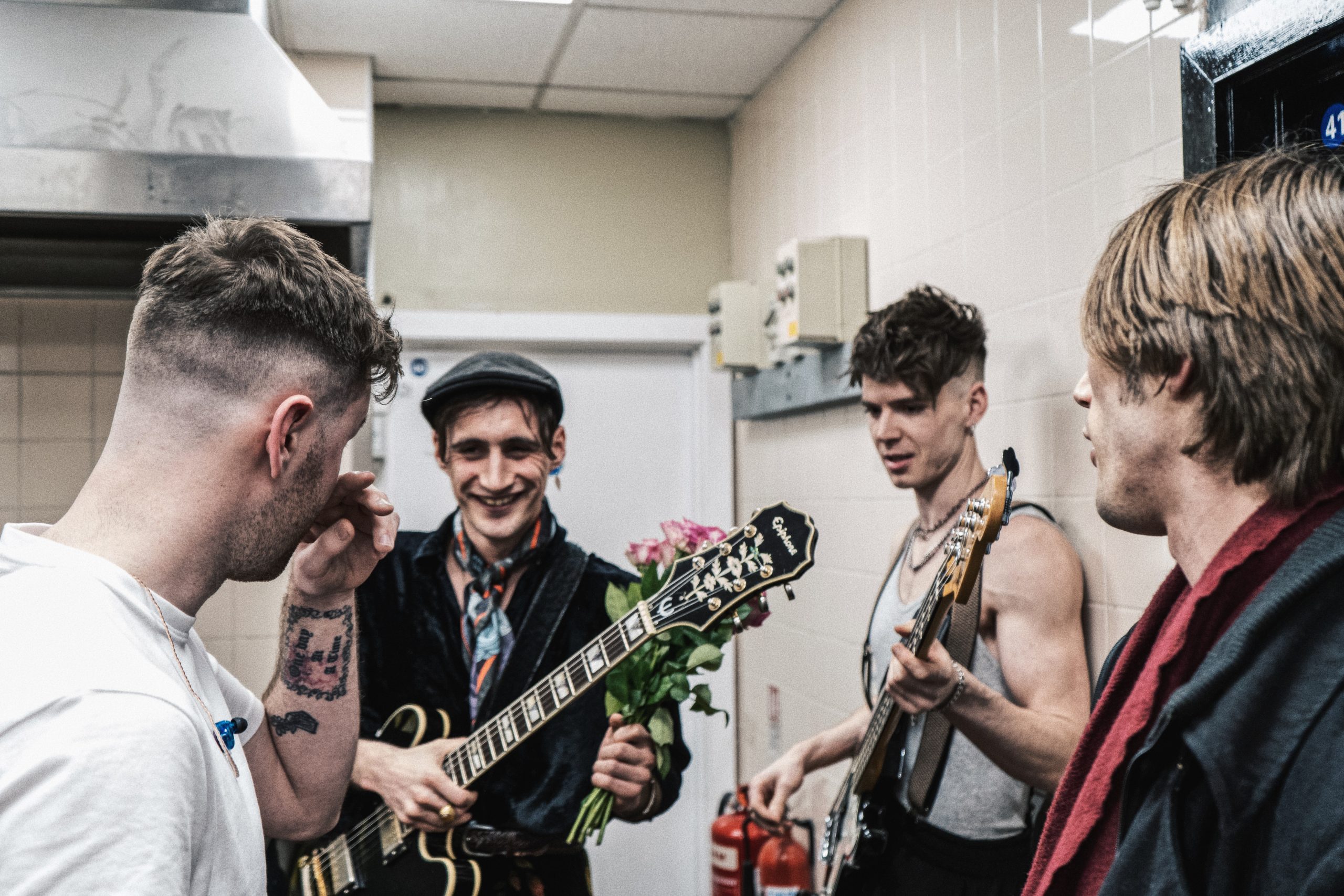 Photograph by Brad Lewis
That came with its own elements of pressure, says Ren, "the maddest thing was, we went from busking to that sold-out 1000 capacity show and there was never really a transitional period. So it went from playing on the streets to a few people bobbing their heads to a show with people going nuts – it felt a bit like we were thrown in the deep end and it was like "right, now you gotta swim, punk."
There is a lot of pessimism when it comes to rock music, but not for The Big Push, "the fact that there's no rock music on the radio means it's a great time to be in a rock band," Ren explains,  "everything moves in cycles, it's like fashion – history will repeat itself. There's been so much produced, electronic music for so long, you can really see the change with musicians like Sam Fender, Tash Sultana, artists who are doing that live/raw thing, people are getting into it again it because it's a breath of fresh air within a lot of electronic music, I'm not saying it's a bad thing but… I think it's a good time to be in a rock band."
As for the next few months, although not too much can be revealed yet there's a lot in store for group, with more original music coming, it does seem like it is only the beginning for The Big Push.