It was fifty years ago today that Sgt. Pepper taught the band to play...it was also the day that the music world was redefined forever with a burst colour.
We spoke to some of our favourite people about the enduring legacy of Sgt. Pepper's, and their memories and associations with the album.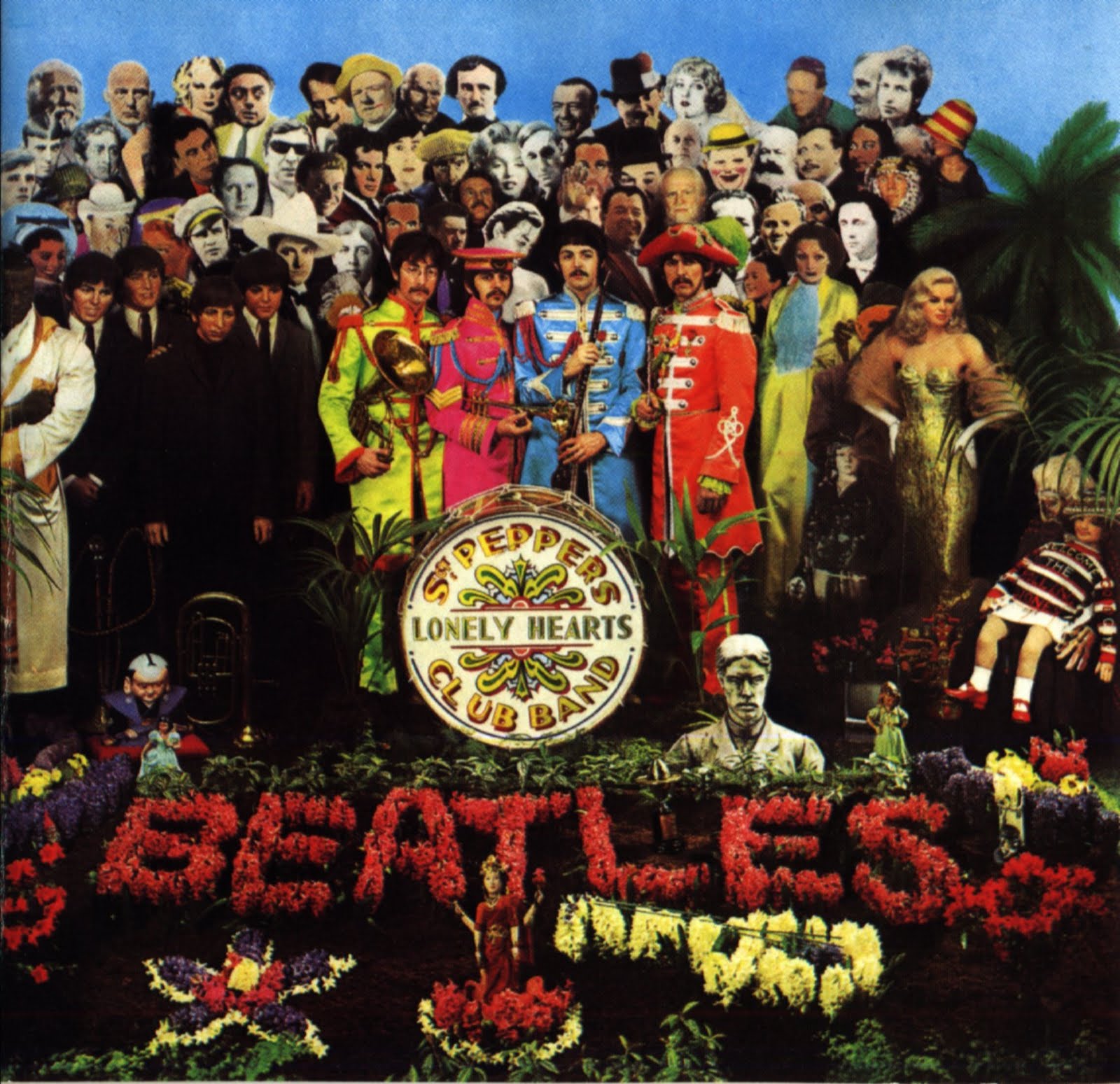 I interviewed George Martin in London once. I asked him what his favourite track on 'Sgt. Pepper's Lonely Hearts Club Band' was. And, without hesitation, he said "Being For the Benefit of Mr. Kite!" He didn't shout. That exclamation mark is in the title. He was such a gentleman.
John Kelly - Broadcaster
"A mate of mine once told me that Sgt. Pepper was one of the first concept albums. I said 'okay - what's the concept?' He looked at me blankly - he didn't know either. It doesn't really matter. Sometimes I love this album, sometimes I hate it, but inevitably, every few months, I find myself playing it from start to finish. Concept? Who fucking cares? Good tunes matter. And Sgt. Pepper's has them in spades."
Alan Aylward - King Kong Company
I find it energising and uplifting each time I revisit it. The whole thing is delivered so confidently. I love how it connects the everyday, the weird, and the spiritual with a cosmic thread. I always crack open my copy of 'Revolution in the Head' and nerd out about the songs while listening. I just wish 'Strawberry Fields' was on the album!
Mícheál - Bleeding Heart Pigeons
"I studied Sgt. Pepper for the Junior Cert. It was the best part of school. It shows the full range of their writing abilities. I love When I'm Sixty Four for the sentimental lyrics."
Alison Spittle - Comedian
"'Sgt. Pepper's Lonely Hearts Club Band' was the first Beatles album I ever bought. HMV on Grafton St was running its 'two albums for €35 deal' (remember the good ol' days when we used to spend that much money on music?). I got it along with 'Lennon Legend' and it's safe to say it was the most important musical purchase of my life! The CD didn't leave my discman from June to September 2002, I had my own personal summer of love with The Fab Four.
From the thrill of the band tuning up at the beginning of the album, to the drama of that gigantic C chord at the end, it's pure pop perfection throughout. Good Morning Good Morning has always been a standout for me - "go to a show, you hope she goes" is one of my favourite Beatles lines. Hearing it as a 17-year old drinking in some of his first summer nights on the town was pretty special, it perfectly captured the excitement of those magical days.
It was one of the first albums we featured at Vinyl & Wine too, and is one which represents everything our events are about - enjoying an album as a complete piece of art, from the cover design right down to the hidden track which spins in the inner groove of side two ad infinitum."
Alan Whelan - Vinyl & Wine
"An album that changed our concepts of concept albums. The album that paved the way for generations to come, and broaden our ideas on what was possible."
Joe O'Connor - Third Smoke.
"Pepper's saw The Beatles and George Martin just tear up the rule book of conventional recording. Its the sound of four musicians and their producer let off the leash and free to run wild in a kaleidoscope forest of creativity and bold new adventures in sound. The studio had become an instrument, a songwriting vehicle for the band. Take Strawberry Fields as an example. Martin, Lennon and Beatles engineer Geoff Emerick used the studio like Dr. Frankenstein's operating table to piece three versions of the same song, different keys, different tempos into one majestic piece of pop music. The flood gates were opened."
Gavin Glass - Musician, Producer and Radio Presenter
"I grew up listening to the Beatles, courtesy of my father, but his interest in the Fab Four ended at 'Revolver'. It wasn't until I went to college that I discovered Sgt. Pepper's, and it's a record that has remained with me ever since, and one I go back to again and again. It's an album that just doesn't seem to age.
Perhaps what makes it so special is when the story and impact of the album is considered in relation to the story of the Beatles as a band. Sgt. Pepper's was perhaps the creative peak of John, Paul, George, Ringo and producer George Martin.
In context, it seemed like 'Revolver' and 'Rubber Soul' were preludes to Sgt. Pepper's. The sense of sonic adventure, exploration in production, and carefree, bold approach to arrangements, all came to fruition in their eighth studio album. 'Revolver' and 'Rubber Soul' dipped a toe into the water of psychedelic and baroque pop or rock, expanding out from the chirpy, melodic, and perfectly-crafted pop songs that defined their career up to this point. However, Sgt. Pepper's dived right in and became fully immersed. There is a sophistication and yet beautiful simplicity to the album.
They were breaking new ground and showing everyone else how it could be done. They'd hung up their touring boots by this stage in their careers, and what the world was hearing was a band that had unfettered access to their studio, as well as the creative writing spaces in their heads. It was a glorious and exciting triumph, and perhaps that's why it's the most important album in the story of the Beatles: because everything that followed was either tainted or lacked the same magical originality.
'Yellow Submarine' and 'Magical Mystery Tour' contain some exceptionally great songs, but there's an element of folly and over-indulgence in these albums. 'The White Album' and 'Abbey Road' are overshadowed by a background of dispute and disharmony within the band. They ditched George Martin for 'Let It Be'.
This is why Sgt. Pepper's is so special. It's a snapshot of a perfect moment. It is the high point of achievement for the greatest band of all time."
Joe Donnelly - Today FM
"Back in the late '80s when we were still in Longford, Johnny started getting guitar lessons from this local Beatles nut. Of course this lad's obsession with the Fab Four soon rubbed off on Johnny and then to myself. I remember their being some special on Sgt. Pepper's on BBC radio 2 shortly after.
Johnny would religiously record the songs from the radio, but for some reason we don't quite have the full album and it wasn't available to buy at the time in our local Longford record shops.
So, when we moved to the UK the following summer we made sure we had enough money for our first shopping trip to HMV to pick up this masterpiece and complete the Pepper experience.
It had a big effect on us and still has now with all the different styles and strings. I remember Johnny would always listen to She's Leaving Home every morning before he headed out the door for the school bus."
Michael Cronin - Cronin
"There were so many firsts with this record: The fact that it was the first LP to have lyrics printed on the back is a huge one for me. It was such a breakthrough in the recording world too - being able to bounce 4 tracks on to one channel meant that the possibilities for studio recording became endless, and the Beatles certainly capitalised on this.
My favourite song on the album would have to be A Day In The Life. I love the lyrics and I've been inspired by Lennon's idea to write songs based on newspaper articles and headlines. Sonically - it's other worldly. The piano sound and Lennon's vocal sound is too good. I love the transition out of McCartney's brilliant middle eight too."
Darren - Morrissey & Marshall
"Genius is a misplaced description regardless of what you're talking about. It's used a lot when talking about music, and is rarely fully deserved. 'Sgt. Pepper's Lonely Hearts Club Band' truly befits the word. It's not just the song writing, the instrumentation, even the recording; it's the fact that everything is seamless. What The Beatles and George Martin created half a century ago was extraordinary then, as it is now.
Sgt. Pepper may not have that cerated guitar sound that was captured on 'Revolver', but it has just about everything else. Some 'classic' albums are deemed classics because of how they sounded, and the impact that they had at the time; Sgt. Pepper has lasted well over the past 50 years. When recording Sgt. Pepper, The Beatles had encouraged George Martin to achieve "the impossible", and in many ways he and the engineers did just that."
Dan Hegarty - RTE Radio
Saoirse: "When I'm sixty four was a song my Dad would sing at a session in my house sitting at the piano, my brother on clarinet, a bunch of guitars, and everybody would be belting out the lyrics. Such a choon!"
Karen: "I very clearly remember the first time I heard A Day In A Life- 4 of us squeezed in the back of a 3 seater car driving somewhere in Ireland. I was about 9 and it was one of the first songs that I recall being emotionally moved by. I remember being amazed at how neutrally Lennon could deliver such a sad song, and what an effective way that is to tell a story."
Saoirse Duane & Karen Cowley - Wyvern Lingo
"Ringo was the best drummer in the Beatles, fuck McCartney. He's a really underrated drummer - it's only when you go to play the songs you realise his subtlety and genius. It pisses me off a bit he doesn't get more recognition as his style has been copied over and over. A drummer's job is to fit in with the songs - be innovative, accent when needed and throw in a few tasty fills for good measure. That's Ringo !!!"
Ollie - HamsandwicH
"I love the story of how Jimi Hendrix was so excited about the album when it came out that he opened his set in London's Saville Theatre with the title track just 3 days after it was released, with Paul McCartney and George Harrison in attendance. The Beatles were hugely flattered and Paul still talks about it to this day. Ballsy move from Hendrix!"
Bantum
Here's Andre 300 preforming Sgt. Pepper's as Hendrix in a biopic filmed in The Olympia Theatre, Dublin.