The Backseat Lovers have this week teased the release of their second album 'Waiting to Spill' with a video containing a pastoral piano piece of music over images of nature, puddles and a wind farm interspersed with footage of the band in the studio, flying kites and performing live before the music reaches a crescendo and a woman in a nightdress walks across a field before the words LP 2 appear on screen.
'Waiting to Spill' is set for release on October 28th, but the arrival of the teaser video surely indicates that new music will arrive before that. We caught up with the band earlier this year when they played a sold-out show in Dublin's Button Factory.
"I don't think we anticipated it to be like this," explains Jonas, who is clearly taken aback by their popularity in Ireland. "We feel really lucky that we're able to sell tickets. To sell it out and get upgraded, that's so much more than we even expected. It's really amazing to us."
Jonas isn't quite sure why Europe has taken such a shine to the Utah act, but he is grateful for the welcome the band have received.
"I think one thing that we've noticed from playing here is that when we see our fans after our shows it feels like we are back at home. It's really cool to feel that same energy wherever we go with our fans."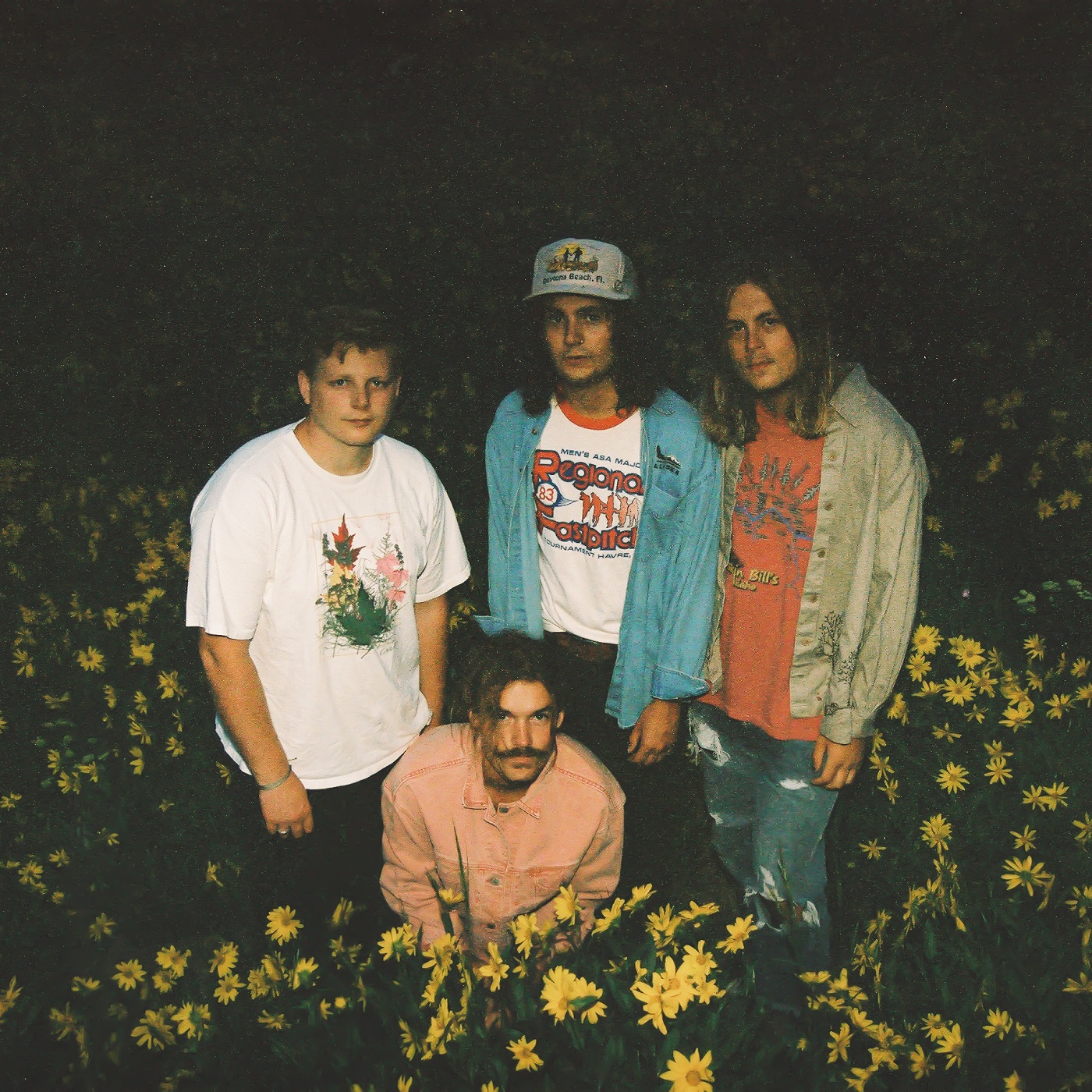 One thing, which has surely helped to get The Backseat Lovers music picked up outside of America is TikTok, and just like the rest of us Jonas and the band are perplexed by how exactly it all works.
"It's been interesting to watch." he notes. "I am not really sure what it is that made something catch on there, but we are happy with the results."
And happy they should be, tracks such as 'Kilby Girl', 'Maple Syrup' and 'Pool House' have helped the group amass over 300 million streams on Spotify alone.
With The Backseat Lovers drawing in fans with their candid lyrics and expansive guitar-led style which mixes everything from yacht rock to folk to southern rock. With this bleed on the page approach to lyrics it is somewhat surprising then that their biggest track to date 'Kirby Girl' is them daydreaming about an alternative reality in which they got the girl.
 "Almost every song we've written for some reason except for that one is based off of personal experience. That one has some personal experience tied to it but it's a bit more of a fictitious story," explains Josh.
"There's a small all-ages venue in Salt Lake City called Kilby Court, sort of the heart of the all-ages scene in Salt Lake City and Utah basically. That's where we would go, that's where I saw some of the first shows I ever went to see with my friends.
....we were never really brave enough to talk to girls at the shows so it was a bit fictitious, it was sort of this would've been cool to have happened."
Josh and co were happy to immortalise the venue in song because they recognise how formative it was to them as people and as a band
"We hold that venue near and dear to our hearts. it's a big part of the reason why we were able to start having a fanbase in Salt Lake City, there were so many of our friends in bands and the culture of indie bands in Salt Lake sort of revolves around it. So, we're glad to have been able to be a part of it."
In 2021, The Backseat Lovers released 'Live From The Troubadour' which offered fans a glimpse of the band at their finest whilst also letting them get closer to the song than ever before something which the band enjoy about live albums themselves.
"…we've been really big fans of hearing live albums by bands because it's really cool to be able to hear the way they play those songs if you've not had the chance to be able to see them live," explains Jonas.
"I think we wanted to share those parts of the songs (with our fans) we recorded a few different sets around our tour and then we ended up picking that night because it was the best night."
If you pushed the band to pick their favourite live album, they'd tell you. "There's one we really like by Wilco that was really inspiring to us. (Kicking Television Live in Chicago, 2005) We think they're a really great live band."
"We've actually heard that a couple of times, it's just kind of funny," states Jonas when we note that we've seen so many comments expressing surprise that they aren't a British band
"We do like a lot of UK bands. I mean obviously The Beatles are a huge influence for us and a lot of classic artists like that and also Radiohead."
One song that is a source of much of the British confusion is their last single 'Heavy' which may be a good indication of where their new collection of tracks is headed.
"It's probably the bridge between what we were doing and what we've been working on. It feels like it has the elements of both. I think it points in the direction (of album two)". 
Like most bands The Backseat Lovers would rather have released more music over the last couple of years, but they believe the pause has been beneficial to the album's development.
"We had a lot of time to sit with the songs and arrange parts in a different way then we have in the past," explains Jonas.
"With everything we have released (to date) we recorded it pretty quickly. With our first album, we would save up to hop in the studio for a day and record a couple of songs, but with this album we've had the time to take an approach that's more meticulous and I guess critical. And I think we've explored a lot with different ways to arrange our songs."
Jonas also believes having the opportunity to road-test the songs from the second album before recording them has been beneficial
"We've noticed that with some of the songs that we recorded on the new album, getting the experience playing them live was really valuable for the songs and I think having a group of people there to respond to the songs, their energy when we are playing and having the pressure to play those songs evolves them in a really unique."      
Jonas notes that the songs are always in a state of flux and develop over time under alive microscope.
"…it seems like every tour there's a few different little (changes), just tacking on pieces as we go. Sometimes we won't even notice it. The songs develop quite a lot."
However, change is something The Backseat Lovers aren't afraid of as Jonas illustrates.
"Most of those songs that you've heard started as chords and a melody... they were sort of a structured song, maybe missing a chorus or a bridge or whatever and we'd jam through them. And after we'd get passed the part we'd already written we'd usually just hold onto the reins and see where it goes...and I think that might be why (our music) has this sort plotted out, but free-spirited feel to it."
It'll be interesting to see where the reins take The Backseat Lovers next. Check out the teaser video for album two below. Pre-order 'Waiting to Spill' here