Tamino is a Belgian songwriter of Egyptian descent causing a stir in Europe and the Middle East alike. His luscious dark melodies have drawn comparisons to Jeff Buckley, Tom Waits and Dave Gahan and drawn the attention of superstar musicians such as Radiohead's Colin Greenwood, who became a fan first, then a collaborator adding bass to Indigo Nights from Tamino's debut album 'Amir', before eventually becoming a member of Tamino's live band. Greenwood doesn't step out of the Radiohead slipstream for anybody; that alone should be reason enough to pique your interest,
"I don't really have any feeling about it" he says sheepishly, when we raise the recurring comparison to Jeff Buckley. "I think everybody has their own reasons for listening to an artist and I don't really care what those reasons are. If my music is of use to somebody, then I'm very happy."
While comparisons are nice and Tamino is flattered to be thought of in such terms, he knows that just like in football; being christened the next Messi, Salah or Ronaldo brings with it, unnecessary pressure. "Comparisons are quite easy to use in the beginning, especially if you don't know an artist yet" he muses. "I do think that some of those names that are being thrown at young artists, not only at my face, but others as well, are such big names, it feels like those names are being used lightly, when they should be used carefully."
"The music that I make is just what comes out of me naturally. It's about letting go and getting into a zone of expressing myself," he states, outlining his mission to create his own legacy. "I think there is a misconception that an artist makes the music that he or she prefers to listen to. I tend to listen to darker music and not always happy songs, but I love to listen to hip hop, but I know that I'm not a rapper and I'll never be a rapper."
One of the main reasons for the recurring Jeff Buckley comparisons is Tamino's similarly preternatural falsetto. "I'm sure there was some evolution, but it's something I always did," he says of his incredible vocal range. "I've always saw using the voice in its whole range as different ways of expression, for instance the low voice might sound a bit more confident. The falsetto, you could use when you want to create a crying sound. I always looked at it like that, like colours for a sound painting."
However, Tamino is reticent to ensure that his vocal abilities will never become a trope which can be used against him. "I view myself in the first place as a songwriter, because I've a bigger need for writing songs than I have for singing them. So, when I'm recording, I will always think in function of the song, I will always think what does this song need? Not how can I show off with my voice. I'm very conscious of that."
Tamino pays homage to the music of his forefathers, utilising instruments of the Middle East such as Oud and Nay to create a lush sound which also has one foot in the West taking its cues from The Beatles and Tom Waits. "It helps me to get in touch with my roots," and considerable roots they are for Tamino is the grandson of Egyptian musical acting legend Muharram Fouad, who, while not well-known in Europe is known as the 'Sound of the Nile' in his homeland. Big shoes to fill indeed.
"I was very lucky to have grown up in Belgium where he was indeed, not known," he says, addressing the blessing and curse of having famous ancestors. "If I'd have grown up there (Egypt) I definitely would have felt this pressure way more than I feel now." But for now, Tamino is the one putting that pressure on himself to emulate his grandfather's success. "I know how great he was - and of course I want to be good as well."
For Tamino, the prospect of bringing his music to Egypt is both tantalising and daunting.
"I get some messages from Egyptian listeners, but I feel like playing live is the best way to know how your music is being received. So, until that time I don't know for sure. We've never played in Egypt, but we are planning on going there. I'm guessing that it will feel kind of strange. I will definitely feel some pressure."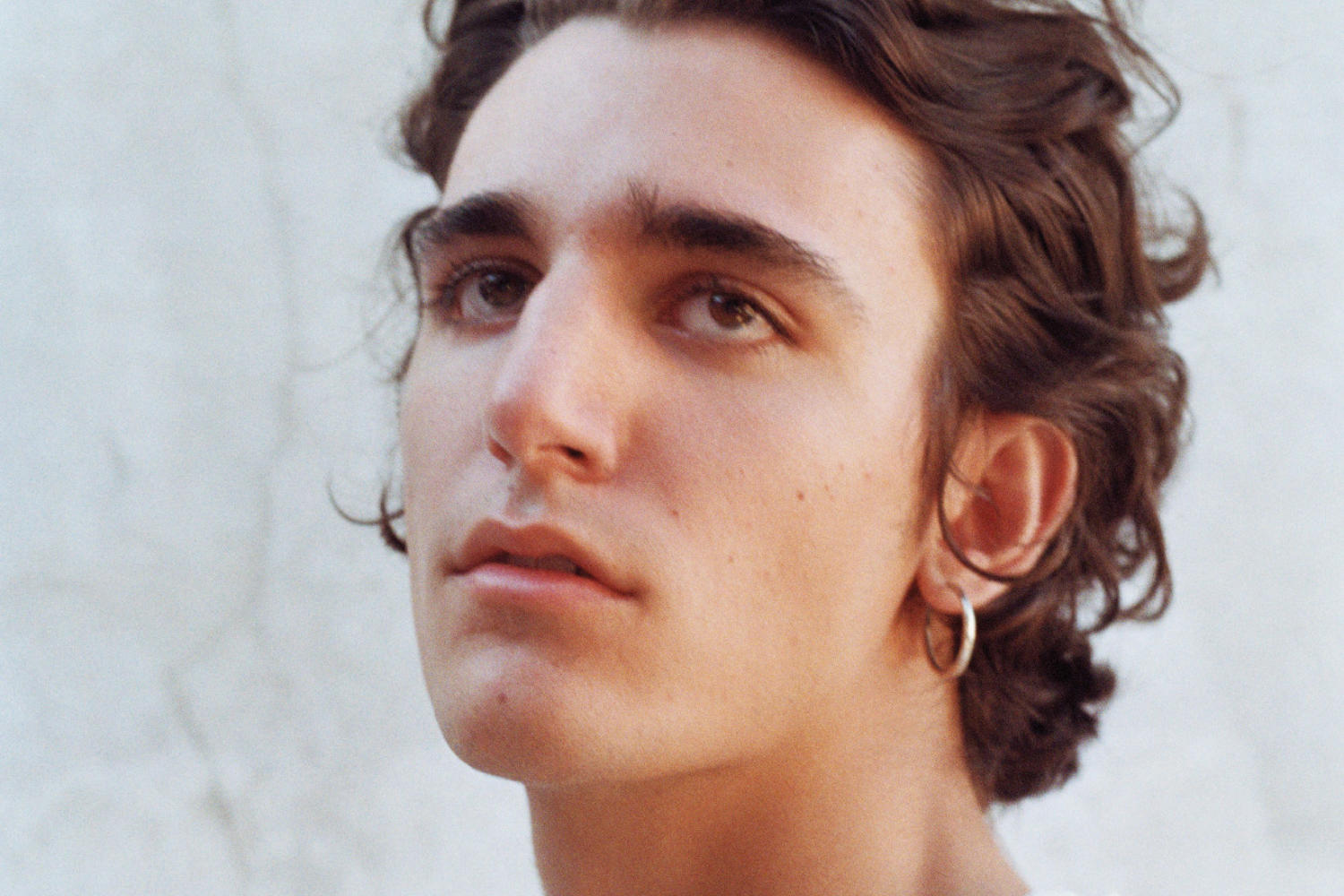 As well as the Middle Eastern vibes provide by Tamino playing oud on the album, he also utilised an Arabic orchestra Nagham Zikrayat who are made up of many refugees and displaced musicians and Tamino is keen to sing their praises
"Their way of playing is totally different" he enthuses. "They will play what is written, but they will play it their way. I really wanted to have character in the orchestra. I wanted to work with an Arabic orchestra because I thought it would suit the melodies I wrote in the best way.
"I stole that from the mentality of the Arabic songs of the '50s and '60s" he says, indicating another nod to his family history. "Where everybody is playing one melody and it's more about melody and rhythm than it is about harmony. They don't really have harmony, it's all about playing the same thing."
Another nod to Tamino's Egyptian heritage is the video for Tummy, which sees him appear as a pharaoh, painted in gold, crowd surfing in an ephemeral daydream. An experience which he enjoyed thoroughly. "I wanted to make something lighter, but still with a story," he explains. "We shot it in Antwerp with a bunch of friends. My brother directed it. I had a lot of fun doing it."
One of the standout moments on 'Amir' is Indigo Night featuring the aforementioned Colin Greenwood of Radiohead fame. The pair met backstage at a concert in Antwerp via mutual friends and struck up an instant friendship.
"For me, it was a very surreal thing happening, but as soon as I started talking with him, I noticed a very gentle soul. It was just two musicians talking about music." Following the performance Greenwood singled out Indigo Nights for praise, a fact which Tamino didn't forget. "When we were recording, I noticed we needed a bassline, so I gathered the courage to ask him and he said yes. He was very happy to join us, and he has joined us on some concerts as well, which was amazing."
You'd expect working with a heavyweight musician to be a daunting prospect for a young musician, but the reality was far different from what you would expect
"You will not believe me, but he was nervous" says Tamino. "I think it was a long time since he had recorded outside of Radiohead, but he only had to play it a couple of times and it was perfect already. When he came into the studio, he knew exactly what he wanted, and I liked it immediately."
Greenwood has since joined Tamino live on stage an experience which he describes as "great for the whole vibe of the show."
Indigo Night is a good yardstick for Tamino's music which embraces lavish dark soundscapes, but the artist himself is quick to point out that his songs are never cold, but rather life affirming.
"I guess it's dark, but for me it's also warm. It's not the stark kind of darkness, it's a warm kind of darkness, an inviting darkness. I guess that's what I like in other people's music, film, books and paintings. I guess it's about embracing that dark part of yourself, staring it in the eye and not shying away from it. I think it's the full embrace of emotion and being."
Tamino's dark, warm soul has racked up over 12 million streams on Spotify (at the time of writing) and the young star has been slightly taken aback by where, and how fast his music is making inroads.
"There were definitely some surprises along the way. In Turkey it went really fast. I'd never been there for any promo and we could already play two sold-out shows there. It was amazing to see and to feel that happening. It's a strange idea that you release something, and it finds an audience, but numbers are quiet abstract for me, it's only when you play for those people, when you feel the vibe, when you can feel what it's doing, that's when you fully experience it."
And what can fans expect from Tamino in The Sugar Club next week. "I do some solo shows every time I get to a new territory. When we can play some bigger shows, I bring the band, because they are way too expensive, they think they are rock stars already" he says laughing. "It's the first show since December so I will have to get used to being on the stage again."
Tamino plays The Sugar Club on Tuesday 26th of February 2019. Tickets €13.50.