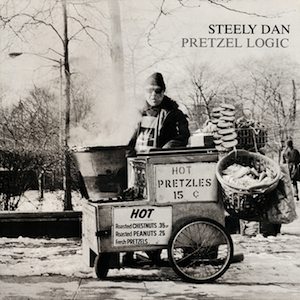 Welcome to the latest edition of 'Golden Vault', where we delve into the annals of music to bring you a classic album. You'll know some like the back of your hand and nothing of others. We hope to get you reacquainted with old friends and create new favourites. The album to be taken out of the Golden Vault for reappraisal this week is Steely Dan's third album 'Pretzel Logic'.
'Pretzel Logic' was conceived and recorded during a turbulent time for the band during which it fractured into two camps; the writers and the performers.
The quick-fire turnaround between the 'Can't Buy A Thrill' and 'Countdown To Ecstasy' albums brought unexpected pressures upon the group. Steely Dan's management had decided that touring the group relentlessly was the best way to turn the group from minor act into multi-million-selling Major Dudes. The only problem was that Donald Fagan was a reluctant front man who quickly grew tired of the road, and in particular the people of the road.
Becker and Fagan wanted to push Steely Dan ahead creatively, while the other members wanted to stay on the road, perhaps even to spite the songwriters who were beginning to freeze them out of the creative process. This was accentuated by the fact that David Palmer's stint on vocals lasted only 4 months, other vocalists were trialed but eventually Fagan was forced to step up to the plate.
Becker and Fagan began writing 'Pretzel Logic, essentially cutting the other members adrift. The album was mostly recorded in the Village Recorder in LA and saw Becker and Fagan bring in specialists to achieve the sound they wanted for each specific song. Just like The Beach Boys and countless other groups before them, if the official members of couldn't provide the required style or performance, they were replaced with little, if any, thought given to their feelings.
John Holder (drums), in particular, couldn't cut the mustard and he was replaced on the majority of tracks by Jim Gordon (John Lennon/Clapton) and Jeff Porcaro. Chuck Rainey (The Supremes/ Aretha Franklin) was drafted in to provide bass. Steely Dan's official guitarist Jeff Baxter was only used for solos and overdubs.  Walter Becker, who had, up to this point, composed but not played on any Steely Dan songs, was even drafted in to play on the album's cover of Duke Ellington's East St. Louis Toodle-oo.
Once again David Katz was on production duties. Katz produced all of Steely Dan's classic albums between 1972 and 1980 and Donald Fagan's solo album 'The Nightfly'. Katz also produced and worked with a diverse range of artists including Bobby Darrin, The Mammas and The Pappas, Diana Ross, Chaka Khan and was also in the team who signed Prince.
Opening track Ricki Don't Lose that Number begins with the hesitant strains of an unusual instrument, a flapamba - a South American percussion instrument from the marimba family. This striking and surprising intro that's simultaneously eerie, yet friendly gives way to Michael Omartian's distinctive piano riff which imitates Horace Silver's Song for My Father.
Lyrically, Fagan is typically oblique but Ricki Don't Lose That Number is essentially a straight up love song, it and Barrytown refer to Fagan's time at Bard College.
Night By Night with its swaggering beat and funky horns was intended to be a single by the band but was overshadowed by the breezy thrill of songs such as Any Major Dude Will Tell You and never made the grade.
East St. Louis Toodle-oo sees Steely Dan salute Duke Ellington with a jaunty cover version which mimics Ellington's unique playing style with the help of wah wah guitars, fuzzed pedal steel, and honky thonk piano riffs.
It's the perfect tribute and preamble for Parker's Band which pays tribute to jazz in general. Through With Buzz is a fun, kooky oddity. A sub two-minute blast of Gonzo experimentation – though we can't endorse drugging anybody around the world.
The album's titular track is a time-travel romp during which the band decides what period in history they'd like to visit next. With A Gun echoes the album's earlier country and western moments but with extra zip and a tinge of murder and highwaymen in the air.
Monkey In Your Soul is a suitably absurd finish to the album with shanking guitars and fuzzed bass grooving away underneath funky horns as Fagan repeatedly tells us "I feel the monkey in your soul".
Steely Dan play the 3Arena, Dublin on Saturday 28 October tickets on sale now.