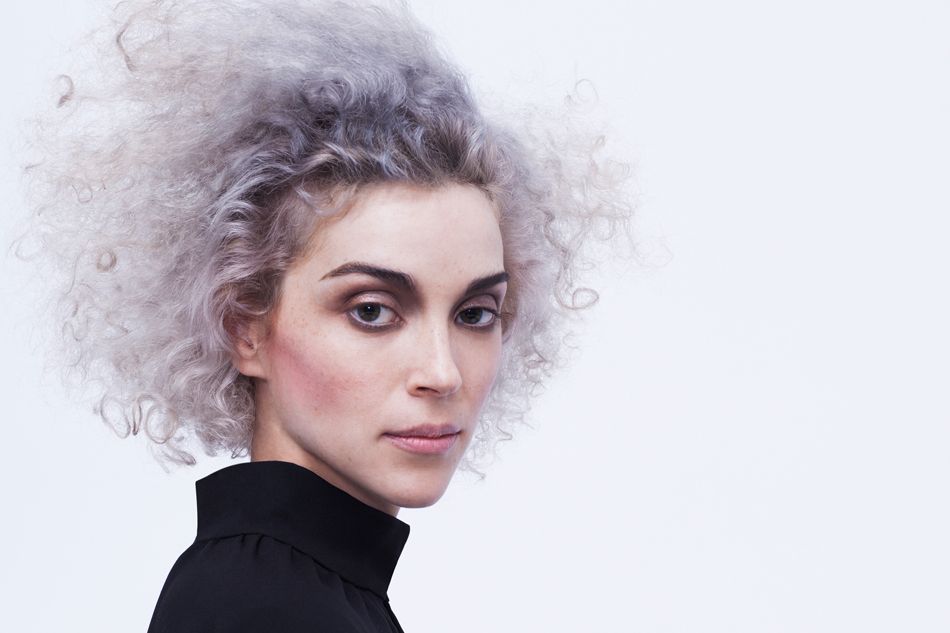 Following the release of her fourth studio album, Annie Clark, otherwise known as St. Vincent, is the musician of the moment. She is blazing across the international music scene, captivating concert goers with a unique art-rock tour that is both electrifying and distinctive.
St. Vincent swanned into the Morgan Hotel to meet Goldenplec, dressed in a full-length black jacket, oversized lilac sunglasses and a black shawl wrapped around her grey hat; making everyone feel like they didn't give their outfit enough thought on this Saturday morning. She is tall, slight of build and has a graceful air about her.
We make our way to the back of the empty bar and slide into a booth. "Oh we can even watch the cricket or whatever this is," she says in a softly spoken voice and pauses to look at the imposingly large screen. The (rugby) match doesn't seem to maintain her attention for too long and we launch into a conversation focused on art, music and technology.
It's exactly six months since she performed with David Byrne and a dancing brass section at Electric Picnic to a tent that was bursting at the seams. The 'Love This Giant' gig was heralded by many as one of the musical highlights of 2013. "Yeah, that was towards the end of the tour.  I loved Electric Picnic, that show was a lot of fun. I also got to see Bjork and Savages and a little bit of Little Green Cars but their tent was so packed I could hardly get in." 
Not one to rest on her laurels, St. Vincent swiftly launched into recording her next album in Texas. "I thought I was going to take a break or vacation but I had about a year and a half worth of nights out and people I'd met, places and art I'd seen, and books I'd read. It was almost like I wanted to show I went somewhere, I saw something and that was how I started this record."
The highly anticipated album 'St. Vincent' was released last week and has been met with excitement and a string of positive reviews. [Read ours here]. The archetype for this record was "Near Future Cult Leader. Not the year 3000 but the year 2050 and what does that look like? In terms of Sci-Fi that's more interesting. It's not so far from now that we can't see ourselves in it."  
St. Vincent was eager to dig into the visual side of this album. She is keen to ensure that all aspects of her artistry are maximised to the best of her ability. "I almost don't make a distinction between visual art and music because I think of music in terms of colour and enjoying visual art is part of the same spectrum for me." 
This archetype influenced the video for Digital Witness, a song which questions our relationship with social media. The video is riddled with striking, powerful, futuristic visuals and was directed by Chino Mayo who created "a nicely ordered primary colour, industrial wasteland," in the words of St. Vincent herself.
She explains that her love for art has been a life long one. It appealed to her as a creative outlet from an early age. "I used to paint and draw and I loved it. I don't know if I was any good at it. I never really had a proper education, per se, but I love art history and the mythologies and the function of art through the centuries, and the patrons, and political figures through the times. All the symbolism is really interesting to me. " 
For this record, St. Vincent strove to improve her live show and spent five weeks rehearsing for the tour. The aim is to offer something unique and outstanding to her fans. One of the ideas considered was to introduce different scents into venues during the gig. While it turned out not to be a feasible option, she explained why the fine details are so important to her.
"Here's what I think about the world right now. I think we're very accustomed to having things tailor-made. If you're a consumer and you like this, you'll like that. Marketers have put billions of dollars into making you, the consumer,  feel like the King of Siam. In an artistic sense I think that can be interesting in that the show was tailor made. I spend a lot of time making sure that it's a great show for the audience but sometimes that is out of your control.
"For example, sometimes you'll go into a venue that's not good. However, out of things I can control, I've got David Bowie's guy running sound at the front of house and my lighting lady is awesome. She's been out with the White Stripes and Sonic Youth.
"I think we ought to rely on the premise that everything is performance. Like you chose to comb your hair like that, I'm wearing these shoes now. Why not think through every detail and make sure what you want to communicate is actually what you are conveying?"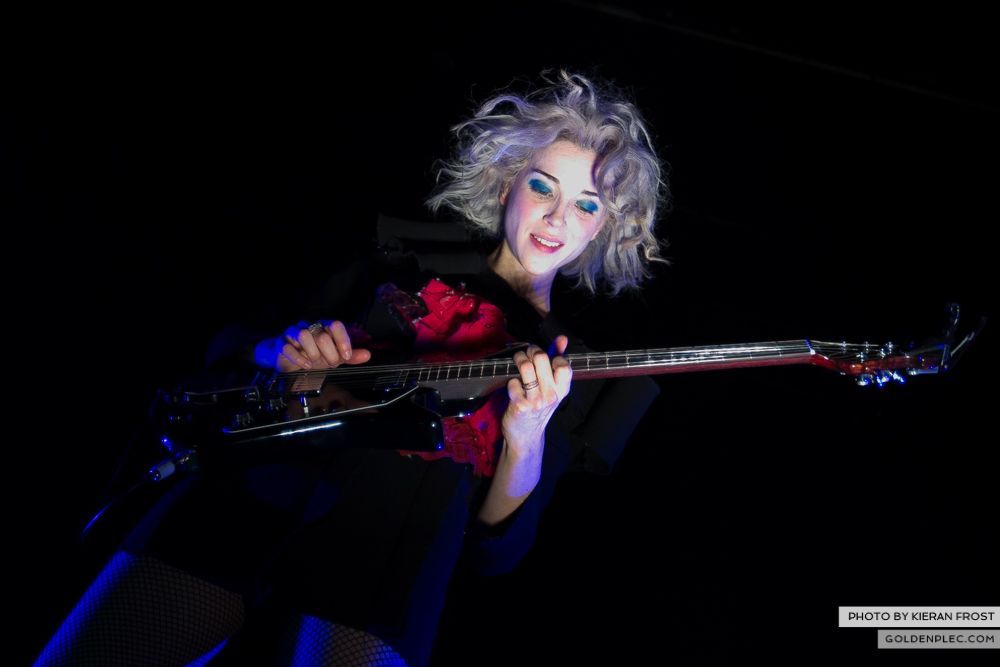 Lyrically, this album is sharper, wittier and crisper than her previous work. A line from Prince Johnny "Remember the time that we snorted, the piece of the Berlin Wall that you extorted" stands out from the rest. It's a line that Annie is happy to elaborate on.
"Oh, well it's funny. Sometimes with song writing you have to go to the far corners of your imagination to find the inspiration but there are a number of instances where you just have to report your life [holds a pretend microphone up to her mouth] and in this record it was Rattlesnake and Prince Johnny." There is a mischievous upwards turn in the corners of her mouth as she takes a sip of her coffee, leaving the statement hanging in the air for a moment.
Annie and her band have embraced technology as a method of enhancing the live show. "We play everything live. We don't play to tracks but we can do so much because we've dug into technology. The particular set up we have now would not have worked even six years ago."
She compares her keyboard player Daniel to a "Russian mad scientist" for devising a system whereby he controls her guitar effects from his station at the back right of the stage. This allows Annie more freedom to engage with the audience, without having to spend half the gig staring at her pedals and feet. "It allows me to assume the role of lead guitar player and only guitar player.  It's just the four of us on stage for the live shows." 
Her band is 'musically wonderful' and her players are 'masters of their individual instruments' she says. In terms of a high standard of musicianship and a first class production what has been her favourite show as an attendee recently?
"I saw a Russian Ballet at BAM in New York. I can't remember what it was called but it was beautiful. In terms of bands though, I know I've seen something.. Oh duh.. David [Byrne] and I saw Janelle Monáe in Atlantic City. She's a real showman. She's phenomenal."
Annie elaborates on the idea of showmanship and mentions she was inspired to include more choreography in her new tour after working with Byrne. "Before I did this tour with David Byrne, I had some moves on stage but they were never as planned and choreographed. I was quite jealous of the amount of moves the others had on the tour and I was a bit more restricted because of my guitar."
When asked how she thinks she might have influenced David, she speaks of a common current misconception that seems to annoy her.  "Yeah that's interesting. I've been asked a lot 'What did you learn from David Byrne?' or 'I can see the 'Love This Giant' influence on the new record' and I think it's important to say that it wasn't a master/student dynamic that everyone is making out." 
Journalists and bloggers have been quick to state that the brass section in new tracks such as Digital Witness was particularly influenced by David Byrne and the 'Love This Giant' collaboration. However, this element was actually introduced by St Vincent.
"Oh yeah, for sure, the brass section was my idea. It would be a miscategorisation to make it a master/student situation. David is always looking to the future and that's what made the collaboration so fun. David is so open, he wants to learn from others. There wasn't this teacher/pupil relationship. We respected each other a lot. We tried to make something together that was monolithic."
As a performer, Annie is dedicated to her craft and, as a lover of culture, she is still keen to learn and expand her already vast knowledge of the arts. She is influenced by art of all forms and she is questioning the influence of digital media. Keeping these factors pertaining to influence and culture in mind, if she had the responsibility of introducing a young child to music, which records would she select as a starting point for a musical journey?
"You know I have nieces and nephews and I bought them record players. I bought them Queen, Michael Jackson and the B-52s. The kids love it. I remember being an eight year old kid loving Jethro Tull and Steely Dan. I don't think there has to be this divide and assumption that kids will only like happy-clappy music. Ultimately I think the records that kids discover themselves and have that energy about them will be the ones that stick with them. Maybe save the Penderecki for later years."
As the interview draws to a close, St. Vincent is approached about taking a photograph for Goldenplec. She quietly declines retreating into her shawl and points at her sunglasses, which remained on her face for the entire interview. "Umm..I'm actually not wearing any make up, hence the gigantic sunglasses" she says smiling.
She a lady who sticks to her guns, and you know what? We like her more because of it.
Interview: Anna Job
Live Photo: Kieran Frost