Dublin quartet Sprints have been quietly getting their ducks in a row for an assault on the post punk scene. The group have have signed with respected UK Indie Label Nice Swan Recordings (Pip Blom, Sports Team), and have been working with Producer, Daniel Fox from Dublin noise merchants Girl Band to ensure that their records are in tip top sonic shape.
With a second EP on the horizon the group are primed to reap the rewards of several years of hard graft. New single How Does The Story Go? landed them on the cover of NME's New Bangers playlist and is being hailed by luminaries such as BBC's Steve Lamaq as their best yet.
With such notable support, it's little wonder they are starting to sell out shows at home and in the UK. We caught up with Karla and Jack from the band to find out how Sprints' story goes (sorry).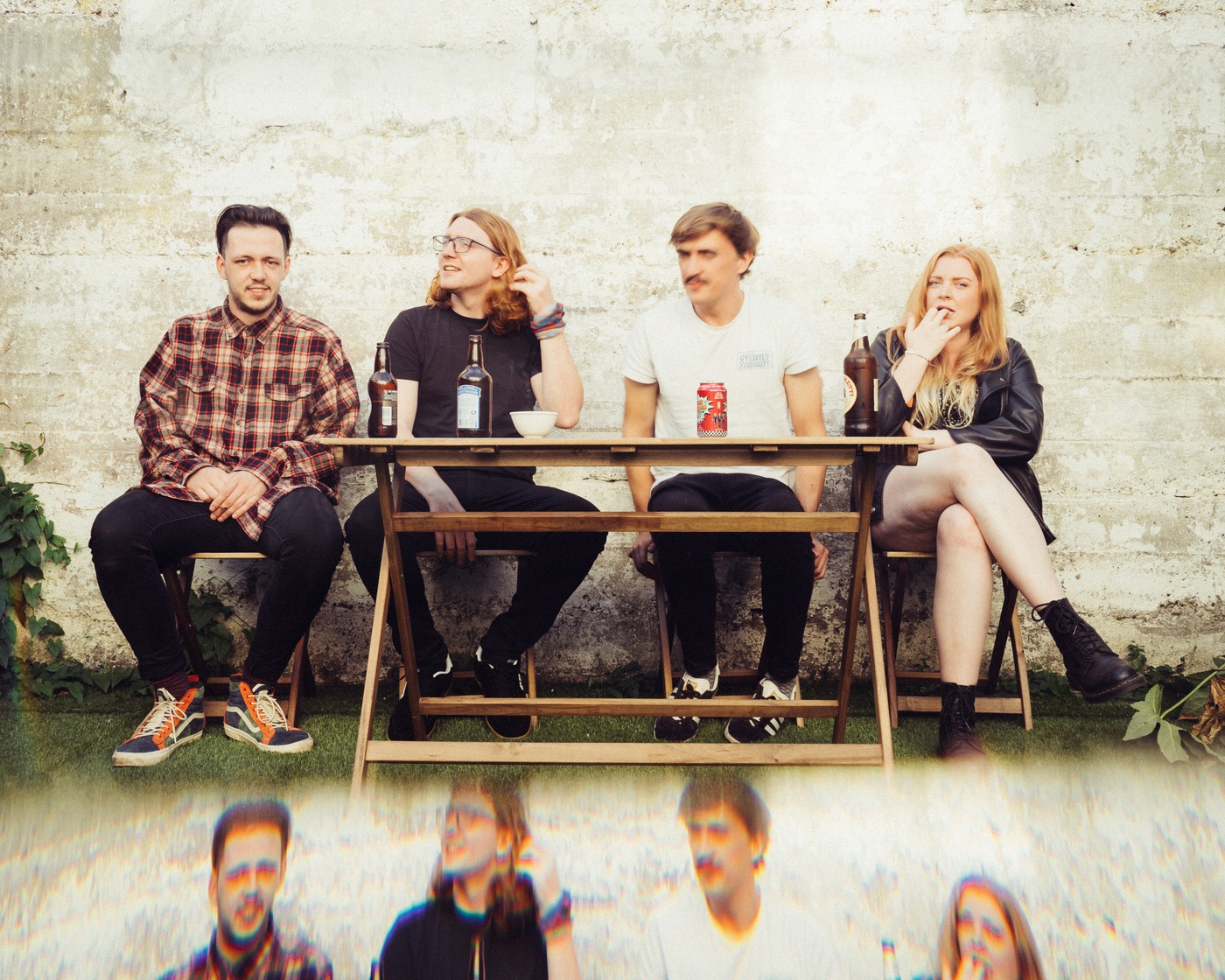 You guys recently signed with Nice Swan Recordings. How has the label experience been so far and what would you say the biggest lessons you've learnt about the industry are?
Looking back it was pretty surreal when Nice Swan initially got in touch after we released our first single, I think all of our heads were spinning with excitement for 2 weeks straight. We've been incredibly lucky to get to work with Alex and Pete. There was definitely some nerves about making the right choice given this was our first label experience and some of the horror stories you hear growing up. Meeting the guys via zoom (thanks Covid) and hearing their own excitement and enthusiasm made the choice a lot easier.
Thankfully the guys could not be more supportive and you just really get a sense that they're totally in our corner and want what's best for us. They're always open, responsive and willing to help teach and guide us. In terms of the industry more broadly, we had a similar experience with our agent Steve Taylor in ATC where once we all hopped on a call and chatted away it seemed like a perfect fit and we couldn't be happier since.
Overall I think the biggest lesson has been that the industry (in our experience to date) is built on personal relationships and once you get that right you're on the right track. We've been lucky to find people in Alex, Pete and Steve who share our vision and drive and are pushing for us to succeed just as much as we are ourselves. It also helps that they love the music!
Nice Swan have an impressive roster of acts such as Pip Blom, Sports Team, Fur and English Teacher. It must give you immense confidence that a label with such a good eye wanted to sign you?
Absolutely, its incredible company to be in and certainly helps with the imposter syndrome and self-doubt that can creep in at times. At the same time, while they approached us after our first single, we've all been involved in music and different bands and performing for years and definitely had a pretty clear vision and drive from the start with Sprints so it was very rewarding to see that pay off.
How have your labelmates been towards the group since you signed?
Unfortunately, we haven't been able to meet with or gig with any yet due to Covid but they've been super supportive through social media. We've really enjoyed seeing so many amazing artists sign with Nice Swan over the past year and look forward to meeting some in October. English Teacher are joining us for some dates on our UK Tour in Oct/Nov so safe to say there will definitely be a few pints had and be great to finally meet the gang.
You've been receiving radio support from the likes of Steve Lamacq on BBC6 in the UK, but Irish radio seems to be harder nut to crack for rock bands. Why do you think that is and what do you believe needs to happen to change the landscape?
I think there's two main things going on. Firstly, there's some amazing Irish radio DJs who constantly support us and Irish music more broadly, Dan Hegarty and John Barker in particular have been great from the get go and there's been great support on digital radio too. One of the big differences to the likes of BBC6 is how much airtime alternative or any non-chart music gets, especially during daytime hours. We would have grown up listening to Phantom in particular and there doesn't seem to be a space for non-chart music like that anymore.
Secondly then is the homogenous nature of what is played during most daytime radio in Ireland. Often it seems like a handful of mostly male Irish artists get daytime play. It's tough to know exactly how to change things, an approach similar to France where a percentage of everything played has to be from Ireland could help. Campaigns such as 'Why Not Her?' are also so important to highlight the blatant gender bias at play which also needs to be embedded in any changes.
What inspired your latest single How Does The Story Go?
HDTSG was inspired by my best friend's recent decision to emigrate to Canada. It's an experience unfortunately that most young people in Ireland are all too familiar with. Pursuing a life in the arts, while it's the career I want and fulfils me, is difficult in Dublin and Ireland as a whole. You see your friends, move on, move out, move away and sometimes you feel a bit stuck. Like your life is being put on hold for the sake of music so it's just about venting that frustration.
How Does The Story Go? deals with emigration, something which Sprints may have to do as the band progresses. Is that something you've considered, or would you ideally like to stay in Dublin?
I think there is a bit of a ticking clock in the back of our heads that says a move to London or abroad is probably inevitable, whether it's in a year, or two or three. Unfortunately there just aren't the services or opportunities here to sustain a career in music. If you look at the recent news it's a clear example. The entertainment industry in Ireland has been closed for over 500 days. Festivals, pubs, venues have been denied opening or putting on shows and our calls for a roadmap to reopening have been ignored. Art and culture is an after thought and isn't regarded with the same priority.
Staying in Ireland means working full time, pursuing music outside of hours, using all your annual leave and savings to fund it and working 365 days a year without a day off. In terms of both your mental and physical health, it's just not sustainable.
How Does The Story Go? is the first glimpse of your second EP. Who have you been working with and how would you say your sound has developed since the Manifesto EP?
We've continued our relationship with Daniel Fox for the second EP and a lot of material that will follow. I think that was no brainer for us as he's pretty much worked with us since our inception and I think he can see where we're trying to take the sound and the band. The new music has definitely kept a lot of it's punk and post-punk roots, but we're definitely drawing a lot more from that 90s shoe-gaze, grunge and garage sound.
It's all about trying to communicate our emotions through the sound and we're definitely drawing a lot more from frustration and anger while also trying to create layers, texture and space within the sound. I was listening to a lot of PJ Harvey, Bauhaus and Pixies at the time so I wonder if that comes through at all?
You received funding from the government via the MISP grant for the recording. How important was that to making the EP? Were you surprised by the reaction to that scheme?  
To put it super bluntly we simply would not have been able to afford to record without the grant. We hadn't gigged in over a year, we had no more music or recordings in the works to build more revenue so it was a saving grace. It's the first time we've ever received funding and we are so thankful that we did. We are aware that with the MISP came a lot of disappointment and heartbreak for others. Hopefully if the department of culture sees a wave of successful projects, tours and records released as a result of the funding, they'll increase the amount available next time.
The single led to Sprints being on the cover of NME's Best New Bangers playlist. What's it like to get such a vote of confidence from major media outside Ireland? Did it rain streams?
We couldn't believe it when we saw it. It really does put the imposter syndrome at bay. Putting out new music is always so nerve-wrecking so seeing that support and that boost of confidence helps solidify you're thinking that you're doing something right.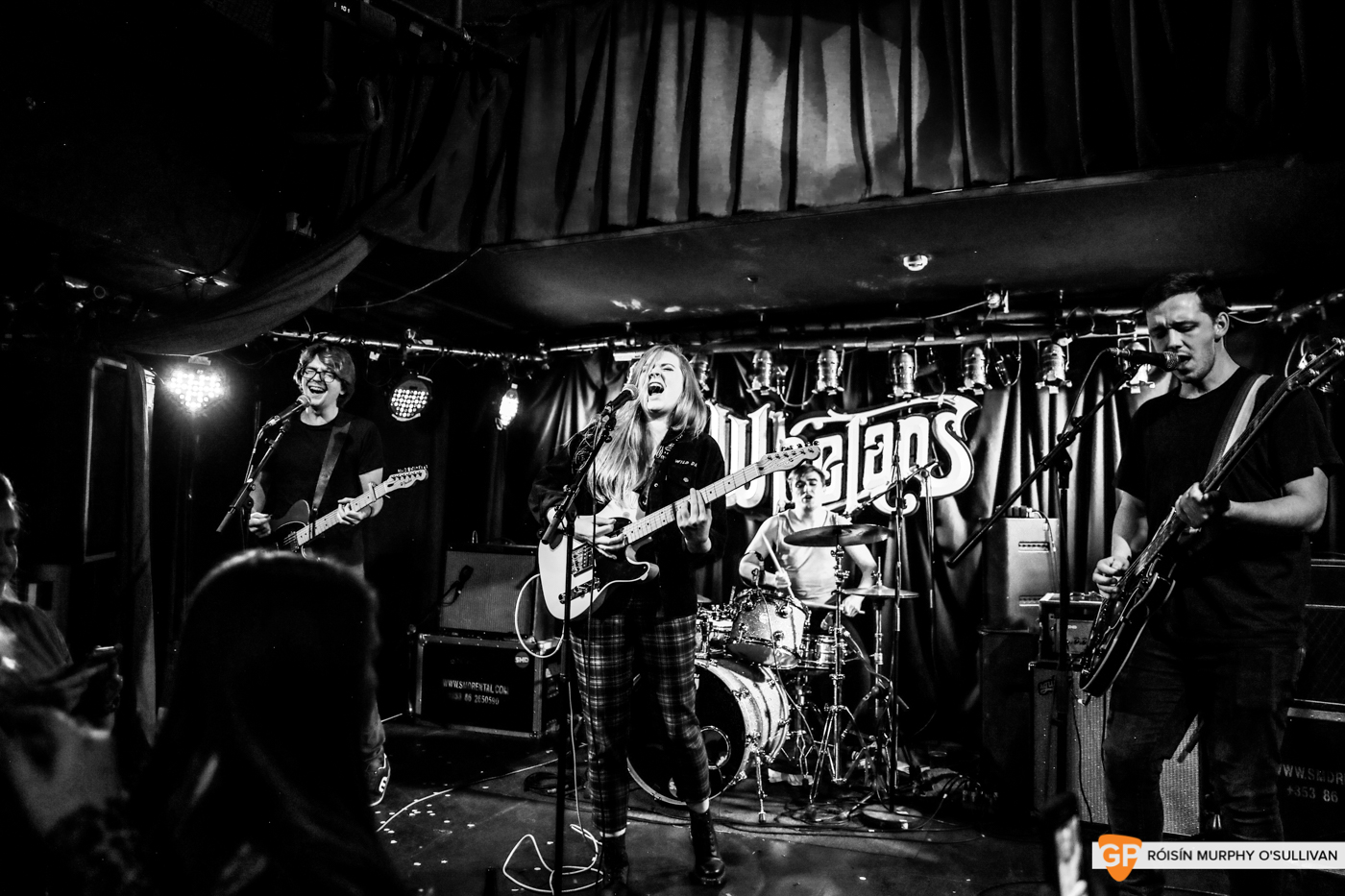 You've been announced to play Ireland Music Week this October. How do you find being involved in music industry conferences? 
It's incredibly exciting and we feel very grateful to be taking part. Both in previous bands and Sprints we've applied and been unsuccessful it making in before so we really want to make the most of the opportunity. Looking back we probably weren't ready before and obviously there's such an abundance of incredible artists in Ireland that it's always going to be tough. But it goes to show that you just need to take the losses on the chin and stay persistent.
What do you think of the line-up and who are you looking forward to seeing?
Honestly it's almost intimidating looking at the line-up, it is absolutely stacked and great to see such a variety of genres and different types of performers on the bill. Perhaps somewhat predictably we're dying to see The Love Buzz, TV People, Bicurious and Zen Arcade, who we've all crossed paths with at gigs before and, who are all dead sound as well as putting on amazing shows. Also can't wait for Odd Morris, b4bzy, Niamh Regan, Tolu Makay, Emma Langford and Cherym but I'll stop there before I name the whole line-up!
You've a pile of live shows in Ireland and the UK from October. How frustrating has been not to be able to play throughout the pandemic?
It's a bit mad alright. I think the first couple of lockdowns we weren't too frustrated given the situation but it's become a bit of a nightmare as time drags on. We'd consider ourselves a live band first and foremost so it's been strange doing well in some respects while not being able to gig. I think the current dates are a third attempt of a tour so hopefully third times the charm.
Tour Dates
Oct 1st - Winthrop Avenue, Cork
Oct 7th - Roisin Dubh, Galway
Oct 8th - Kasbah, Limerick
Oct 9th - The Grand Social, Dublin
Oct 21st - The Waiting Room, London
Oct 22nd - Rough Trade, Bristol
Oct 23rd - Heartbreakers, Southampton
Oct 26th - Sneaky Pete's, Edinburgh
Oct 27th - The Attic, Glasgow
Oct 28th - The Castle, Manchester
Oct 30th - The Sunflower Lounge, Birmingham
Oct 31st - Bootleg Social, Blackpool
Nov 2nd - Head of Steam, Newcastle
Nov 3rd - Sidney & Matilda, Sheffield
Nov 6th - Mutations Festival, Brighton
Nov 7th - Festival of Voice, Cardiff
Nov 9th - The Shipping Forecast, Liverpool
Nov 10th - Oporto, Leeds
Tickets on sale here