Slow Readers Club come to Dublin on the crest of a wave next week. The Manchester act's third album 'Build A Tower' is their most successful to date both creatively and commercially having landed in the UK top 20 their highest chart position to date.
Though they are constantly compared to their Manchester brethren Joy Division, Slow Readers Club take their cues from a more contemporary side of British rock n roll, such as Editors and White Lies. In fact, they tell us none of them even own a Joy Division album. However, the comparison is understandable as both groups explore the starker side of British life.
And with Britain at it's bleakest moment this century Slow Readers Club are encapsulating that malaise in a way very few British rock acts are in the age of Brexit. There may well be a rush of Brexit and austerity themed records in the coming months, but for now intentionally or not Slow Readers Club have captured the zeitgeist of trepidation.
If you have any spare Joy Division albums you don't want you can bring them to The Button Factory on October 13th when Slow Readers Club will receive them with the enthusiasm of a hard border in Northern Ireland.
Until then singer Aaron Starkie tells GoldenPlec about the view from the tower Slow Readers Club have built.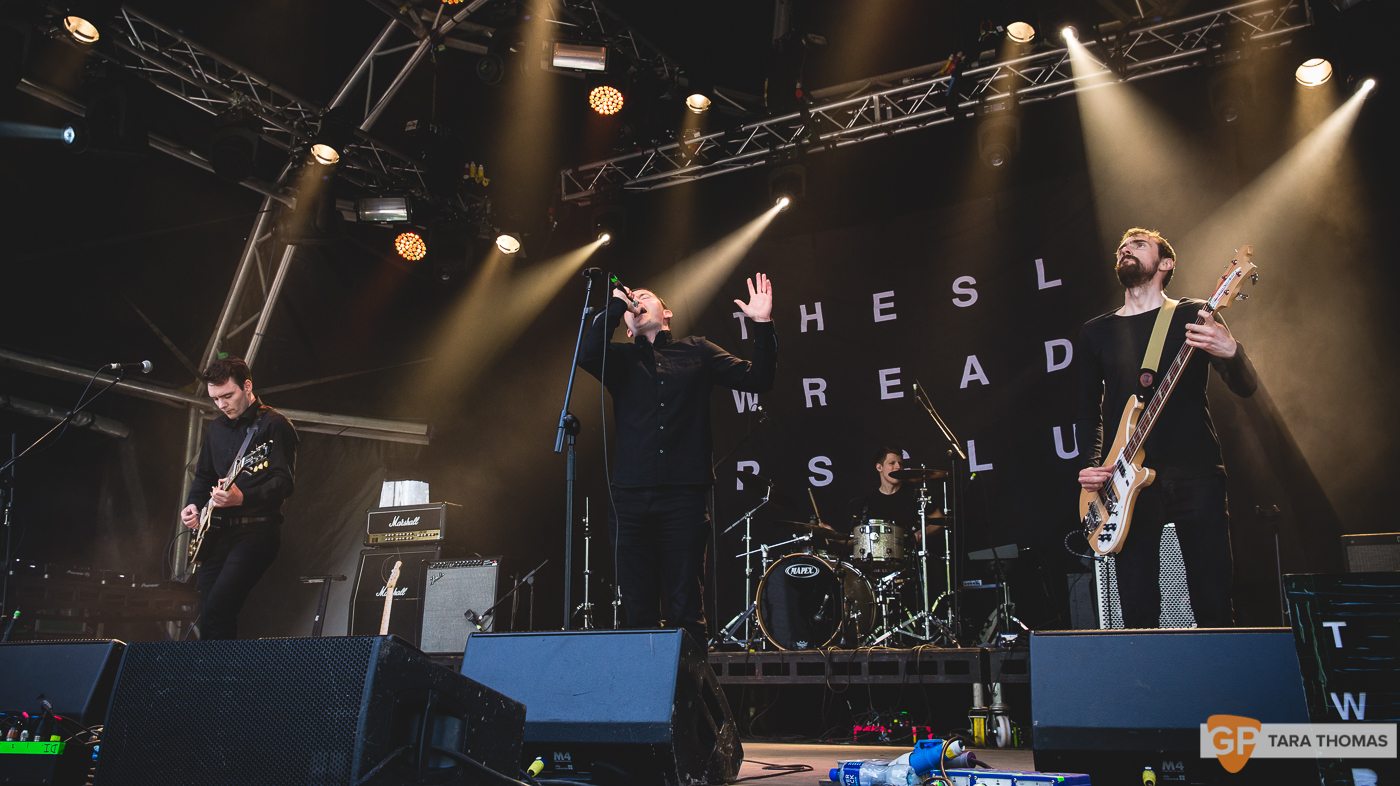 <<GP>> How hard is it to balance full-time jobs and being in a successful band?
It has been difficult over the past three years or so as we have become more well known and done more extensive tours and big festivals. This year we've been out to China and Europe too so it's a bit of a challenge, and has had a big impact on family and social lives but we all believe the rewards are worth it.
<<GP>> Does that lead to a more solitary creative process than you guys would like?
Not really we tend to do most of our writing together, there were a couple of tracks on Build A Tower that I demoed first at home but in the main we come up with the core idea together in practice then go away and live with those recordings for a bit and decide which we want to progress. That's done over whatsapp mostly, we have one conversation for all our ideas and one for our favourites.
<<GP>> With time together being limited what's the most creative thing you've done to help each other create music?
We are pretty old fashioned in terms of the writing process, we just jam stuff and I will ad lib a topline melody on top with nonsense lyrics at first. We rarely discuss influences or music we listen to  be honest, we just get on with it. We help each other by not being prima-donnas and listening to each others ideas.
<<GP>> Did Build A Tower going top 20 surprise you?
Yeah I think so, we hoped for top 40, we were aware we had a decent fan base from years of touring so thought top 40 was definitely possible. We were thrilled to get top 20 though, it's just another thing that helps put us on the map and mean that we can't be ignored.
<<GP>> How important is the flow of an album to you in the world of Spotify shuffle?
We still give it consideration, and would hope that some people listen to it from start to finished but we are pretty relaxed about it. We write self-contained pop songs, although there are themes that songs have in common they don't need to be listened to in order necessarily.
<<GP>> You're 3 albums into your career now, which song have fans taken to their hearts that you've been most surprised by and why?
Block Out The Sun was a song from our first album that we would regularly play to rooms of 20-40 people. For that song now to be one of the most loved by fans with thousands singing back is pretty humbling. The same could be said of Feet On Fire and Sirens they are all fan favourites I think and I'm glad we kept faith in them.
<<GP>> How important is the fifth Slow Reader Phil Bulleyment to the creative process?
Massively important, Phil always has great ideas and will offer input on individual parts and layering. We have a great working relationship with him and we trust him to help us present our music in the best way possible. Sometimes he will have a pretty different take on a tune, On The TV form builder tower is a lot more upbeat sounding than the version we went in with.
<<GP>> Why did you decide to release an acoustic collection?
We had done a few acoustic sets that had gone down great with fans, it was also a chance to explore different treatments of the songs and highlight some tracks from previous albums to those just getting into us through 'Build A Tower'.
<<GP>> Can we expect to hear those versions live on your upcoming tour?
We are doing an acoustic show for Manchester Food and Drink festival. It's possible we could include a couple on the main tour, will have to see how something like that would fit in the set.
<<GP>> Politics is a huge thread throughout your music, are you frustrated with the way things are going in Britain currently?
You are one of the first people to acknowledge that really, I don't think people see us as a political band. I'm frustrated with the whole world, the rise of the hard right in America and Europe is deeply worrying. This country feels increasingly polarised and regressive, the Brexit vote laid that bare, I felt as though I didn't recognise the country anymore.
Our media is ridiculously biased, both right and left, but most publications and TV seems to be right leaning. We all filter our own media through social media and consequently live in echo chambers. On top of that journalism is becoming more and more click bait driven, with even the guardian writing buzz feed like headlines. It's all a sad reflection on us.
There are positives to be taken though, younger people seem far more politically aware and active than they were when I was at uni. They make me hopeful for the future, I don't think my kids are going to inherit some kind of fascist dystopia but at times it seems we are dangerously close.
<<GP>> Being from Manchester must lead to lots of lazy comparisons do you find that irritating? And what'd been the funniest one?
All comparisons have been good established acts although the most common one being Joy Division is strange as none of us own any of their records.
Slow Readers Club at The Button Factory on October 13th. Tickets €17.50.