Dublin quartet The Girl Talk have been busy making a name for themselves as one of the most exciting young bands in the scene. Ahead of their show at OSLO, a monthly event at The Workman's Club in conjunction with GoldenPlec, the band spoke about their beginnings, juggling music and other interests, and the Irish music scene.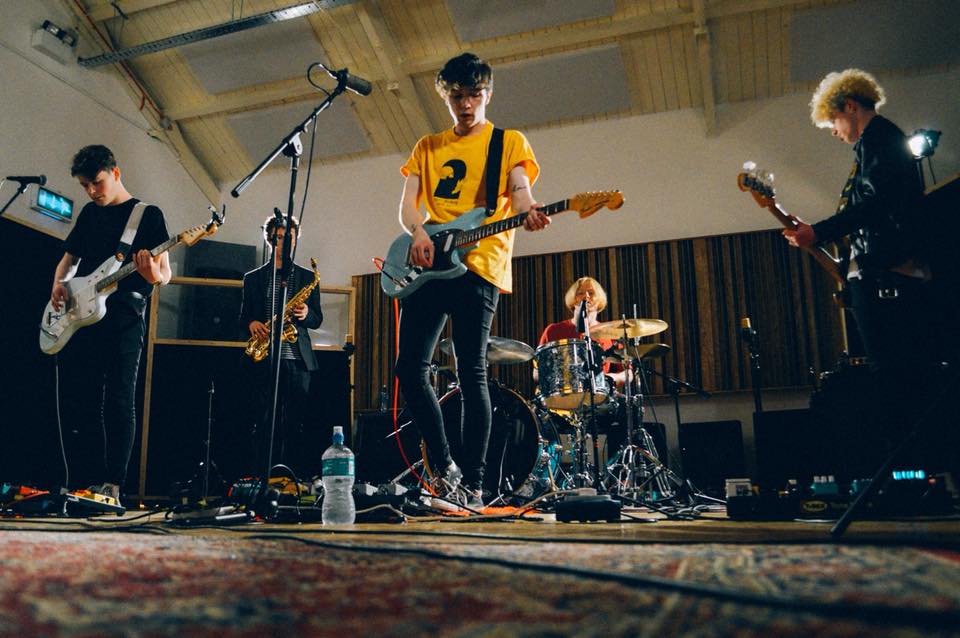 So, how did you all meet and when did you start making music together?
Mark McKenna (Vocals and Rhythm Guitar): I met Jack and Jon through college and we started making music about 3 years ago then a year later I met Ben through Jack and Jon and he joined the band.
Jonathan Cooke Allen (bass): Me, Jack and Ben grew up together and started playing in bands together during secondary school, we meet Mark in our first year of college and been playing together since.
How did you go about writing/recording When I Know and Heroin Chic?

Ben Spelman (Lead Guitar): I wrote my guitar parts for When I Know a while before joining the band, but there were changes and improvements made when the initial idea was brought to the band. I guess the melodies for both of them was trying to express whatever uncertainties I had at the time. I love My Bloody Valentine and to me the guitar playing in both of those songs takes influence from them.
It wasn't our first time recording but it was definitely our best. We worked with Kevin Brennan, a great producer who has helped us a crazy amount, both in and out of the studio. The writing process varies, typically Mark or I will write an initial idea or an entire song and bring it to the band, and it shifts into whatever it needs to from there.
Mark: We recorded 'When I know' and 'Heroin Chic' in station studios, it was our first time properly recording together as a band. Most of the writing comes from me or Ben, the basic ideas of both 'When I Know' and 'Heroin Chic' were written by Ben then I would later add my own parts and lyrics. The main aspect of music we write as a band with is our structures of songs.
In a recent interview you said that Jonathan and Ben's favourite song to play live was 'Heroin Chic', Mark's was 'When I know' and is that why you decided to release those two songs as singles?
Mark: We released 'When I Know' first because there's no sax in it and we wanted to show that we're a four piece band with sax sometimes, so to avoid confusion we decided to release something without sax. The decision to release 'Heroin Chic' second was because it had sax I think? Maybe I'm wrong and it just felt right? I'm not sure to be honest!
Jack Bird (Drums): I think picking those two songs to release came very naturally. Once we were in the studio and the tracks started getting some shape to them, we all came to the same decision.
There's definitely a demand for more music from fans - is there any reason you haven't released more? Is it timing or are you waiting to release and album or EP?
Ben: There's a number of reasons. I think overall we'd take preference in taking a long time to release something that we feel is worthwhile, rather than to just put out something for the sake of it.
Jack: Just the process of actually recording and releasing takes a lot longer than we have anticipated. With Mark being very busy with the films and all of us being in college and having work outside of it, it has always been tricky finding time to get all of us in the same room together.
You seem to have other projects on the go at the same time - acting, working in the music industry etc…How do you balance other work and band life and Is it ever a struggle to decide which to prioritise?
Mark: I find it a huge struggle to balance the two, I prioritise acting because it's my career and where I get my income from. Until I have actually made something of myself or find constant income from music, I think I'll always view it as a hobby.
Jack: Myself personally just a love for music. It may seem like a lot of grind and work for people who don't do music, but as cliche as it may be "when you love what you do, it doesn't feel like work at all. I do feel it an advantage, in terms of generating an income, it also very enjoyable, playing in so many varied gendered of music. It's great for growing a mature approach to music, in terms of discipline for the musical piece at hand but all genres vary.
How do you feel about the current state of the Irish music industry? As a younger band do you find there are any bigger challenges facing you?
Ben: There's some great Irish music right now, Just Mustard, Wastefellow and Kojaque have always been favourites of mine. The rise of Irish rap music has been really cool to see particularly, especially with the artists that exist here. There can always be more done to support more underground/less successful artists, and I think radio stations could be doing more for Irish music, but where we're at right now feels positive to me. People probably won't think of your music like you do, so there's always going to be challenges.
Jonothan: It's thriving! the Irish Music Scene is amazing right now, theirs so much talent around. Radio and media are doing their part especially shows like 'totally Irish' but i feel like they could do a bit more to get behind the amazing talent that's around. The Irish music industry is weird not everyone in it is like this but I feel a lot of people here don't take you seriously till you make a name for yourself outside of the country, I think its just an Irish thing.
What are the plans for the near future?
Jack: the plans for the near future is to play a few gigs and hopefully have the EP released by hopefully February.
As far as gigs go - the next one up for The Girl Talk is this Friday November 9th at OSLO. To see what your in for, check out the band's live video for 'Heroin Chic' below.