In the world of Instagram, Twitter and Spotify, it has never been easier to determine the size of an artist or groups popularity and listenership. Prior to the datafication of the music, and the world in general, one of the simpler ways of judging one's musical reputation was through the number of people queuing outside a venue before your show.
One a cold, overcast day in May, dozens of groups of tens and twenties people, sat patiently waiting for the 3Arena's doors to open and for their fun to begin. It's fair to say The Vamps have made their presence felt.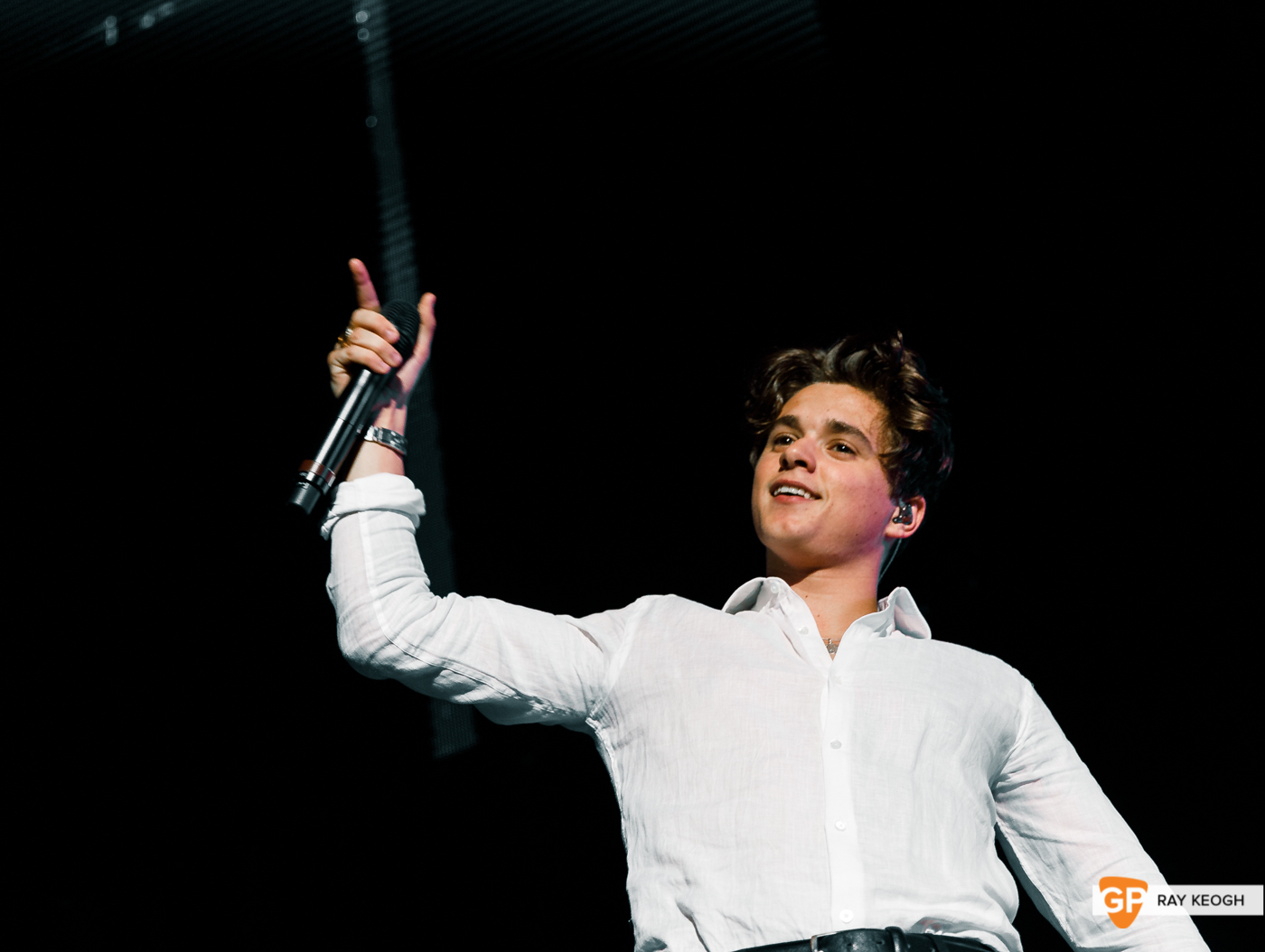 The Vamps, made up of Bradley Simpson (vocals), James McVey (guitar), Tristan Evans (percussion), and Connor Ball (bass guitar), first came together as a band in 2011 when McVey (who at 17 had already been signed by a management company), was on the lookout for bandmates to form a group with.
He found Bradley Simpson on YouTube, tracking him down via cover videos Simpson shot in his bedroom. Soon after finding Simpson, McVey was introduced to Tristain Evans on Facebook, and Connor Ball through a mutual friend. Six months after signing to management, McVey had finally found his bandmates.
It wasn't long before they were posting cover videos online, and in November of 2012, off the back of their covers and demos, The Vamps were signed to Mercury Records. Since then, the band have released four albums, all of which have charted in the top two spots of the charts in the U.K..In that time they've collaborated with megastars such as Demi Lovato and Shawn Mendes, toured with the likes of Selena Gomez and Taylor Swift, and become the only band to ever headline and sell out London's O2Arena five years in a row.
In April of this year, The Vamps released their latest project, a self-produced EP called 'Missing You'. With songs such as Waves and the Krept & Konan collaboration Right Now, the EP is the band's most personal release to date. GoldenPlec got the opportunity to chat to the band before their latest show in the 3Arena to discuss their rapid rise to the top of the charts, collaborations, new EP, Brexit and what social media companies can do to make their platforms more suitable for people of all ages.
GP: There was less than a year between you guys forming as a band and signing with Mercury records. What was it like being in the middle of that whirlwind?
Bradley: "It was cool man. I think as young musicians to then start the YouTube thing, which while being very fun was within our complete control and within our world, to then go to record labels which was a very big deal for little musicians, to then get signed and meet our team, it was very, very cool. We were very lucky that we had a good team for the first album. For all the albums we've had a really good team but the first one was very special and there were people in that team who we're still very close to now so it made the whole process a bit less intense and a bit more fun."
GP: Less than a year later your debut album, 'Meet The Vamps' was released, what was it like going from a band relatively no one had heard of to the second-biggest band in the U.K.? 
Tristan: "At the end of the day we are just normal dudes and we came from school, we'd get together and then head to a signing or a meet-and-greet where people are jumping on the cars and screaming. I'm glad we had each other to go through that with because as solo artists it would have been quite difficult and strange, thinking "This is all for me" but we shared a lot and we joked through everything. It could be bad or good but we always try to have a good time."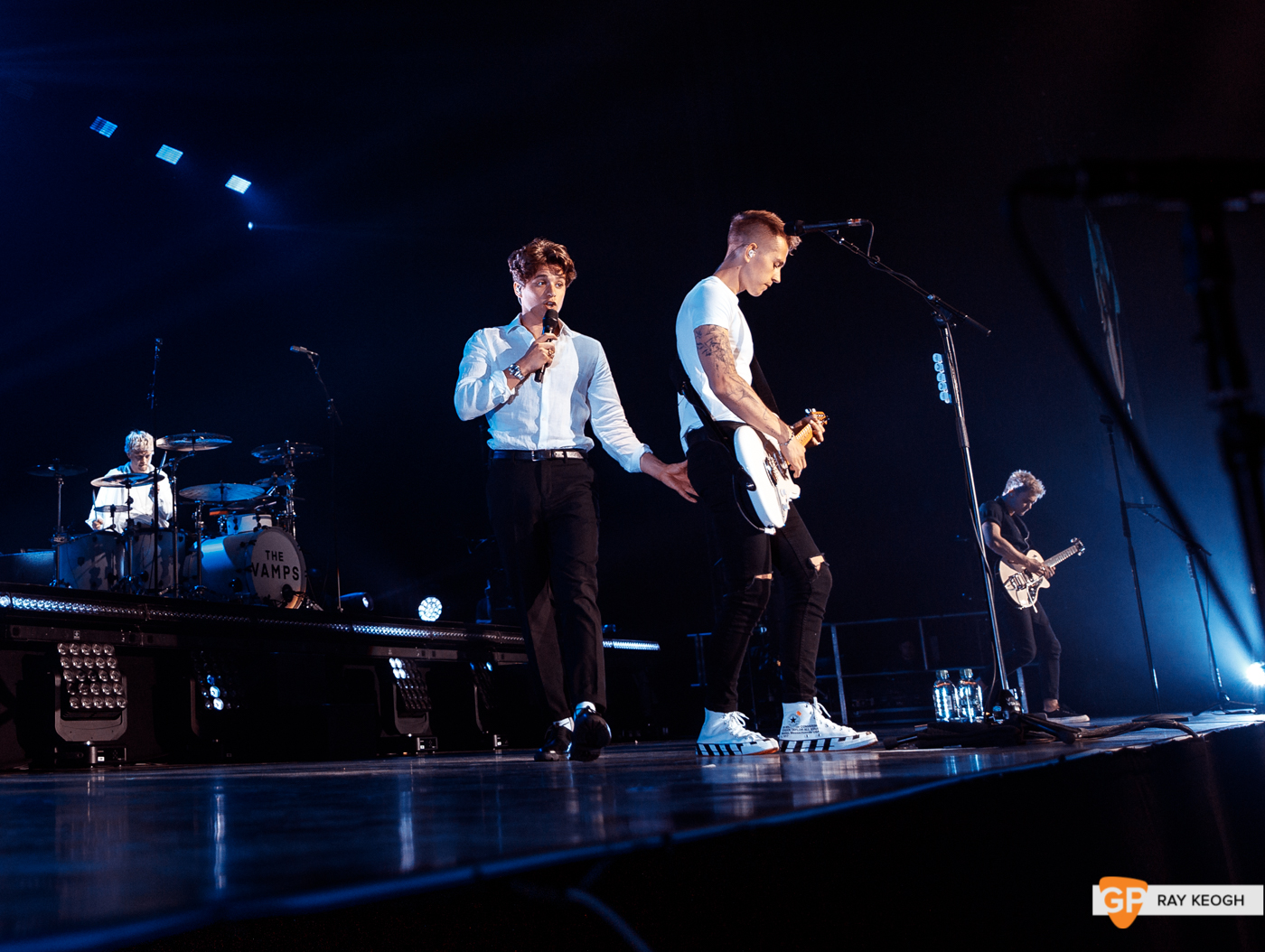 GP: What is your songwriting process? 
James: "It tends to start on an instrument, guitar or piano mostly, it's nice because all of us write - and then these three guys produce - we have an idea, jot it down and share it with the other boys and build onto it from there. We've been very lucky to work with fantastic songwriters and producers from the start; less so now, but definitely in the earlier days. We learnt so much from working with those people.
"For the first album, we were working with some of the biggest writers in the world, Max Martin, that sort of camp, you can always learn more and progress and that's why we're so excited now to be writing music by ourselves now and with one or two friends, so it's been a journey, our songwriting."
Tristan: "It's been cool, because we all have our own home studios, so we can go to each others houses and vibe. It's cool, because you're at home but you're also technically working, but not really."
GP: You returned recently with the 'Missing You' EP, why did you decide to put out an EP ahead of your fifth album?
Bradley: "I think the EP was  somewhat of a case-study to see what it would be like if we were left to our own devices, writing it all ourselves, producing the songs ourselves, even down to the artwork and the creative control of how it's going to be released and all of those things, we were in charge of all of that. We'd worked on these things for other releases, but it felt a lot more personal this time around, it was a test to see if we could do an album like this and I feel like we definitely can and now it's going to be the process of the fifth album but on a much bigger scale."
GP: What was it like producing the EP?
Bradley: "It was awesome man, really good, and as Jeremy said  we'd been producing for a long time, but having that process of saying "Okay, we have an EP to produce here" makes you step up your game so it's really, really fun and it's nice to see everyone in their individual lanes really boosted, be it in songwriting or producing, having that thing to work towards really, really helped."
GP: James recently met with Jeremy Wright [Secretary of State for Digital, Culture, Media and Sport in the UK] about social media, how were those discussions?
James: "It was crazy, because I was invited through the Diana Award, which I'm a patron of, which focuses mainly on anti-bullying awareness, and they asked did I want to come and meet the secretary, and I accepted not really knowing what to expect, and it was a round table discussion with 20 or 30 people who all had a real involvement with online bullying and online stuff in general. There were parents there who's children had committed suicide after online abuse and there was some really, really valid points and that conversation eventually led to a White Paper that now effectively means that the U.K. has the strongest regulations and laws with regards to social media.
"There was quite a lot of backlash when that White Paper came out as people were like: 'Ooh that's Orwellian, it's like 1984', but it's good that the government is being proactive and addressing issues related to social media. I think it's been too lax and now companies can be brought to account when they're not abiding by these regulations and I think that's a really good step forward. It's hopefully going to reduce the abuse and the anonymous hatred on social media which is good."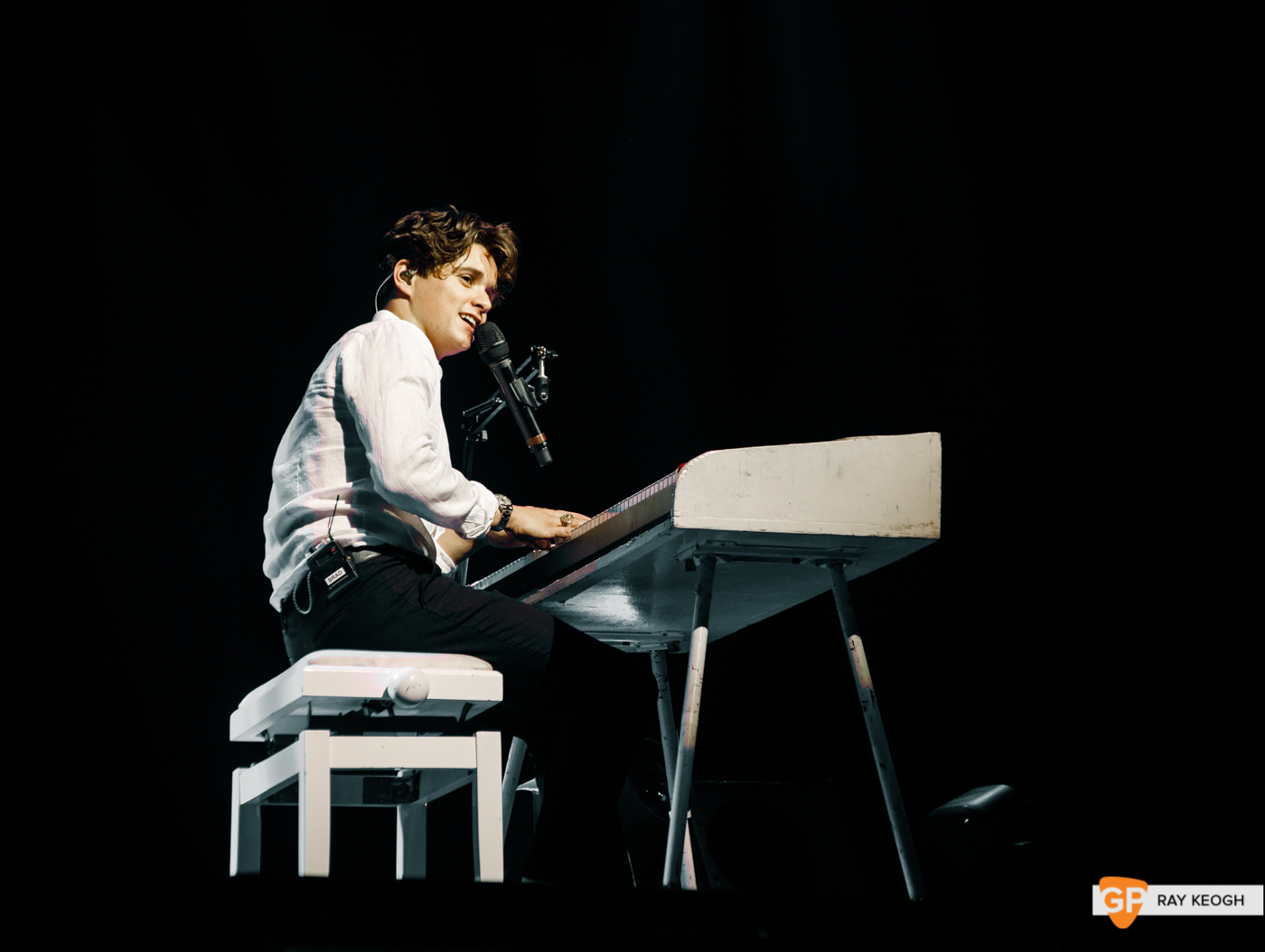 GP: If you were given the opportunity to go back in time to the offices of Facebook, Twitter or Instagram before they launched, what would you change about the way those social media platforms act, that you think would best influence society today?
Bradley: "You can take away the 'Like' button and it would do a hell of a lot, because it's the instant gratification that gives people complexes, because they're always looking through their accounts going: 'Did I get as many likes as before' and if you take that away, the gratification, and people are just putting up what they want to put up, then they're not looking for any amount of likes of anything."
James: "I think the issue that the White Paper addressed as well is that companies like Facebook and Twitter allow suicide videos on their platforms, they allow ISIS beheading videos, they're not brought to account for this. With the White Paper, if they are left online then the companies can be fined or prosecuted and I think from that very moment, even though it's illegal, they aren't going through their site rigorously enough to find these videos and get them deleted.
"I think there should have been a conversation before it started where they said: 'We'll never allow harmful content'. I also think that proof of identification is a key thing too, as, if people had to say who they were and that information was linked with their account, if they were to share harmful material they'd be brought to justice, or at least you know who's saying it so there's no anonymous people saying racist stuff online without being brought to account."
GP: What can fans expect for the rest of 2019 and 2020?
Bradley: "We've just announced a European tour, we've got a bit of time off in the summer so we'll look to writing a bit of the new album in the summer, then tour Europe, go to places we've never been before which is excited and then we'll see where that takes us."
The 'Missing You' EP is available now on all streaming platforms.