Perfection or personality? When it comes to music there's only one option for Odetta Hartman, the ballet of chance will always win out over metronomic precision. For her, the joy of music is found in the creases; in the crisp snapping rouse of a happy accident, in a misread map or in the impromptu sound of a misplaced hand or foot or word. Who needs precision, when you can capture something much more visceral and palpable than machinery.
Hartman's quest for the perfect imperfect includes Icelandic seagulls and kitchen utensils. Why use a drum, when a whisk will do the trick? Hartman is as much an inquisitor as she is a musician. Her songs are her accounts of her explorations.
The sounds she collects are snapshots of feelings and textures and rhythms that resonate with her in a way a photograph never could. Here she takes her cues from the great American musicologist, Alan Lomax, but what she collects is very much the world through her own microphone.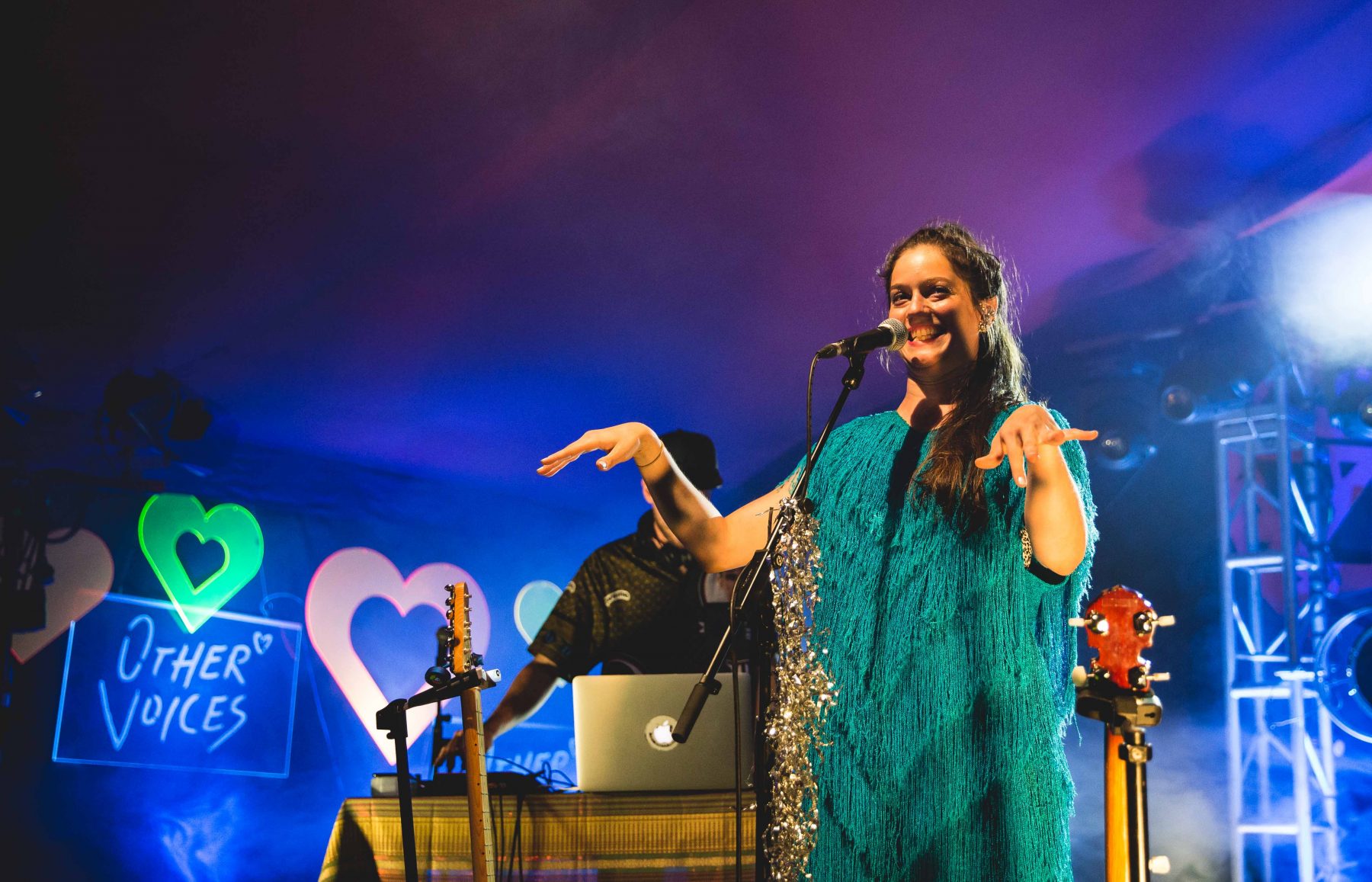 <<GP>> The album features field recordings of seagulls in Iceland and construction workers in Mexico. You could've recorded seagulls or construction workers anywhere, what was it about those circumstances that made you think these seagulls, these labourers?
No matter where I go, I've gotten into the habit of recording snippets of soundscapes as a way to preserve memories of places & moments - sonic souvenirs, if you will. On this current Euro Tour, I've captured the sounds of a creaking swing next to the graffiti-ed remnants of the Berlin Wall, a group sing-a-long at a silent disco in Utrecht, and giggles in the back of the sprinter van with our tour mates. It has almost turned into a game, a treasure hunt of sorts.
<<GP>> Did your love of field recordings stem from your studies of Alan Lomax for your thesis or did your thesis on Alan Lomax stem from your love of field recordings?
My love of field recordings was definitely activated while working on my thesis & studying the Lomax archives - but it was my love for Jack Inslee, my partner & producer, that inspired the incorporation of field recordings into the album. His background is in digital production & our mutual obsession with field recordings linked his modernist tendencies with my old-timey interests.
<<GP>> Field recording have come a long way from a Presto to a Zoom H4N. Do you think Lomax would approve of what we've decided to record for posterity?
Lomax would likely be tickled by the ease with which anyone can record these days, whether on a zoom or even an iPhone - but I think what sets his legacy apart from those of other musicologists was his ability to hone in & highlight authentic, honest expression. Modern culture is over-saturated with content, so now we are faced with the greater curatorial challenge of parsing through the excess to find the truly unique gems.
<<GP>> The beats on your latest album were recorded in the kitchen, often utilising improvised instruments to get the sounds you wanted. Why did the kitchen become the rhythmic heartbeat of the album?
Old Rockhounds was recorded in our home studio & I literally wrote a bunch of the songs while Jack was cooking dinner. Our house provided a canvas and raw materials, which is why I think the album inherently has such an intimate vibe.
<<GP>> What types of objects did you use to create these beats and why did you opt to use these over conventional percussion instruments?
Our percussive experiments were born out of necessity for lack of having a drummer with us in the studio (except for "Freedom" which was morphed from a recording we made of my band mate Alex Friedman, playing kitchen bowls!)
The sonic vernacular that Jack & I developed was intent on maintaining organic sounds, even in a digital realm, which forced us to get creative with our sampling. Pepper grinders, scissors, steel mixing bowls, keys, metal scraps, de-tuned violins, bowed banjos & street sounds all played a part in creating the worlds for the songs.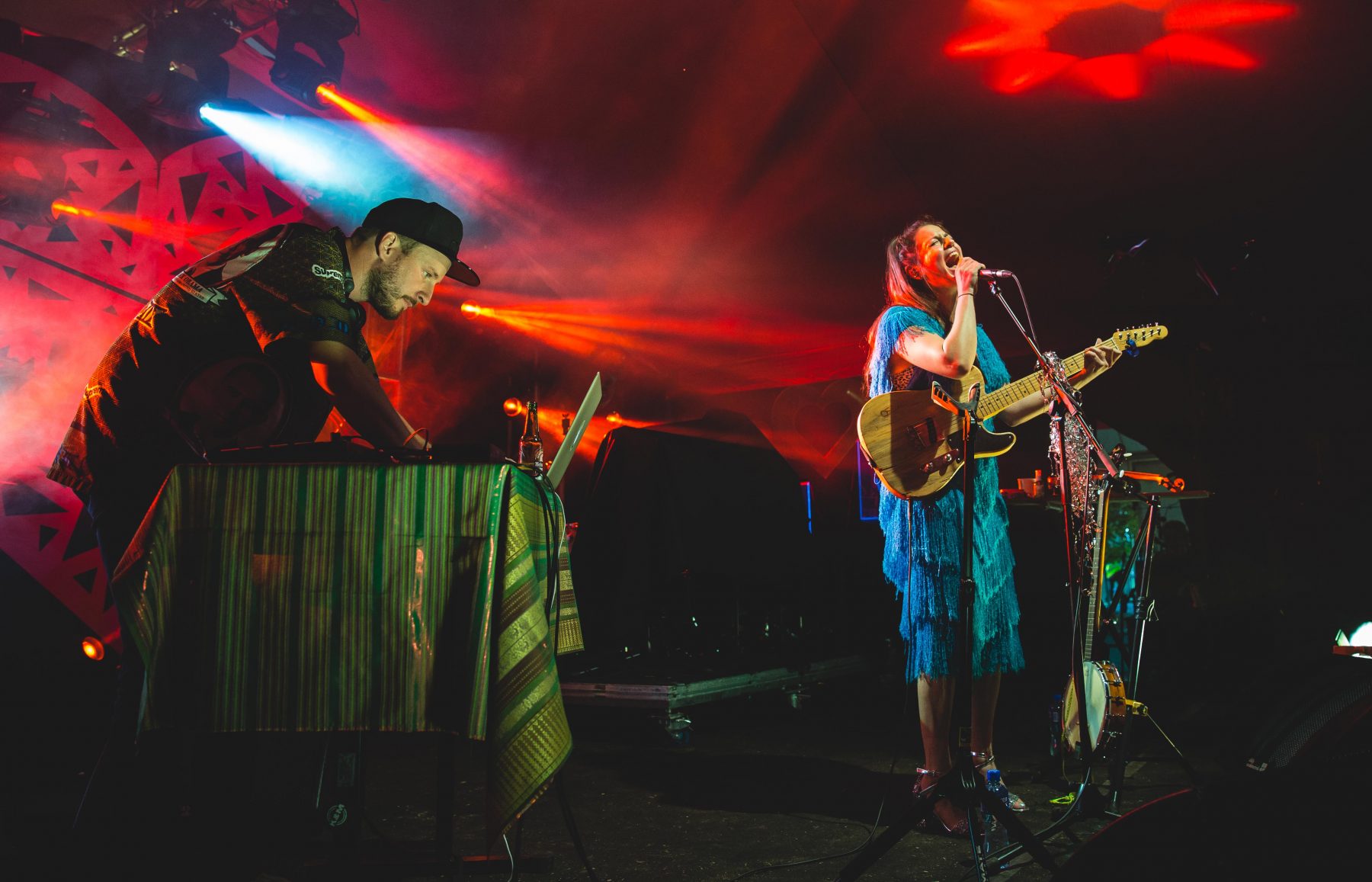 <<GP>> It would be easy for a project that relies so heavily on melding the old and the new and the forgotten and the found to crumble in the rigid pursuit of perfection. How important are the imperfections and accidents, both good and bad, in giving the record a sense of substance?
Perfect is the enemy of good - and though we definitely slaved away on certain tracks (Sweet Teeth), a handful of songs from the album were actually one-take demos (Old Rockhounds & Honey). Determined to stay true to our authentic selves, Jack & I always preferred to run with raw takes over polished attempts at perfection. Mistakes are essential to my songwriting process: a wrong chord can lead to a new perspective and often inspires surprisingly new directions in a composition.
<<GP>> What are your favourite imperfect moments on the record?
Widow's Peak remains my favourite song from the record, thanks to a happy accident that triggered 40 violin tracks at once. The cacophony created a wall of sound that still stirs my heart every time I perform the tune.
<<GP>> The unconventional alignment of sounds allows you to tackle a large range of genres without jarring the listener's ear. You You and Smoke Break for instance could easily be R'n'B songs, what's your favourite curveball to date?
As an audiophile, I find inspiration in so many places, genres, histories... Smoke Break was casually recorded on the couch, jokingly singing my middle school principle's catchphrases over a beat Jack was working on. I love the song because it feels so free & fun!
<<GP>>  Moving away from the accidental stardust that permeates your work, the workhorse instrument throughout is the violin. What first attracted you to the violin and why did you decide to make it the linchpin of your creative process?
I started playing classical violin at age 4, inspired by my big brother's Suzuki studies & orchestra concerts. While I've been playing the violin almost as long as I've been walking, it wasn't until I started to collaborate with Jack (5 years ago) that I began to utilize it as a songwriting tool. Experimenting with digital multi-tracking liberated me from only being able to accompany myself on guitar/banjo/mandolin/ukulele etc and it has been so exhilarating to incorporate my most fluent instrument alongside my voice.
<<GP>> The violin is of course the main instrument in traditional Irish music. Do you have an affinity for the way Ireland has utilised the instrument? And are there any pieces or players in particular that resonate with you?
Absolutely! We spent our childhood summers at violin camp in Virginia, primarily focusing on classical music. However, the camp offered an elective of Irish Fiddling which was our favourite class - my brother, sister & I still bust out classics like The Irish Washerwoman & Lisdoonvarna at family gatherings. There is a direct connection between Celtic & Appalachian music  and that shared lineage has heavily influenced my songs that have a more traditional bent.
<<GP>> What should Irish fans expect from your show?
After almost 6 weeks on the road with percussionist Alex Friedman, we'll be closing out our tour in Dublin! The show will likely surge with extra energy & excitement as it will be our grand finale. One can expect murder ballads, spell-casting sing-a-longs, banjo jokes, nerding out & stories from our travels - though we've been known to surprise everyone, even ourselves!
<<GP>> Will you be looking for found sounds in Ireland?
Definitely! We can't wait to explore Dublin & record snippets of the incredible local musicians as well as ambient city sounds. Feel free to share some adventurous recommendations!
Odetta Hartman at the East Side Tavern on September 29th. Tickets €15.