Striving for credibility when you're caught in the boyband bubble is a hard task but that's exactly what New Hope Club hope to achieve with the release of their second album later this year.
Formed in 2015, the trio of George Smith, Blake Richardson and ex Stereo Kicks member Reece Bibby were snapped up by The Vamps' record label Steady Records and slowly but surely built up a loyal fanbase that has yielded them over 200 million streams on Spotify.
Their eponymous debut album arrived in 2020, going top ten in Ireland and England and now they are back with new singles: The yacht rock tinged 'Getting Better' and the '6os British Invasion inspired track 'Girl Who Does Both' which they hope will allow them to finally leave the boyband tag in the dust.
Issuing the old school double A-Sided single is part of the strategy to set them apart from their perceived peers
"We've always been so inspired by old bands, especially The Beatles and Fleetwood Mac..loads of bands that always used to do an A Side and a B Side and we just thought it was a great opportunity to show respect to the old artists and do our own thing with it and try and give the fans more music to listen to in a shorter period," explains Blake of the move, adding
"We just thought it was quite a fun thing and it also gives us the opportunity to show the scale of this album, it does really range from Simon and Garfunkel-y acoustic things to more Bee Gees, which sounds mental, but when you actually listen to the album as a whole it makes sense."
'Getting Better' has a yacht rock vibe with a funky Steely Dan-esque rhythm figure and lashings of vocal harmonies, something George notes they are eager to display more of within their music.
"We love doing all the harmonies and we really found ourselves experimenting in that way, especially (on) the album tracks, vocal harmony stacking and layering. It's something we've done a little bit of before but not really got stuck into too much, so that was a really fun thing for us to try. Obviously, all of us sing, so why not all sing at the same time and make this kind of wall of sound..."
This impetus to experiment like never before reinvigorated the group's approach to recording.
"The Getting Better lead is 5 vocals put together... nevermind all the harmonies," explains Blake of the track which is about re-emerging into the world after lockdown.
"The lyrics came so fast, it was kind of like a stream of consciousness when we were writing it because that's exactly how we were feeling at the time. I think we wrote those lyrics in about twenty minutes maybe," notes George.

"We'd just gone back on tour in the UK and we were just so excited for the next few years of releasing this music."
Considering the events that inspired 'Getter Back' further, Blake adds:
"The only thing that was a bright light throughout the pandemic for us was the music. When we wrote Getting Better we'd already written what the label thought were the next singles....
"There was no worry about having to write a song that was radio friendly or anything like that and then that song just came out of us... the lyrics are so relevant to everyone's lives in the fact that they'd come out of a pandemic and this does feel like a time when everything can change for the better, but also, where we were in that point was that we were able to make music that we loved and it was truly honest, it really was exciting."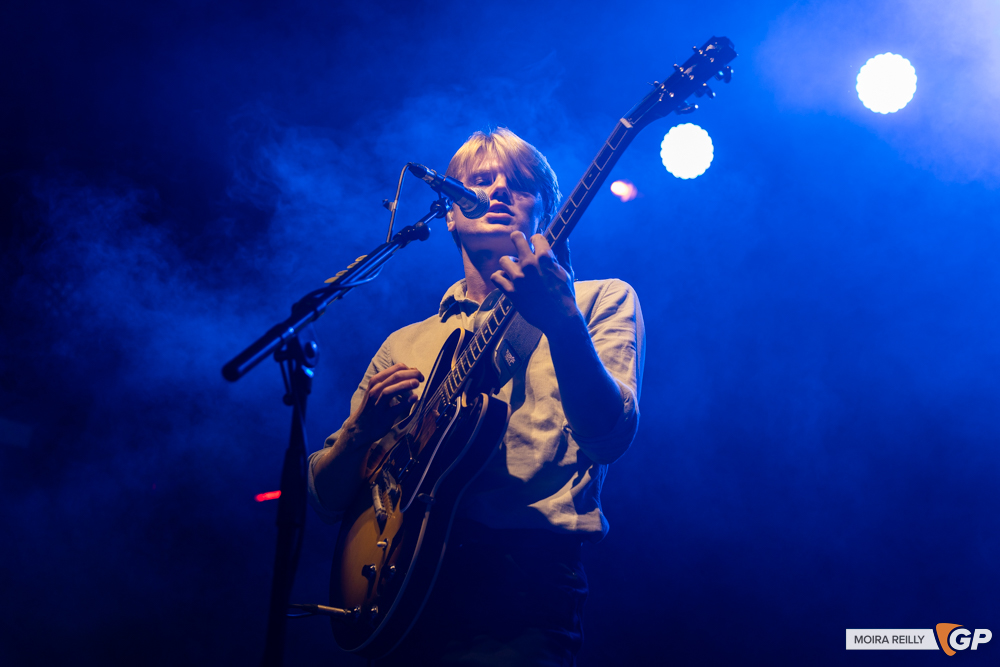 'Girl Who Does Both' represents a different 'old school' side of the trio that they are just as keen to explore as the one represented by 'Getting Better'. The track was harder to nail down that 'Getting Better' and went through several iterations before the band discovered the right way to present it.
"The first version was an up-tempo sort of Strokes vibe, a lot more heavy guitars going through it and we loved the song, the lyrics and what it held for us was amazing, but we felt we didn't get the production right, but luckily over the last few years we've had a lot of time to figure out where we wanted to take the music," explains George.
"We were able to let it sit for a little bit and we got the time to re-imagine it. A lot of people nowadays get demo-it is, were the first time you record a song you love it and you're like: 'I don't want to change it', but we loved the song so much it didn't sit right so we took a step back.
"We loved the lyrics so much that we decided to let them shine more with a stripped back acoustic production… I think if we hadn't have had that time I don't think that song would've been used."
Although the song eventually found its place in the world with the acoustic rendering the lads aren't against the prospect of letting the world hear The Strokes-esque version live
"You never know, we might do that live, start the song normally and then kick in and do a Strokes version," says Blake
Blake Richardson clearly likes to challenge himself, this is edified by his upcoming role playing Paul McCartney in the Brian Epstein biopic 'Midas Man' starring Eddie Marsan, which sees Jay Leno appearing as legendary TV Host Ed Sullivan.
"I'm learning bass left-handed, so that's a bit of a tough one for the brain to take in but it's so exciting," explains Blake.
"(I'm) just so grateful and honoured to have this opportunity. I always thought I'd get into acting at some point… but when the opportunity came; he's literally my idol, I was never gonna turn that down."
"The band and everything we've done throughout the years has been the best prep I could ever do for the role. It's very exciting."
Whilst the band may draw a lot of their influences from classic music, they are not afraid to embrace the modern and have built an audience of over a million followers on TikTok, but it's not something they take too seriously
"We're always messing around playing covers, so just sticking a phone up doesn't make too much of a difference to us and then also it's good fun," explains George. "We sort of used TikTok to pre-release some of our new music from the album, we put little snippets on there. We've seen the reaction from fans, they've sort of been making their own trends which is kind of cool to see."
"I wouldn't really say we're tiktokers though we just put a phone down an play a song," interjects Blake. "We're not doing transitions or making it too difficult for ourselves so I don't think we're making it too much of a job."
"It's just really emotional," says George when asked about plying the new songs live. Acknowledging that TikTok has allowed the fans to get closer to the band.
"They've been singing and dancing along, a lot of them already know the lyrics to the songs better than us which is really interesting. It's been super exciting and we can't wait to play them live properly, it's gonna be a lot of fun."
https://open.spotify.com/album/3x9smhttMTYsCi0vTJxLxz?si=kAPgj7jHSqy5p5VRap3pjg
'Get Better' and 'Girl Who Does Both' are out now. New singles "Call Me A Quitter" and "Whatever" are due August 17th 2022.