It's been a whirlwind two years for Mark McKenna, Conor "Gormy" Gorman, Conor King, and Morgan Wilson. Ever since Milk. kickstarted their highly stylised and aesthetically purposeful musical careers with their debut single Drama Queen in February of 2019.
From the start, it was clear that the Dublin-based quartet had their heads screwed on, and that they were as industry astute as they were musically gifted. From the pre-meditated single art to the earthy press images, they began capturing attention both nationally and further afield. By the time they released their 6-track debut EP '1, The EP' in July of 2020, their synth-laden melodies could be heard wafting from every station you turned to.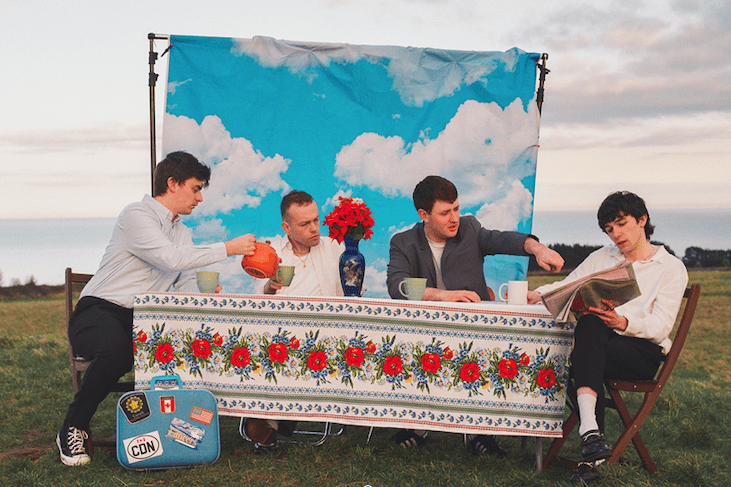 "The first track definitely did take off a little quicker than we expected and I guess people hung around to hear what came next," explains King, over Zoom.
"When we launched the band, there were a few tunes already in the locker so it gave us time to play with. It's all worked out, we've had stuff that fits together nicely and it all came down to how we approached it and how it was all made to fit together".
Few bands in their early days think too far ahead when it comes to releasing music. Most bands, however, don't have a singer whose side-gig of acting drags him across the world to L.A. every couple of months. McKenna is best-know in Ireland for his performance in 'Sing Street', but is set to appear alongside Ben Kingsley and Ezra Miller in the upcoming Salvador Dali biopic 'Dali Land'.

"We knew for a while we weren't all going to be in Dublin at the same time so we did have to plan for that, getting photoshoots done for the next project and stuff, so it focused us on everything," King adds of the positives of Mark McKenna's travels.
Milk. arrived in 2020 at a crucial moment in the band's development. With the early scribblings of their EP written, the band were set to go far and wide that festival season.
By April, all plans fell flat; but determined not to let the moment pass, the band continue to release teasers and flooded their Instagram with early sketches of project cover art. For them, their visuals and the way they presented themselves to the world became the only thing they could control.
"It was the only thing we could put our weight behind," Morgan elaborates of the band's visual presentation at the time. "Things were impacted in the sense that when planning social media campaigns,we knew there wouldn't be any extra live shots to add or a support slot to promote.
There were no random things that may have otherwise come in so it helped us plan things a little better; it really made us more resourceful with the art and the images that we did have."
Now that 2020 has been and gone, and live performances are slowly beginning to return. "I'm delighted for everyone that's gotten back to work, but I don't know what that proves other than that we can have a gig," they add, confused, of the government's pilot festivals.
Milk. have begun releasing new music into the world as they prepare for their sophomore EP. Sonically, the pair are quick to note the bands sonic development since their debut, but admit that they are still very much of their infancy and in search of the Milk. sound.
"We're aware of how different the songs are going to sound but I think the last run of tunes we put out, I feel like they're a better sense of the future," King replies, when asked to describe the album.
"That first EP, a lot of those tunes of me and Mark who got together initially, some of those tracks are from 2017 and have just been built on, whereas now we're releasing more current tracks and even their creation was a bit more communicative."

"The last EP was us having an idea of what we want production wise and building up from that idea," Wilson adds.. "Whereas the last few tracks we've stripped them all down to their barest elements, not been precious with it at all, and just considered what direction it sounds best rather than what we aim to create from the start."
"I don't want to make it sound like the first EP wasn't considered, but this is different," King explains. "But we've approached these songs in a completely different way."

Milk's latest single, 'You're So' is out now on all major streaming platforms. '2, The EP' is released 19th August.